Has anybody built an Elecraft KX1 kit? If so, how tricky are they?
Thanks
Tony
M0ZZA
Hello Tony,
Construction is fairly straightforward; kit includes an excellent as-you-go checklist. With good soldering skills and proper equipment, e.g. temperature controlled soldering station, the finished job should look close to factory assembled. about a third of the work on mine was done by XYL, who had minimal production soldering experience. Go for it!
All best, Ken, K6HPX
Hi,
Build mine in 2008. Take your time to prevent mistakes.
I have done many SOTA activations with this rig. Last wednesday from EA8/GC-009 two QSO's with USA. Output is 3 W with external 14 V power suppy in a W3EDP antenna.
Go for it because every QSO is special!
73 de geert ea8/pa7zee
Thanks all (so far) I've downloaded the manual. It all looks very straightforward if I don't rush.
Tony
Wish you good luck and especially patience when assembling the KXB3080 module!
http://www.elecraft.com/KX1/KX1.htm
Installation Service
Many of you know Don Wilhelm, W3FPR. Even if you don't know him personally, you may have benefited from one of his many postings to our reflector. Don's an expert on our product line, and we consider him an honorary (if not official) member of the Elecraft support staff.
With this in mind, we've asked Don to specialize in the KX1, and the new KXB3080 option in particular. The 4-band KX1's high level of integration can be challenging for some builders.
Don will install a KXB3080 kit for $39, plus $10 to cover the cost of pre-wound toroids, and $16 for insured return shipping. If you're interested in this or other KX1-related work, please contact him at don@w3fpr.com. All arrangements should be made with Don, directly, rather than through Elecraft.
While Don comes highly recommended, there are many other qualified builders for hire listed on our web site. See: http://www.elecraft.com/k2_builders.htm
hello Tony
I have an Elecraft KX1 with all options
Elecraft KX1 is a best seller
but I think a KX2 is not comparable
73
Alain
Hallo OM Tony
Sorry abt my bad English.
I recomend the KX1 from Elecraft . It is no`t dificult to build and adjust.
All depending on Your previus skills in building kits. But due to all the work and care
they put into the product for easy assambly you will enjoy this Project.
Manual is top quality. And build prosses is well described.
My experience is that it is best to use time and enjoy the constuction.
You have posibility to learn and understand Your rig Construction in a Nice way.
This is almost as good as the old Heatkit Products.
The radio is a joy to use and you have a lot of fun With this little radio.
The 3.5/ 10Mc Board is the most dificut to adjust for max senssibility …
Hope you enjoy Your New radio and the time building it.
Hope to cu on 10Mc drom Tony
Ps mine KX1 is from 2008 and only weak point is antenna Connection.
73 de LA1KHA Kjell
Thanks everyone. I've ordered one with ATU and 30/80 board. It'll probably take me two years to build it.
Tony
Well I got that order in in good time. Elecraft have discontinued the KX1 according to their website.
Thank you all who recommended this. Built and working.
The build itself was fairly straightforward and as Richard said, easy. I managed to damage one of the SMD IC boards that Elecraft were shipping with later kits but somewhat remarkably found a brand new and unused non-smd version in my parts bin still sealed in its protective bag. It was easier to fit as well. Everything worked first time. Output is just under 4 watts on 20m and just under 3 watts on 40m with 12v supply.
The ATU was a breeze as well. I do still need to fit the 30/80 board. This may be a bit more of a challenge.
The only down side is that this could get really addictive. What next? Thank you everyone again.
Tony
M0ZZA
Yes that extra 30/80 board is quite tricky (or it was when I did mine). Glad to hear that the build went well - nothing beats those first contacts with a radio that you made yourself, enjoy!
…"It'll probably take me two years to build it."…
Good show! Two years, eh? Time really does speed up when you're having fun.
Listening for you on the bands.
Ken
Just surfed across to your QRZ page Ken - kudos indeed!
lol. The downside is I am frantically trying to catch up with work now. It took me about 15 hours to build, plus another 3 for the ATU. Winding the toroids is strangely therapeutic…
KBX3080 now installed. I had to use the power mod supplied as I couldn't get the output above 2 watts on any band with 12v supply attached. After the power mod I now have around 4.2 watts on 40m, 30m and 20m and 3.9 watts on 80.
The 3080 mod was not as tricky as I expected apart from the desoldering which took ages. If I was building again I'd probably include the 3080 board from the start.
The ATU seems remarkably effective as well.
Thanks again gentlemen.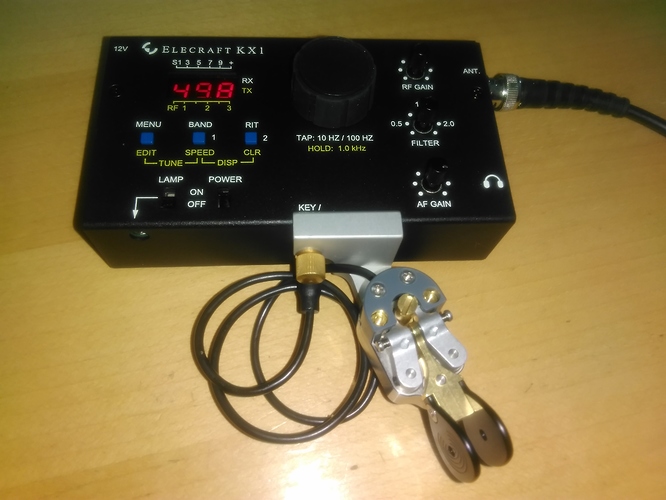 Congratulations on your successful KX1 build! I had to apply the power mod as well, but am "only" getting about 3 watts on 20-40m (4 watts on 80m), so it looks like you built your KX1 to be a top performer

I like the KX1 a lot; even though it can't seriously be compared to the KX2/3, its simplicity, the ability to build it completely by yourself, and the low weight, make it something special.
FWIW, I put 4 x LiFePO4 AA cells with a small protection module into mine, and shorted a diode, so now I can charge it with a current-limited ~15 V source without opening it up, get more PA output compared to 6 x Alkaline/NiMH, and save even more weight. Details are at Built-in LiFePO4 battery for the Elecraft KX1 if you're interested.
That looks like a great idea. I will investigate further…
I have a KX2 as well. The KX2 inspired me to give the KX1 a go. I am really pleased with both. It's a shame the KX1 is now discontinued…
73
Tony
that morse paddle looks very nice. what model is it?
It's a Begali Adventure Mono…