I'm crying now. You worked BX2AI, but you didn't work meeeeeee!!!

I'm crying too!
I heard you. But I couldn't seem to break the pileup. I think conditions had changed. I don't think I worked anyone else after that.
Next time!
Hans,
I listened hard for you and the other BV stations active. The same for several VK stations spotted. Never could hear more than a murmur.
Hopefully we will connect soon.
73,
David N6AN
20.Mar.2022
I activated SOTA:JA/NN-246 Minakami-Yama.
It was JA SOTA Party, but I had scheduled in the morning.
I joined it from 10:18J (02:18z) to 19:00J (10:00z), while taking a nap.
59 Qs are logged in, incl 29 S2S Qs.
Thanks ALL. 73,
de JG0AWE

All the JA BX ops out on the weekend put me over the 10k chaser points for me.
Thanks for all the contacts on 15m 17m CW. One 15m SSB QSO.
vk5cz …
Good to know that my signal made it across. In reviewing my activation I found that I really don't know how to handle a pile-up. I'm not a contester, hardly make more than 300 QSOs per year, so this is a new experience for me.
I also found that my little used KX3 needs a thorough review. I found that signals were never really strong, never a true 599, and one of the reasons might have been that the preamp settings on the KX3 were set to 10 dB for all bands, not the standard 20 dB. I measured today with my old signal generator and it does indeed make a significant difference in signal strenght and readability. Will keep the KX3 on the bench for now to compare with my TS-2000 to see how to get the maximum out of it.
So appologies to every OM for the lousy signal reports I have given during my previous 3 SOTA activations: it was me being a bit deaf, not you putting out a meagre signal.
David, I'll look out for you on SOTAwatch.
Nice to know it! Congrats for the 10K!!!
73 de JP3PPL
Congrats 10x Shack Sloth achieved, Ian!
Cu 73,
de JG0AWE / Hiro WAKA
I found this wonderful YouTube video made by JG1GPY with a report of his activation during the JA SOTA Day. You Japanese hams really know how to activate in style!! Also a great idea to use a carbon fibre pole as antenna: no wires required. Marvelous!
Hello Hans, thanks for your link to that video. Very good to watch, always learn something of how others operate.

Geoff vk3sq
Congratulations Ian!
Thanks for everything.
De katsu JP3DGT
Hello.
Thank you for the nice QSO other day.
Of all the mountaintop stations I participated in, I think I was from the lowest mountain, but thanks to the good conditions, I enjoyed it all day long.
Asahiyama JA / MG-098 (173m)
45QSOs,21 S2S with 20 Summit.
Around sunrise, the influence of the low pressure system moving northward in the Pacific Ocean remained, and the wind was strong in Asahiyama, causing the loop antenna to collapse.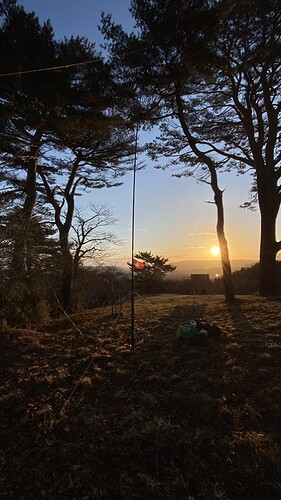 Since it can't be helped, I changed to 1 / 4λGP 2mH 5 radial for 14MHz.
When changing the band to 18,21, I lowered the element and adjusted the length of only one of the five radial for tuning.
The output was 8 watts for about 2 hours, and 5 watts when the battery became weak.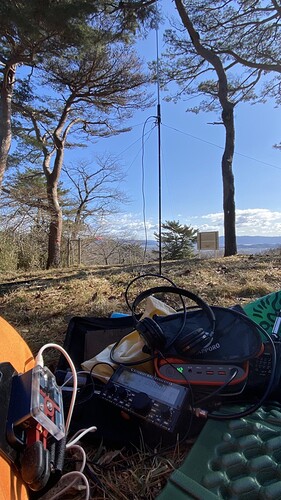 Toyakemoriyama JA / MG-100 (172m)
33Qs,4 S2S with 4 Summit.
In the evening, there was no wind in Toyakemoriyama and the climate was mild.
I saw each station spotting at 21, and as soon as I arrived, I QRVed at 21.
14 felt that he didn't get a very good pass.
I usually use earphones, but this time I brought headphones.
It was to hear a small signal, but I realized that it was also effective as a measure against the cold.
I am grateful to everyone who called me.
I look forward to working with you again.
Under the eyes of Toyakemoriyama, the lights of the sea of Sendai Bay and the city of Ishinomaki, which were raging due to the earthquake 11 years ago, were beautiful.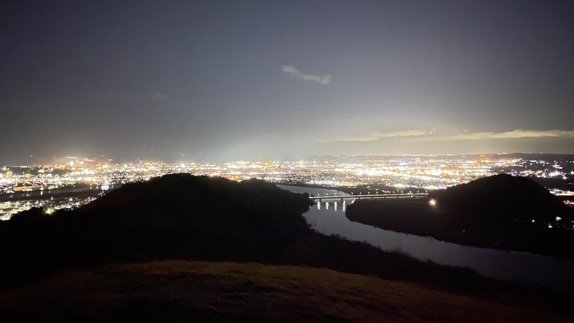 73 de JR8MHA / Katsu
I got special QSL from BX2ABT Hans, for S2S QSO on the JA SOTA day. And I made the same to Hans.
Thank you.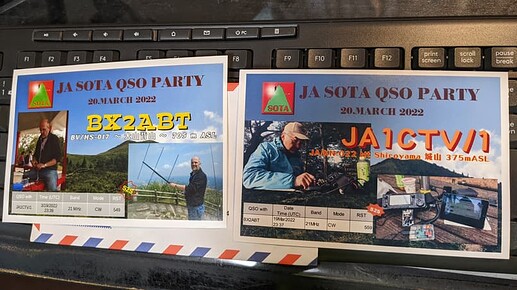 Toru Kawauchi JA1CTV
I can't wait to put that on my shack wall!!! Thank you Toru-san.
Hi Hans,
Was posted today and on a way to your shack, mate.
Toru K JA1CTV
The special SOTA QSO Party QSL card is encouraging and heartwarming.

I got it yesterday in the mail. Thanks a lot Toru-san, this QSL is really special to me.
Also got JG3UVN's confirmation in, so double joy.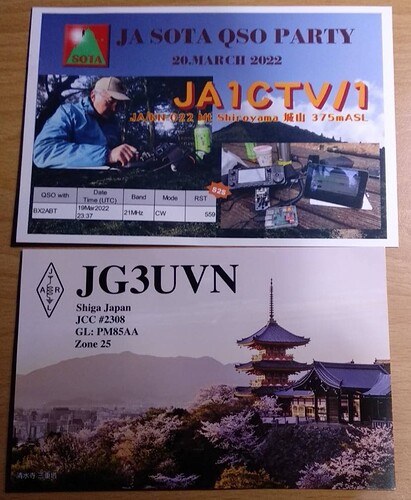 Hi Hans,
Good to know that it was delivered. Thanks and see you again on-air.
Toru K JA1CTV / JH0CJH