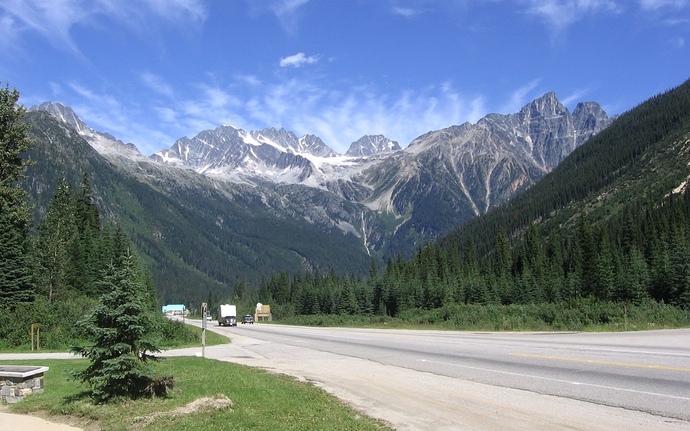 [Summer view of Mt Rogers and the Hermit range from Rogers Pass]
A couple of weeks ago a few friends and I made an attempt on Mt. Rogers (3168m) in Glacier National Park, British Columbia (VE7). We came within 100m of the summit when we reached our turnaround time and had to begin the descent. I never even had a chance to pull out my FT-818. At around 3000m the toe piece of one of my ski bindings ripped out and I went for a tumble down a steep piece of glacier. Fortunately I was able to self-arrest and there were no injuries, but my ski was unusable and I was far from the parking lot.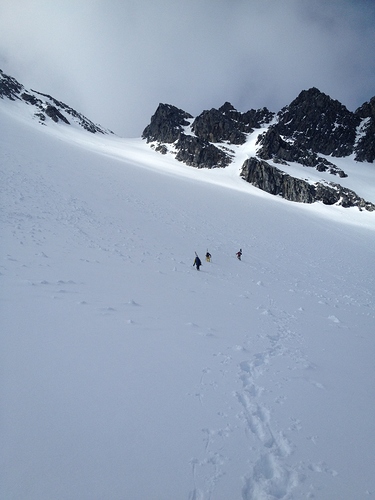 [The head of the Swiss Glacier and last 400m of climbing to Mt. Rogers. I fell just below the rocks on the left, where the light meets the shadow.)
At this point I had several options.
Walk/ski 1300m of vertical and 5km of horizontal down the glacier, then bootpack 200m back up a ridge to another 900m descent and a 4km hike back along the highway to the vehicle.
Phone the National Park dispatch office and ask for help.
Use the National Park repeater to contact dispatch to ask for help.
Press the S.O.S. button on my SPOT Messenger 2
Options 1 and 2 were not feasible because of the permit system in the park (out by midnight) and an absence of cellular service, respectively. Option 4 would have mobilized a large number of people, including public safety officers, and seemed like an inefficient use of resources. I chose option 3, and my group was subsequently plucked off a low-angle section of glacier by helicopter forty five minutes later. Because being stuck in restricted permit areas after midnight is considered an emergency we were not charged for our flight and only had to fill out an incident report the next day.
Being able to contact the Parks dispatcher directly allowed us to describe the situation calmly and the proper response to be selected. It also meant that I didn't have to move to a location where there might have been line of sight to a cell tower. Cell phone is the preferred method of contacting the dispatch center, however the day was marching on and many local helicopter operations have policies in place that prevent flights from leaving without at least an hour before sundown.
Regrettably, VHF activity outside of larger population centers in VE7 is not common. There are no amateur repeaters in that part of the Selkirk range, and even the repeaters in the closest towns remain mostly silent. Non-amateur systems, like those run by National Parks, Transport Canada, and the Forestry department represent the most robust voice communication system outside of the cellular network or satellite services. As a result, many people (amateurs and non-amateurs alike) carry radios with these frequencies programmed in case of emergencies.
This incident is a good example of how a frequency agile radio can be useful in speeding up first response and evacuation times. Even though there were no injuries, a delay in contacting emergency services could have resulted in a night out on the glacier and/or a long walk out in the dark. On glaciated terrain at those elevations hypothermia and poorly bridged crevasses are very real hazards. This capability is certainly worth the extra weight.
A full trip report (and more pictures) can be found here: Summits and Radios blog.
John VA7JBE