Well that was great fun on Saturday morning on the mountains of Wales…
It started off with Ben GW4BML alerting and saying that he was activating Pen y Fan GW/SW-001 on Saturday morning. As I'd been absent from the mountains for a few weeks due to flu I decided to Alert for Fan Fawr GW/SW-005 on Sotawatch to get Ben across the valley and test my fitness. As is the case these days for GW summits we also Alert on the GW Summits on the Air Facebook page. Well both alerts caused a flurry of e-mails, text and considerable chatter on the Facebook page on Friday night with announcements of others promising to get out and activate in GW.
It's been quite noticeable lately that we have a keen band of new activators on the mountains in Wales so it was heartening to hear them calling s2s from their respective summits on Saturday morning. I hasten to add that the majority of these activators are extremely fit and I feel quite out of breath as I follow their progress when chasing them on the mountains in Snowdonia.
My activation of Fan Fawr brought 6 s2s 2m-fm contacts to my log the first being John GW4TQE/p on Allt y Main GW/NW-059. My second contact was with newcomer Richard MW0GWG/p on Pen y Garn GW/MW-004…he is quickly ticking off the summits in my area so keep up the good work Richard.
Ben GW4BML/p was soon in my log from Pen y Fan and it was so nice to meet up with Ben and family after the activation. He has a long hit list of summits for Winter Bonus so listen out for him…
Post activation…Ben GW4BML/p and Mr Brown on the summit of Pen y Fan
My next s2s was with Simon GW4TJC/p on Craig Cwm Silyn GW/NW-020 who kept me updated with text messages as he was running late and hoping I would still be around…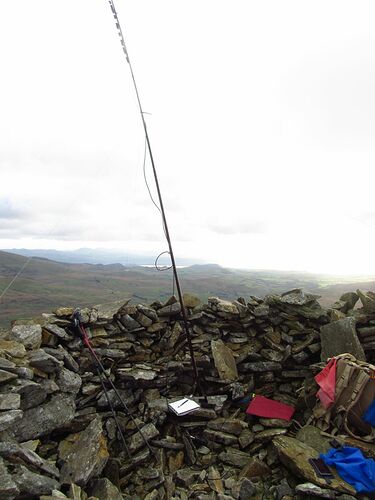 Simon GW4TJC/p 's set up on Craig Cwm Silyn
Peter MW0PJE/p was next in my log from Pen Llithrig y Wrach GW/NW-013…well done on the new callsign Peter. It was interesting to see the different weather conditions between North and South Wales.

Pete's set up on Pen Llithrig y Wrach
My final s2s was with Richard MW7RJO/p who along with his son Finn had made the trek on to Y Garn GW/NW-004 and worried that he wouldn't make the summit by 11:00 and miss the fun. Y Garn is not the easiest of summits and it was the first time that Finn had been up such a big mountain…well done Finn.
Finn heading down
I also ventured on 60m and I must apologise to the chasers as I suffered a bout of coughing possibly due to the mist and damp…anyway everybody who called me has made the SOTA database.
My gloomy and damp summit
Thanks to everyone for their enthusiasm on Saturday and a big thank you to all the chasers who joined in the fun. Apologies to others that I have might have missed but had s2s with summits in GW.
Along with others Roger MW0IDX (GW Association Manager) and I have been discussing some sort of GW s2s event for 2022 so watch this space.
73 Allan GW4VPX