After my first activation didn't quite go to plan (see below), I found myself with some unexpected free time this afternoon and decided to set off for G/SE-003 Black Down to see if I could finally achieve my long-term ambition of a SOTA activation by CW.
I parked up at the main National Trust car park, which had plenty of spaces (I'm sure it would be a different story at weekends) and aimed for the summit, guided by the SOTA Goat app. After a pleasant 15 or 20 mins stroll through the woods I came across the trig point, and decided to operate close by. Although I could hear a few voices in the distance from time to time, I was undisturbed during my time there.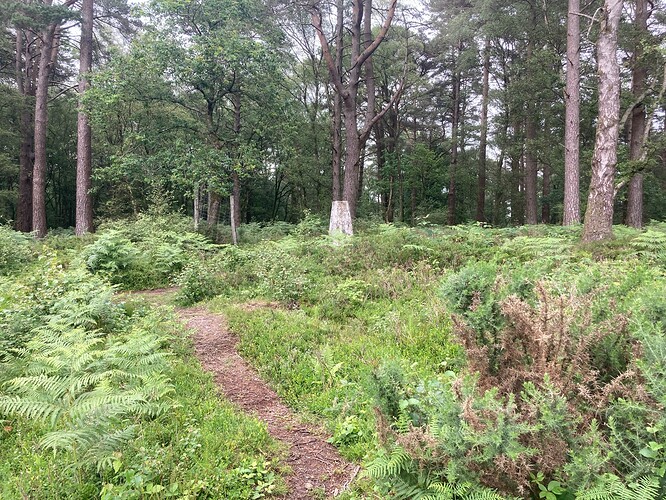 This time I had remembered all of the required cables and connectors and after spotting myself, braved a CQ call on 20m at 15WPM. After two or three repeats I was glad to be called F4WBN who was a solid signal with me, and sent at a speed that was easy for me to copy. I was off! A few more CQ calls, and I subsequently worked PA0RBA, ON7DQ, ON3MK & F6GUF. No pile-ups, which was actually a relief for my first try at a CW activation! I'm sure 5 CW QSOs may not seem that impressive to the more experienced activators on here, but I was really pleased with myself for finally making it, and for having the guts to put out a CW call! I'm sure the next one won't seem so daunting! Time was a bit limited, so after a quick call on 17m (no replies), I got out the handheld just to see if anyone was around on 2m. One was, G3XTH down in Hassocks.
That was enough for me, so I packed up and headed for the car feeling satisfied! I want to say a big thank you to those worked, and an additional thank you for sending at a speed close to mine! For those of you who like me who might consider themselves a cw novice, then do be reassured that there are plenty of understanding ops out there who are very happy to slow down to make it as comfortable as possible for the activator. It's a very different experience to trying to work stations in a big HF CW contest! Thank you all!
Looking forward to working many more of you in the future,
Matthew - M0JSB