An early start this morning meant I was at the Wythburn Church car park at 6:15 local (5:15 UTC). The pay and display was out of order. I was the first car.
Path from Wythburn Church to the Summit
Empty Car Park
The Ascent
Wooded start
Views of Thirlmere on the Ascent
Mandatory Lake District Sheep Photo
Popping through the clouds
The path up is fairly consistent in gradient for the first 2/3 then gently slopes off on the last third. This time round it took me 1 hour 35 minutes to reach the Trig Point - with stops for photos, water and breathing. I hit cloud base around 300m. You'd have to try hard to get lost on this path, even when in cloud.
A Westerly Summit
About 100m vertical before the summit I started popping above the cloud with some atmospheric wispy mist adding to the majesty of the sudden views.
A brief respite in the mist
Red Tarn. Ulswater in the distance, Swirral Edge on the left
Wild Campers
Swirral Edge
The Activation
I'd brought the SOTABEAMS Compact 10m pole (less top 3 sections), FT-817, MiniPA50, Spectrum Communications SlimJ and FT1XD handheld. Summit phone signal was a bit variable, but definitely better towards the Easterly ridgeline. At one point I got data roaming information as I was registered with Isle of Man.
The last couple of times I've activated Helvellyn I've not had the best of results radio wise, so with some time to play I was hoping to rectify that.
HF & VHF antennas on Compact 10m pole
20m Activation
Starting with 20m at 0720 UTC it was clear this was going to be different - a steady stream of chasers and S2S indicated the flexibility of the band distance wise - S2S with John @G4TQE John on GW/NW-043, Bill @G4WSB on G/SC-006 then Fabio @IK2LEY on I/LO-243 together with 22 European chasers.
40m & 80m Activation
40m was short - lots of inter-G and nearby continental contacts but no S2S. 22 contacts in total. 80m was very quiet - S0 noise, so either I hadn't clipped the antenna properly (always a possibility) or the noise was genuinely very low. Five chaser contacts on 80m. At the end I jumped on 20m again to get @HB9DQM Manuel in the log on HB/GR-157 and then I had a really good try to get a S2S with R9WCJ/P on R9U/SO-045 but after 10 minutes I hadn't communicated anything meaningful so reluctantly called it quits.
2m Activation
The Slim-J was reporting high SWR on the FT-817, so I switched to the FT1XD knowing the handheld would do a better job of limiting power output. 20 FM contacts including a S2S with @G1RVK Ian on G/LD-024, then switching to the C4FM calling channel/centre of activity 144.6125 nice to get contacts with Douggie G7CDA and Reg 2E0LDF. Clearly the antenna was working in some fashion!
Second 20m Activation
At this point I had a guy standing patiently and it turned out to be Dan KB1FAK. I think this is the first time a licensed amateur has approached me on a summit. He had lapsed a couple of years, and was living in the UK, I hope he saw and heard enough to take the hobby back up.
With a wander around I got SOTA Spotter to update and found a number of other activators had been on 20m, so figured I would have another quick run. This was a good idea as I was able to confirm S2S with another four activators as well as another 10 chasers.
17m Contacts
Then the phone happened to update on its' own and I found @HB9BCK Albert as OE/HB9BCK/P on OE/VB-431 17 CW and was able to work him. I then braced myself and spotted for a 17m CW activation that resulted in five chasers and one S2S with @HB9DST Paul (man of chocolate plenty) on HB/GR-161. It was only when I was logging that the Summit Brain cleared and I remembered that I had clipped for 30m for all this - no 17m clips on this antenna!
Swarming the Trig Point
Striding Edge
Plenty of folk milling around - some 'have you caught anything yet mate' shouted over but also some very interested muggles with good questions and genuinely impressed by the range of this setup.
Contemplating Red Tarn
The ever popular Striding Edge
Most of my activation had been in mist - I was very glad I had bought windproof trousers and jacket, long sleeved base layer, puffer jacket, hat and gloves - they all got warn. Had I been bathing in warm sunshine it would have been a very different experience!
Last 2m S2S
Having packed up it was nice to get @M0PLA Paul and M7XOC activating GW/NW-012 before I left the activation zone.
The walk down was around 1 hour 15 minutes and the car park looked very different on my return! Thanks everyone on the other end of the radio this is a record summit for me now with 105 contacts in total - a very different story to my previous visits.
Longest DX was @KA1R Matt on 17m. Thank you to all.
Path back down
Snaking back to Wythburn Church
Skiddaw in the Distance
Different Story in the Car Park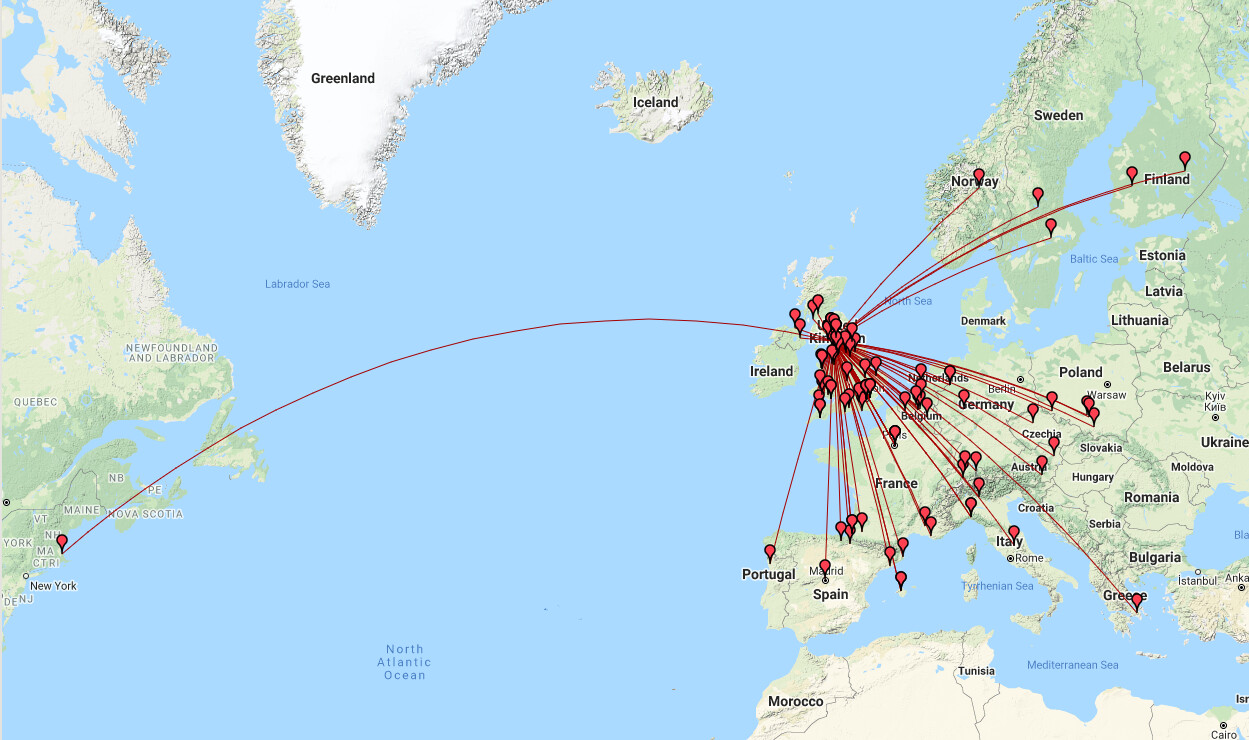 Click Image or here for Interactive Map via http://qsomap.adventureradio.de/
SOTA Mapping