Given the biblical weather we had here yesterday in the Lake District - heavy rain and flooding - the last thing on my mind was the possibility of a SOTA activation. However, having had a lazy start to Sunday I checked the weather report and was surprised of the modified prediction of light winds and no rain. Sunshine even later! So I hurriedly topped up a LiFePo4 battery and threw my usual SOTA kit into a rucksack. Arriving possibly quite unusually by motorbike at the Kirkstone Inn car park I took the 45 minute stone staircase to the summit. I was expecting it to be wet under foot but most of the stone was dry and easy.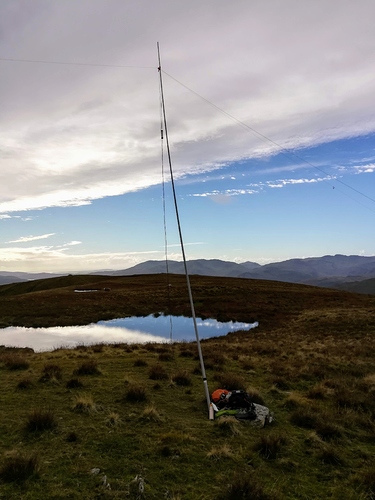 I setup at the tarn near the trig and got going quickly on 40m having found that I still have issues with the 80m section of my linked dipole. Cracking run of 20 chasers on 40m mostly in Europe but some UK stations. Two S2S's initially with OE5REO/P on OE/OO-345 and HB9CRY/P on HB/LU-010.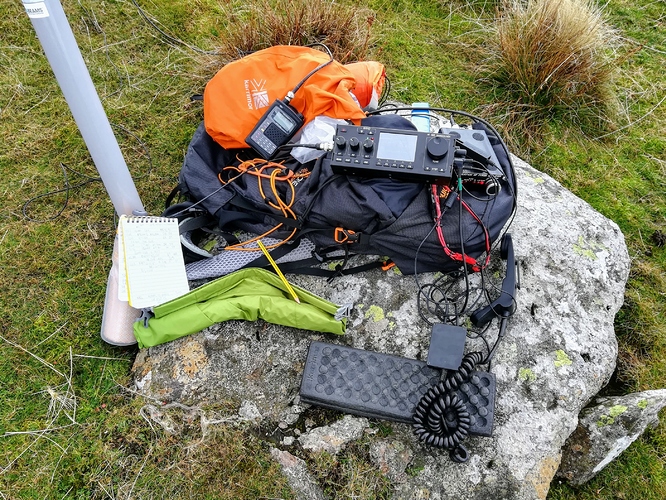 Moving to 20m band conditions were still good even though there was a Scandinavian competition on. Moving to 2m brought in some local chasers and two contacts on C4FM. Back to 20m another two S2S were completed with OE9HRV/P on OE/VB-465 and HB9DIZ/P on HB/LU-025.
It was time to brave a CW contact - I'm still very much a noob - in then end I thought I would be able to copy DL0FUL/P - a club callsign - on 40m. It was going well until the MCHF rig totally hung and required a reboot which lost the frequency, but at least this was after callsigns and signal reports were exchanged. Not brave or competent enough yet to try a CW activation. I chased one SOTA activator last week - but at least chasing you get a chance to copy the activators callsign a few times to ensure correct.
I then noticed the spot by Herbert @OE9HRV on O/VB-465 saying 'state side is open' (what a great thing to put in a spot Herbert!) so I moved back to 20m for another run including Phillip @VE1WT which was great!
With the SOTABeam 10m compact mast strong enough to support both the HF antenna and the Slim-G 2m/70cm antenna I was fortunate enough to catch Viki @M6BWA calling CQ on 2m from G/SB-007. Earlier I had noticed her alert and used the Solwise Wireless Elevation Tool to find that it was pretty much line-of-sight from Red Screes (skirting over the top of a North Pennine summit). So we managed both a 2m and 70cm QSO without any difficulty.
I then talked to a couple of others calling CQ on 2m including MM6JIG in Wigtown, Scotland, for whom I was his first contact ever as an M6!
To top all this the sun came out and I happily donned my sunglasses and took the opportunity to take some great photos. Roll on the winter bonus!
Regards, Mark.
M0NOM
Photo Album
Date: 14/Oct/2018 Summit: G/LD-017 (Red Screes) Call Used: M0NOM/P Points: 0 Bonus: 0
| Time | Call | Band | Mode | Notes |
| --- | --- | --- | --- | --- |
| 11:23z | DJ5AV | 7MHz | SSB | |
| 11:23z | LA5WNA | 7MHz | SSB | |
| 11:24z | M3FEH | 7MHz | SSB | |
| 11:26z | EA1DFP | 7MHz | SSB | |
| 11:26z | G0TDM | 7MHz | SSB | |
| 11:28z | 2E0WDX/M | 7MHz | SSB | Vin Newcastle |
| 11:29z | EA2DT | 7MHz | SSB | |
| 11:30z | DL5DB | 7MHz | SSB | |
| 11:30z | SM7DIE | 7MHz | SSB | |
| 11:31z | OE5REO/P | 7MHz | SSB | |
| 11:32z | IK2LEY | 7MHz | SSB | |
| 11:32z | LB6WG | 7MHz | SSB | |
| 11:34z | M0MDA | 7MHz | SSB | |
| 11:34z | OE5HDN | 7MHz | SSB | Henri |
| 11:34z | ON4VT | 7MHz | SSB | |
| 11:36z | HB9CRY/P | 7MHz | SSB | |
| 11:37z | HB9DHA | 7MHz | SSB | |
| 11:40z | F6FTB | 7MHz | SSB | |
| 11:41z | OE7HPI | 7MHz | SSB | qrp |
| 11:45z | OH0X | 14MHz | SSB | Scandanavian Contest RX: 1751 TX: 0001 |
| 11:48z | EU6DX | 14MHz | SSB | |
| 11:48z | OH3GZ | 14MHz | SSB | |
| 11:49z | G0TDM | 14MHz | SSB | |
| 11:50z | S57WJM | 14MHz | SSB | Mitha JN76HA Slovenia |
| 11:54z | G0HRT | 144MHz | FM | Rob |
| 11:57z | G0TDM | 144MHz | FM | |
| 11:59z | G1OHH | 144MHz | FM | |
| 12:03z | GM4WHA | 144MHz | FM | |
| 12:04z | M6MOS | 144MHz | FM | Malcolm |
| 12:06z | G7CDA | 144MHz | FM | |
| 12:06z | G10HH | 144MHz | DV | 46.8km |
| 12:06z | G7CDA | 144MHz | DV | 45.2 km |
| 12:39z | OE9HRV/P | 14MHz | SSB | |
| 12:42z | HB9DIZ/P | 14MHz | SSB | |
| 13:03z | DL0FUL/P | 10MHz | CW | Nr Kassel |
| 13:21z | DB7MM/P | 14MHz | SSB | |
| 13:22z | EA2DT | 14MHz | SSB | |
| 13:22z | F5JKK | 14MHz | SSB | |
| 13:22z | OE6GND | 14MHz | SSB | |
| 13:23z | SP9AMH | 14MHz | SSB | |
| 13:24z | VE1WT | 14MHz | SSB | |
| 13:25z | HA7WA | 14MHz | SSB | |
| 13:25z | SP9ETA/P | 14MHz | SSB | |
| 13:29z | S57ILF | 14MHz | SSB | |
| 13:35z | M6BWA/P | 144MHz | FM | |
| 13:39z | M6BWA/P | 433MHz | FM | |
| 13:47z | MW0BYT | 144MHz | FM | |
| 13:51z | MM6JIG | 144MHz | FM | Wigtown 85 yrs old |
| 14:03z | MW3KML | 144MHz | FM | Kevan Mould |
| 14:36z | IZ5DRL | 14MHz | SSB | Mario 2ele beam 500w Expert Amp TS990 |