Yesterday (Saturday) I finally got out on the hills with my radio gear. I literally only finished the dipole on the Friday evening in the nick of time.
I'd planned four summits and two today but I cancelled today due to sunburn! One thing I hadn't included in my planning.
First up was an old friend of mine G/WB-013 Garway Hill. I know this hill very well, from before the model glider people found it, so knew it would be an ideal first activation. An easy walk and plenty of space on top.
Here's the set up: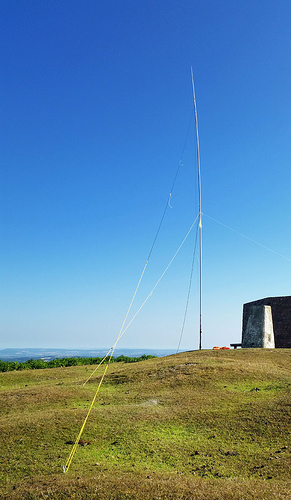 40 QSOs total on 20m. I will be coming back to this one when I have my 2m yagi done. (hmmm, it's not that far to carry a 'real' yagi…)
More detailed report and more pictures here.
Next stop was GW/SW-020 Graig Syfyrddin another old friend. Also a hill I used to drive up in the old mini for some all nighters. I didn't see a soul up here the entire time. Just me, the sun, the radio, and the flies. (the sheep stayed clear)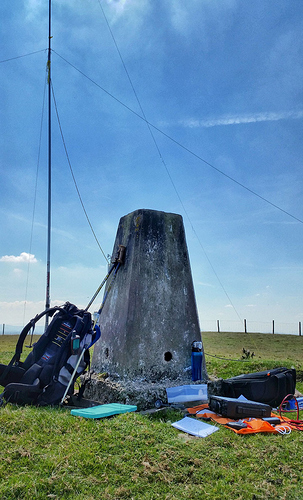 Another 32 QSOs on 20m here.
More detailed report and more pictures here
Last stop of the day GW/SW-026 Bryn Arw. This is a relatively new summit for me, only having visited it once before last year taken there by geocaches.
It was now midday gone and the sun was beating down. I had a spell on 20m again working Allan GW4VPX/P, and then moved to 40m, which raised loads of UK stations, making a total of 65 QSOs for this summit.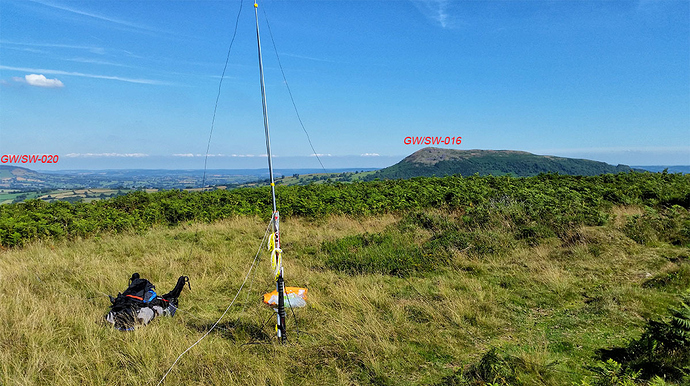 I enjoyed the activations a lot, took me back to me contesting era especially when the spotting brings the pileups. I know they are only 1 pointer summits but it was good to get some practice setting up and getting a routine sorted. I had planned to do Waun Fach today but the sun burn I got yesterday put me off. I could feel my arms on fire today with the sun on them just walking to the car!