Is ADIF Master worth playing with John?
Andy,
I found it very useful for preparing ADIF files for POTA recently but I haven't felt the need for it with any SOTA stuff. The reason I used it was I activated a small POTA location in Cornwall which was also within the larger POTA site of the Cornwall AONB. You are allowed to claim activation of both locations, they call them two-fers and there are also three-fers and so on. The problem is you can't send in the same ADIF file for both, their system will see it as a duplicate and reject one of them. The trick is to have a column in each ADIF file which shows the specific park number, from memory it is called MY_SIG_INFO. So using ADIF Master I inserted a new column, changed its name and then just pasted in the park number then created a second file with the second park number. This gave me two ADIF files each with exactly the same QSOs but linked to different parks. My original ADIF file was created by SwissLog and it had numerous columns I didn't need so I just deleted them in ADIF Master to produce a much simpler file with just the columns POTA needs. It is possible to edit the SwissLog file before exporting it I think but it doesn't have an option for a column called MY_SIG_INFO so I still need ADIF Master for that.
John
Not necessarily. You can mix 2 files with different fields if they both fulfill ADIF syntax. I do it usually.
The file must not even follow the time order, so you can f.i. mix a VK-Port-a-log VHF file with a FLE HF one, just erasing one of the 2 headers.
Best 73
Mikel
Mikel,
Thank you, that makes sense as all the individual ADIF entries include the column headers.
John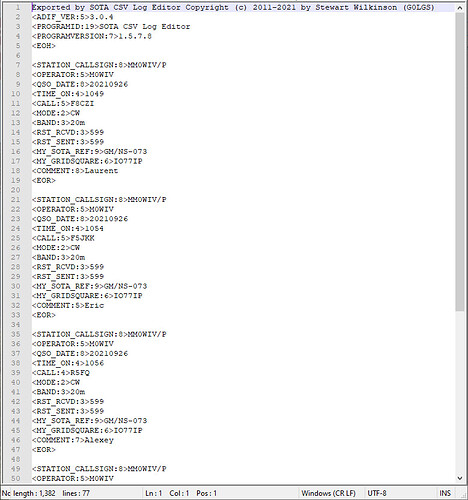 I use FLE to enter my SOTA logs. Unfortunately my Windows PC's hard disk failed on Monday so I am using my work laptop but it runs Ubuntu Linux. I've just installed wine64 and managed to install and run FLE with no problems at all. So if you run Linux it's worth giving FLE a go.
I've also run FLE under Linux (and Mac) using wine and had good results. But there is an even better way!
This thing is awesome and runs on everything. I even use it on an ARM based Chromebook under Crostini and it works great!
-Josh WU7H