Merry Christmas to everyone involved in SOTA.
Jimmy M0HGY
Merry Christmas Jimmy and everyone.
Malen
VE6VID
Oh dear. That was rubbish.
Monday 25th December 2017 - Christmas Day
Ascended in the dark. Descended in the dark. Very windy, but no rain forecast.
Called and called on 40m CW. Eventually got one call from YT7M. An Italian station then immediately called in - but at that moment, the pole broke in half, and the dipole broke as well.
Ten minutes later I managed to get the antenna up again though not quite as high. No further callers though. One contact made on 2m FM.
Then some heavy rain hit, most unexpected, and most unpleasant. Daybreak was just beginning as I dried off in the car.
And I've still got the speed calibration issues with the Palm Cube as well. Merry Christmas? Bah humbug.
Oh dear that was a let down for Xmas Tom,just think of the exercise you gained and others didn't.
I missed that rare 7 ssb activation.
Have a good Xmas and Happy New Year all in SOTA. 73 Don G0RQL.
A very merry Christmas to all SOTA SWLs, Chasers and Activators. I hope you all got the Christmas presents you were hoping for.
Good luck in the new year and remember, above all please STAY SAFE and healthy.
Best 73 ED DD5LP.
Merry Christmas!
73, Steve W6SAE
Seasons Greetings to all.
73's
David
G4ZAO
A very Happy Christmas to all involved in any way with SOTA
73
Barry GM4TOE
WX was great down here in the Steiermark: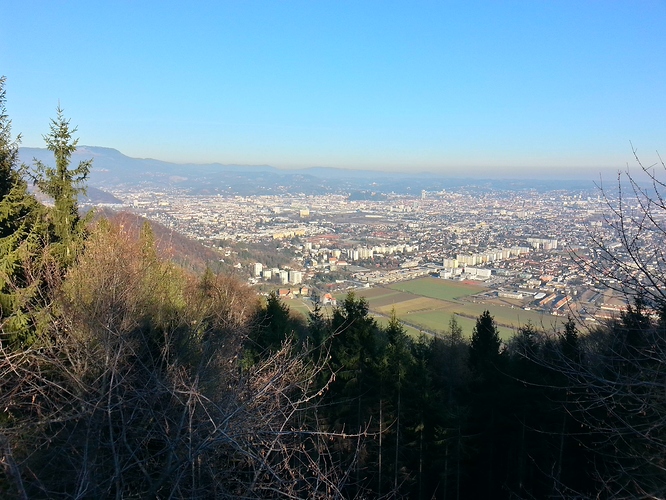 Had the perfect operating area: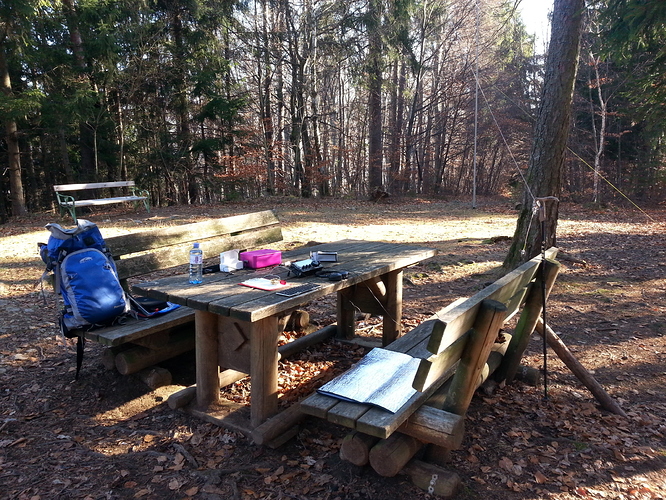 Santa even brought a nice new key to play with: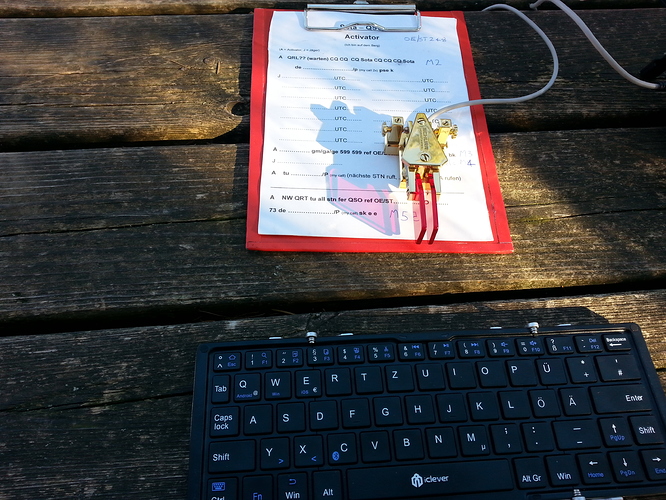 I had been invited to Christmas dinner the night before and stayed over; only 2 - 3 km from the summit, so it was right on the doorstep. Started the day with smoked salmon, boiled egg and freshly baked bread, then wandered up the Buchkogel in blazing sunshine. I had a nice stream of contacts on 40m and the 3S Li Ion held up remarkably well. The new OCFD worked flawlessly; no humming in the noise cancelling headphones now I've swapped the ferrite in the balun for a type 43. The only thing that went wrong is that I forgot my fleece liner gloves, so my fingers got a bit cold as time went on. Still, a first class way to spend Christmas day if you ask me.
Merry Christmas and happy new year
de OE6FEG / M0FEU
Matt
Just to wish everyone A Very Happy Christmas and a Prosperous New Year. We are still here and we will be back on the hills soon we hope!
Take care out there.
73
Rob and Audrey
G4RQJ.
That's funny, he stopped by at our place last night as well with a keyer for my KX3, I guess I've got no excuse not to learn now.
Hope everyone had a great day today and looking forward to more SOTA in the new year!
73,
Val
As Val says, I too hope everyone had/has a good day. Nice, calm and relaxing here with not too much excess consumption. Just a little excess consumption! WX may be quite sunny tomorrow, maybe sneak a quick activation in.
Christmas Day ending here with some quite heavy snow. It's a few years since we've had a white Christmas.
What key is it? It looks very nice.
The Boxing Day activation was again a walk up The Cloud G/SP-015. Beautiful day with stunning views. I made six contacts on 40m CW before my pole snapped in half.
I then went onto 2m FM, adding three QSOs.
QSY to the Moss Rose Stadium for the footy, and the supporters' bar. Happy Boxing Day.
Hi Anthony,
it's actually a Schurr key from the QRP Shop in Berlin:
At €145 they are not cheap, but they are still good value compared to a Begali. I was not happy with the feel of the Pico paddle. It's like corned beef sandwich: does the job and that's it. I was going to go back to the Palm Mini (which I like a lot), but when I saw this I thought what the hell, why not have bit of luxury. It has a great feel to it, very precise. It also has a magnetic base, so plenty of customisable options. It is not as nice to hold in the hand as a Palm Mini, but I'm working on a flight deck, so that's not a big issue. It has magnetic return, although the magnets are in attraction mode, where repulsion has the nicer feel (IMHO). That being said, it's a neat mechanism. It's not light either (140g ±), but then I've saved 700g with my new tent, so I can afford the weight penalty.
EDIT TO SAVE ON POSTS:
I used it on today's activation of the Steinkogel OE/ST-381, which was, as yesterday, unseasonably warm. I put an alert in for the Eggenberg, because the summit is very close to Eggenberg in Graz. However, as I started my walk up and began to check various apps, I saw that I was getting closer to the Steinkogel, and that the Eggenberg was several km away! Thank God for mobile internet; I was able to update the alert in good time. The activation went much the same as yesterday, but with more activity on 20m, and absolutely nothing on 30m. There was no picnic bench to operate from today, just a fallen tree. I also found out that not only did I forget my gloves yesterday, I've lost them altogether, so I'll have to buy a new pair soon. The WX is not so good for a few days now, so I'll be doing more chasing from home, tucked up drinking hot chocolate. If the WX plays ball, I will be up on the Schöckl on the 1st of January with Karl (OE6LKG) for a joint activation. And perhaps a few more 2 pointers between now and then…
       de OE6FEG / M0FEU
                 Matt
That's a very nice key. Will keep practicing my cw so I can use a key like that lol.
Just my usual Xmas morning on Cleeve Hill.
Relatively mild, windy and kids up early flying their new kites!
Thanks to all the chasers, I was suffering more than normal with breakthrough from the adjacent TXs.
MX es HNY 73
Wednesday 27th December 2017
Today's Cloud G/SP-015 activation was bolted onto yet another tip run as part of mummy's downsizing. After dismantling, breaking and removing a huge double wardrobe from my mum's old flat, loading it into my motor and disposing of it in the chipboard recycling skip, I was absolutely exhausted!
But nothing stops me from doing my daily SOTA activation, and in fact I really felt the benefit of my improved fitness on the ascent. Cloud summit was covered in a light dusting of snow, and it was much colder than it has been recently.
Four contacts on the 2m FM handheld, and straight back down.
Thursday 28th December 2017
Still no new pole, waiting for bits for a new 20m GP, and limited time before an evening's work all conspired to dictate that any activating would again have to be handheld + rubber duck style, 2m FM.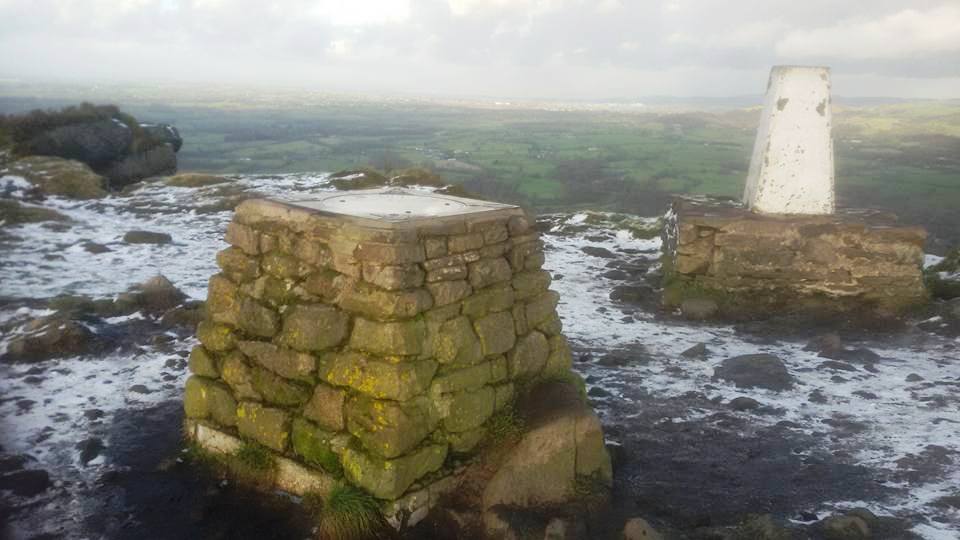 This was fine from The Cloud G/SP-015, which was very popular on this fine sunny, frosty and cold lunchtime. Four QSOs were made, all, interestingly, with 2E0 stations! Thanks to Dwayne 2E0DIJ, Pete 2E0LKC, Anne 2E0LMD and David 2E0IXM/M. The QSOs were timed at 1307, 1311, 1313 and 1314 UTC respectively, and took place on 145.450MHz FM.
I then navigated across the rather icy lanes to Gun G/SP-013. I called CQ SOTA on the handie from the marker stone (pictured), to the summit, but didn't get any callers. The marker stone is well within the AZ, and I do occasionally set up there, especially when on HF.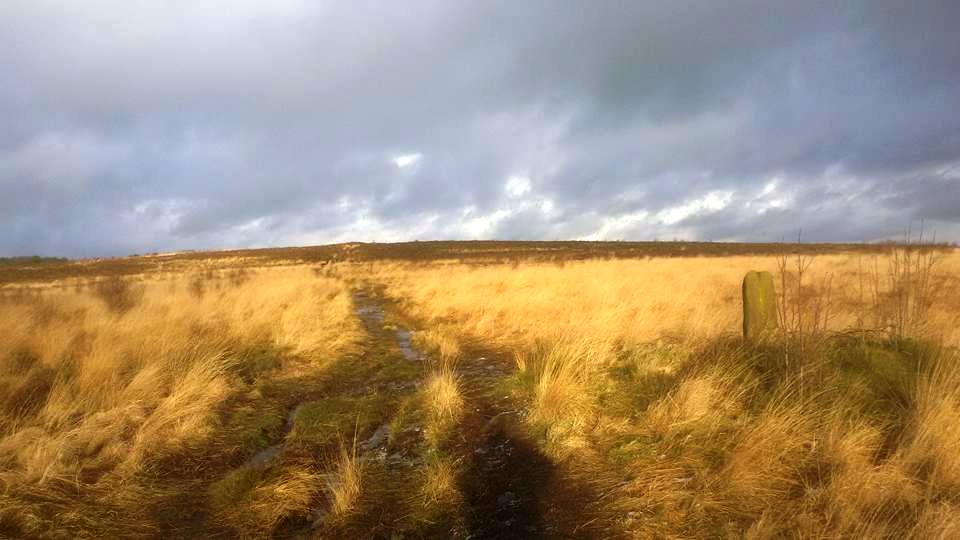 At the trig point, I called again and was answered by Steve MW0ISC, followed by David 2E0IXM/M again. Just two QSOs then for this activation, timed at 1410 and 1411 UTC. The QRG was 145.475MHz FM.