After doing 9 SOTA activations of 1 and 2 point summits, I felt I was ready for my first 4 point SOTA summit, going over 1000 meter ASL. When I activated Guanyin Mountain (BV/NT-036) last week I could see Datun Mountain (BV/NT-013) on the other side of the Danshui river and it seemed a not too difficult mountain to conquer. So plans were made, maps studied and routes planned.
Sunday June 5 came and after dropping off my daughter, who had to be in Taipei, I drove up Yangmingshan National Park towards Datun Mountain. The weather was nice on this Sunday morning and the ride easy…until I arrived at the parking lot. Only some 20 cars could park there and it was packed, with a queue in front of the entrance, and no road side parking possible at all.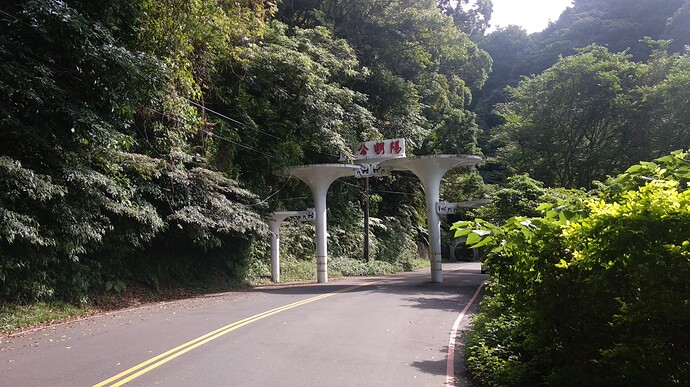 The Yangmingshan National Park entrance
Okay, plan B then: go to the nearby Erziping Visitors Center, park there and activate Miantian Mountain (BV/NT-019). Problem was the road leading there was completely blocked with heavy traffic as half of Taipei apparently wanted to go there. So forget plan B, quickly think of plan C.
A quick search on SOTL.as and I decided to see if Xiao (Little) Guanyin Mountain (BV/NT-015) was reachable. It seemed it was, but unfortunately Plan C also didn't work because the road going up to there was private property (lots of TV stations have there transmitters there). Exasperated I almost decided to head back home to call it a day.
I checked SOTL.as one more time and decided that Shamao Mountain (BV/TP-002) in Taipei City proper was going to be Plan D: my last attempt. I drove there, found a roadside parking spot and located the entrance. Only a 2-pointer at 645 meter ASL, but better than nothing and at least it was to be my first Taipei mountain to conquer.
There are three ways to get up Shamao Mountain, two climbing stone stairs, one a forest trail. I parked closest to the forest trail and, with rests, it took me an hour and a half to get up there. It wasn't an easy climb, with dense vegetation and lots of ropes in various places to help you hoist yourself up. Almost at the top there were some remains of an old pavilion built for a visiting Japanese prince.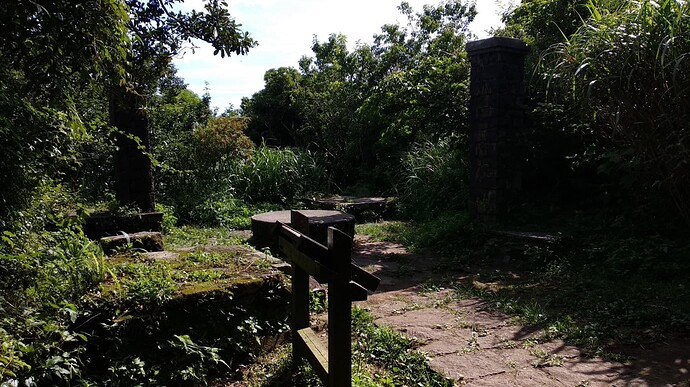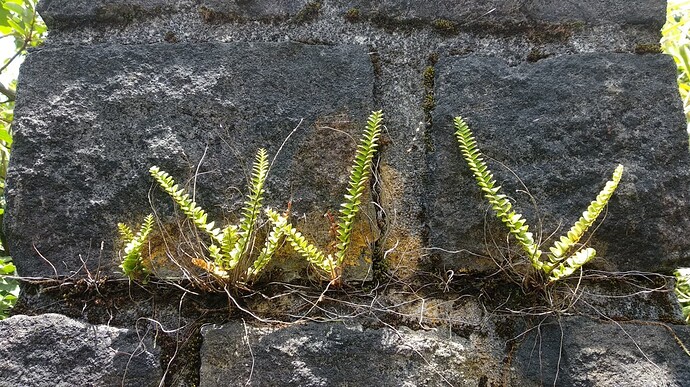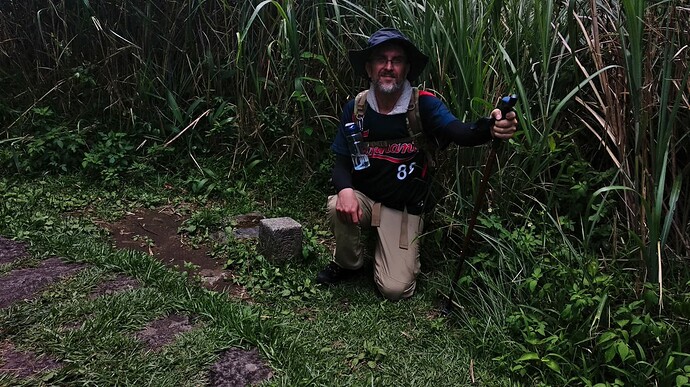 Found the trig point
A few meters from the trig point I found a well maintained panoramic viewing platform at the top and that compensated for the ruggedness of the ascent.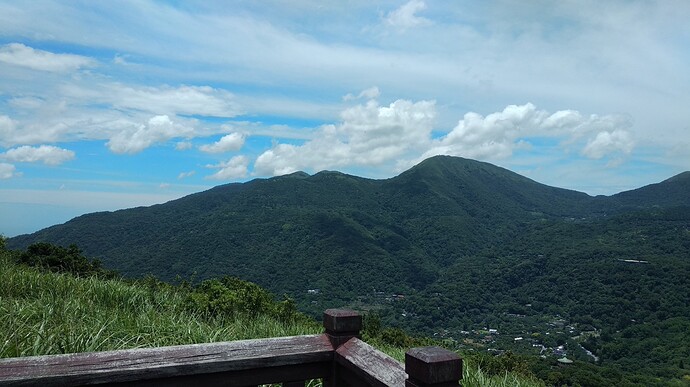 I fumbled a bit with the antenna, because until now I always used a ground stake to mount it on, but on this platform I had to use straps to mount the antenna to the barrier. That was a first! But I got it done and could finally start my activation.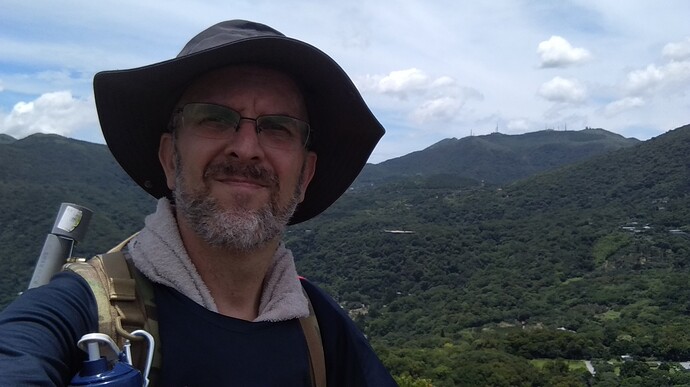 I wasn't disappointed with many Japanese chasers present and two S2S contacts. F4WBN and ZL1TM were also showing up and I made my first SOTA QSO on 6 meters with Japan. To round it off one FM QSO on 2 meters with BU2CC and then it was time to head back home.
A friendly fellow hiker advised me to take the stairs down as it was easier to walk, and after a look on the map I liked the idea of walking a circular route. It was easier, and then it wasn't. The forest route up was varied, with parts to climb and parts to walk, which I like. The stairs were just that, non-stop, no variation, no resting places, just steps all the way down.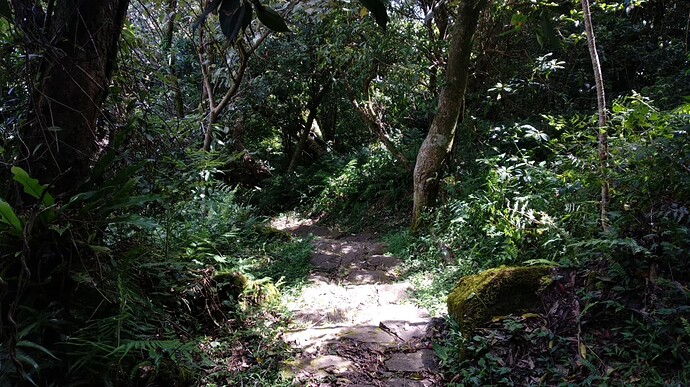 Back on the street I found the connecting street that would bring me back to my car, only to find it was private property, so I couldn't pass. Bummer, but close by I found a third, older flight of stairs, not on the map, which I guessed would connect to the forest trail, which I could then take to go down. Older, in this case, meant not being used and maintained, and for another first I had to bushwack my way up, which was very slow going. But my guess was right and I did connect to the forest trail and made it back to the car. Completely knackered, but happy to have found this abandoned trail and walked it.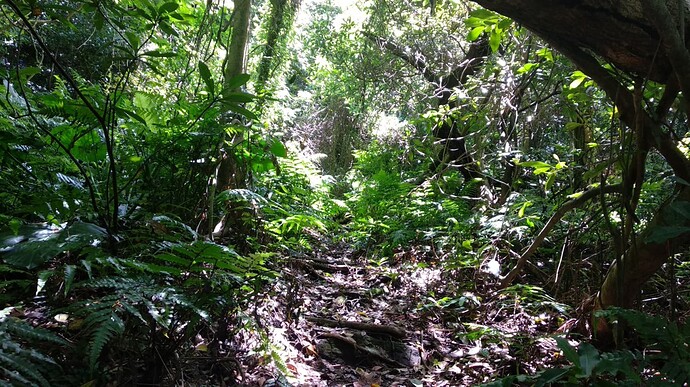 So plan D did work out in the end, although not in the way I had hoped it would. Still, I netted another 2 points, activated my first Taipei City mountain, had a first 6m SOTA QSO, and traversed through some wild forest on an undocumented trail for the first time as well. That's enough firsts for one day.
| Time(Z) | Call | Name | SOTA reference | Freq | Mode | TX power |
| --- | --- | --- | --- | --- | --- | --- |
| 0421 | JH7IOT/7 | Atsushi | JA/AT-002 | 21.064 | CW | 12 |
| 0429 | JF7RJM | Naoto | | 21.065 | CW | 12 |
| 0433 | JA5QJX/0 | Yasu | | 21.065 | CW | 12 |
| 0435 | ZL1TM | Andrei | | 21.065 | CW | 12 |
| 0438 | F4WBN | Chris | | 21.065 | CW | 12 |
| 0439 | JA1VRY | Tadashi | | 21.065 | CW | 12 |
| 0442 | JH1MXV | Hideo | | 21.065 | CW | 12 |
| 0449 | JF1NDT/2 | Yukio | JA/SO-038 | 21.065 | CW | 12 |
| 0451 | 7N1FRE | Kaz | | 21.065 | CW | 12 |
| 0515 | JA5EWQ | | | 50.125 | CW | 12 |
| 0615 | BU2CC | Terry | | 144.62 | FM | 5 |