Dear all
3007 could be anything, e.g. the postal code of a neighborhood in our capital Berne. But as per today, this is the SOTA score of Bruno, HB9CBR. Congrats Bruno on achieving your 3rd mountain goat now and #10 of the HB9 SOTA rank – and #9 doesn't seem far. Bruno got the last point on a summit called "Höchst" (see HB/SG-025 on SOTLAS) what means highest/topmost what is certainly adequate for an MG activation.
SOTA stats reveal that Bruno is doing more SOTA activations since his retirement: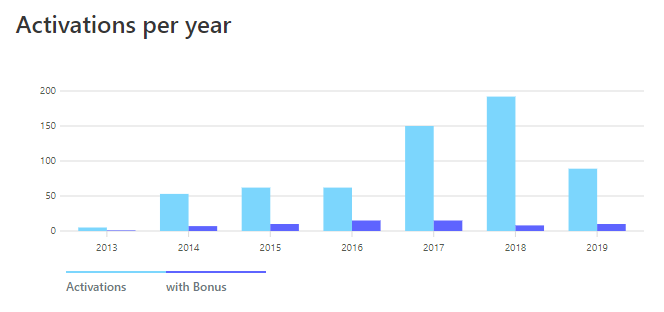 Bruno was a professional CW operator, so it's no surprise to see that his activations are CW only. But it was rumored that Bruno once had surprised someone with his voice . . . and yes, funny enough, SOTLAS reveals 2 SSB QSOs and 1 FM QSO:

His KX2 has a built-in microphone so I can still hope for his 3rd SSB QSO. Or I will surprise him with a CW call after my own retirement when I'm supposed to have enough time for a CW brush up (last CW QSO 34 years ago here, hi).
There is something else very special to be honored: Bruno does most of his activations by means of public transportation. This may be easier here in HB9 since we have a good and dense transport system. But it's difficult enough to plan your day this way if you want to do a big tour to the end of nowhere. So other fellows offer him a ride from time to time to catch some further uniques!
Bruno is the secretary and doing all the paperwork for our local association club HB9SOTA. Thanks, Bruno, for all that great stuff you're providing at home and on the air, and continue to enjoy your SOTA journey together with us!
Vy 73 de Markus, HB9DIZ