I don't get the chance to do as many SOTA activations as I'd like. My younger daughter is now at secondary school so as I don't have to take and collect her to and from school any more I was determined to get out more often. My wife was away with work for a couple of days so it was the perfect opportunity to do some activations. I was expecting that the large number of covid cases at school, the fuel shortage or the weather would scupper my plans but fortunately they didn't.
Thursday 7/10/21 Birks Fell G/NP-031
I parked in the usual spot near the Queens Head in Litton. The weather wasn't as good as I'd hoped with the clouds down on the tops but it was surprisingly warm. As I got near to the top I couldn't see the trig point (which isn't the actual summit but is well within the activation zone) at first but I soon found it and started to set up next to the wall nearby. It was quite windy but this was a nicely sheltered spot. I expected to have the summit to myself but started hearing voices. A large group of about 20 men soon appeared. I chatted to a couple of them trying to explain what I was doing but it seems no one these days knows what ham radio is. They were from Cheshire and had been staying in Kettlewell youth hostel. They soon left me in peace and I could finish setting up.
My usual HF antenna is a 20/30/40m EFHW. The full length is resonant on 20m and 40m and there is a link that is disconnected for 30m. I noticed that the wire to one of the crocodile clips had broken. There was just enough wire poking out of the installation for me to clip to so it seemed not to be a problem. Perhaps I need to pack some tools just in case. Since my homebrew rig doesn't actually include 30m I should probably make a 20/40m antenna which needs no links so there's less to go wrong.
40m CW brought me only 4 QSOs which is fewer than I normally get. But on 20m there was a little pile up with 17 QSOs with 2 S2S plus K4DY which is the first stateside SOTA contact I've had for a while. Perhaps conditions are slowly picking up. 2m FM brought me 8 QSOs. For this I was using my Baofeng handheld but with a slim jim on the top of the 6m pole. These cheap handhelds are criticised but it did a good job. With no radio masts on most of these hills to cause interference it's a lighter option than the FT817ND.
During the activation it was a little damp but that was just from being inside a cloud. At one point it started raining heavily and I thought I'd need to quickly pack away but after about 10 seconds it stopped and that was the only rain for the whole day. As I descended the cloud was lifting and there were some great views of Wharfedale. Instead of just retracing my steps I carried along the ridge and descended to Arncliffe and then followed the valley footpath back to Litton. The ridge walk was superb and I was glad that I made it into a proper walk rather than just a radio outing.
Friday 8/10/21 Fountains Fell G/NP-017 and Pen-y-Ghent G/NP-010
Thursday's weather hadn't been as good as I expected from the forecast earlier in the week but Friday's was much better than expected. Even in summer I couldn't have hoped it to be any better. First thing there was cloud on the tops but it was the type that you know is going to burn off and it did.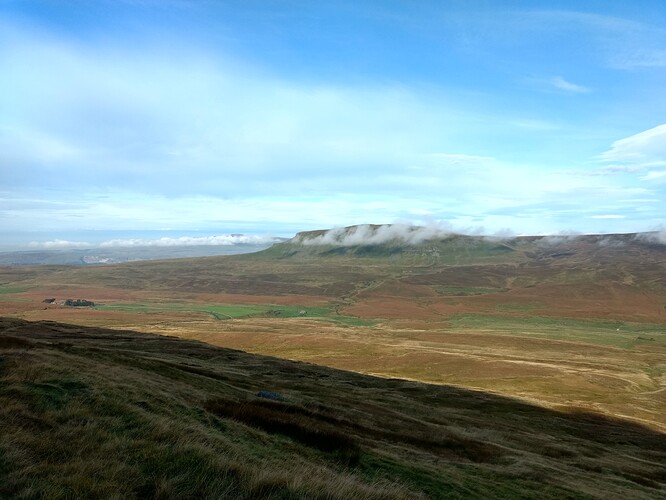 The usual parking place for Fountains Fell is by the cattle grid where the Pennine Way meets the road but it didn't look like a very good place to me - I had visions of the car being stuck in the mud. So I turned round and found a spot with some hard standing. It didn't take too long to get to the summit and this time I had the place to myself. The actual summit isn't very obvious as there isn't a trig point but it doesn't matter as the activation zone is large. I just bungeed my pole to the fence around one of the open mine shafts and set up my (now repaired) EFHW.
Again it was only 4 QSOs on 40m CW and, surprisingly, only 4 on 20m although that did include a summit to summit with Phil EA/G4OBK/P who is normally one of my more local chasers. On 2m FM I had 17 QSOs including S2S with the Lake District.
While packing away I managed to break off the top of the fishing pole. Fortunately it was the bendy bit which never gets used anyway.
It was nice to be sat on a hilltop and not feel the need to rush down as the weather was so good. But Pen-y-Ghent beckoned. The descent was surprisingly quick and I walked along the road, past my car and on to the Pennine Way to my next summit. In the distance I could see and hear a large group of schoolchildren very slowly making their way to the top. Fortunately I never got near to them - I was anticipating lots of questions (Why are you fishing? Are you a spy?).
Having got to the top I could see a nice fence post for the mast a little down from the summit that would keep me away from the crowds. Being one of the Yorkshire Three Peaks I was not expecting Pen-y-Ghent to myself. At first it seemed that the top antenna insulator would not fit on my newly broken pole. Fortunately it just needed a bit of rearrangement and all was ok.
This time 40m got me 8 QSOs including 1 S2S, on 20m there were 7 QSOs with 1 S2S and K3TCU. On 2m FM I had 16 QSOs with 3 S2S to North Wales and the South Pennines. It was nice to hear the same voices that had kept me company on the 3 summits.
Once again I didn't need to rush off the summit and could actually eat all of my lunch before descending. Again I retraced my steps which are definitely harder going down Pen-y-Ghent than going up. Soon I was back to the car and off home. I felt really lucky that one of my few SOTA days had had such wonderful weather in October.
So thanks to all the chasers, especially those who had to keep resending their callsigns that I was incapable of copying correctly. My CW is bad enough in the shack so you can imagine how bad it is when I'm on a hill.