Thank you for these tables Luc.
Jimmy M0HGY
I wasn't complaining. It was a nice change from the wide open summits we have here in California.
Ok Jimmy !
It doesn't matter, waiting for someone else.
73 QRO
No problem Roger, if we do decide to activate that summit, we will let you know.
Jimmy M0HGY
Amstelveen - we are in you.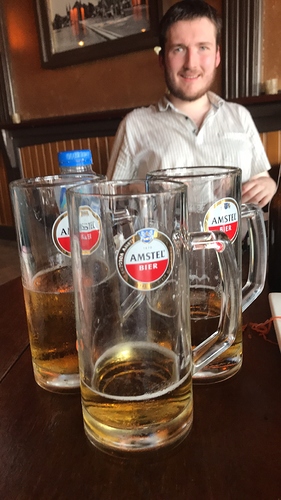 Not much SOTA planned for the first few days - just Signaal de Bolsch PA/PA-006 early Thursday morning - hoping for VK/ZL/JA and plenty of SOTA chasers around EU.
Just the three countries Tom? Over two weeks… lightweights!

Have fun…it's meant to be "a bit hot" in mainland Europe over the next week. It was 33C as we drove to the airport outside Milan today. I thought the airport would be air conditioned but it didn't seem like it until we walked out to the plane. Wow… scorchio! 41C in Milan for Thursday which is too hot for me.
The only three countries in mainland Europe not expected to set new all-time temperature highs this week are PA, ON and LX. It will still be ridiculously hot though.
Perhaps therefore it has worked out well that we only have one activation planned this week, and that will be early morning.
When we move over to Liege next week we should be in the habit of going out activating every morning and hopefully one full day pass out too.
There may be chances of SOTA activations in France and Germany, but these will be unlikely through as we are focussing on the 3 Benelux countries.
Jimmy PA/M0HGY
There's an ON summit that has a large part of the AZ in France. You can activate as F/M0HGY and give the reference as ON/ON-006. Well if you are a child like me you can.
Activating ON/ON-009 from DL is also possible.
Can't get an easier 6 point drive on than DM/RP-003 not far over the border
Hi,
I am aware that is possible to activate ON/ON-009 on the DL side and ON/ON-006 on the F side, however with us both doing HF, that maynot be good idea I think this can confuse the chasers. I am also aware of DM/RP-003 being near to ON/ON-009 also and is a drive to the top, so may activate that one next week.
Jimmy PA/M0HGY
Nope, it shows you you who is listening to what is being sent and who is logging via SOTAwatch alone.
Good point Andy, I bet some chasers may still log as the activator using the DXCC prefix of the association rather the DXCC prefix the activator was actually using.
Jimmy PA/M0HGY
And your point is caller?

All that matters is that your log is 100% halal and knowing you, it will be. Job done, enjoy more beer.
Thursday 27th June 2019 - Signaal Imbosch PA/PA-006
The first activation of the holiday has been completed successfully. After an early start, Jimmy and I drove from Uithoorn to near Arnhem, via Utrecht.
After leaving the motorway, the road headed gently upwards into a picturesque forested area. The cul-de-sac road ended with a parking area within the AZ. However we of course took the short easy walk to the actual summit, probably around a kilometre.
The summit was wooded but a clearing at the top was sufficient for us to set up the 30m GP and 2m MFD. The latter was a waste of time for Jimmy, but I racked up 15 QSOs on 30m CW.
We then set up the Bandhopper 4 set for 40m. We'll probably save some time on subsequent activations by just using this antenna. Jimmy PA/M0HGY/P qualified with 8 QSOs on 40m SSB.
I then had a go on 40m, adding ten QSOs - 4 on CW and 6 on SSB. We made four S2S contacts between us.
There was some activity on 2m FM, there was a QSO on the calling channel (145.500) and also 145.475. All were very scratchy with me and I called into the QSO on the calling channel a few times, but didn't come back to me. They probably most likely didn't hear, but also possible that they could have heard me, but didn't call me with me being English and not knowing either the Dutch or German language depending on which of those countries they were in.
Jimmy PA/M0HGY
Saturday 29th June 2019 - Observant St Pietersberg PA/PA-003
With this summit we successfully polished off another entire DXCC / Association for SOTA. As it was much much closer to our second holiday accommodation in Liege, Belgium, we did this one on the travel day between the two.
Therefore Marianne and Liam joined Jimmy M0HGY and myself on the highest mountain summit in PA! It was baking hot at 33 degrees, yet just about the coolest place in mainland Europe!
It was an easy walk up pleasant and graded forest tracks. The summit was marked by a set of walls in the shape of a five pointed star.
Jimmy managed a 2m FM contact on this one, working a DL station in Aachen. After that though, he moved on to 40m SSB to qualify. By that stage, I'd already qualified on 40m CW.
So that's another association finished off to go along with G, GD, GI, GJ and GU. We will venture into another brand new SOTA association for us tomorrow afternoon - ON.
Sunday 30th June 2019 - Terril Ste-Barde et Tonne ON/ON-029
So that was our debut on the radio in Belgium. The hill was actually situated within the city of Liege and within easy walking distance of our city centre accommodation. However, with the LX day-pass secures for the following day, I was mindful not to disrupt domestic bliss by staying out too long at teatime. So we used the car and drove up to the parking spot on a residential road at the top end of town.
From here it was a zigzag path up through the woods with the summit accessed by a choice of steep gravelly ramps. The area at the summit was rather small, and so I set the Bandhopper 4 linked dipole in a way that 80m would not be available. 40m was the strategy anyway.
Jimmy ON/M0HGY/P was delighted to make two QSOs on 2m FM - one DL station and one ON, both of whom had excellent command of English. He then fielded a sizeable pile-up on 40m SSB.
By this stage, I'd qualified myself on 40m CW.
During the evening we all went out into Liege and enjoyed a super evening at Chez Sam restaurant/bar. Sat outside beside the vibrant city streets, we indulged in various tapas and lovely Jupiler beer.
Now looking forward to a multi summit day tomorrow.
Thanks to all chasers today, many of whom chased us on multiple summits. IK2LEY got us on all five, including every summit in the LX association.