After the previous outing on the Ben Lawers range these two seemed like they were going to be a sort of, 'rest day', or least not too taxing. A previous report I'd read mentioned parking up at the forestry Ben More entrance a OS 51 NN455275 and aproaching Ben More through the forestry along Allt Coire Chaorach then heading SE to up to the hills on that side, which include Stob Creagach - basically turning the whole thing into a horse shoe. I thought I'd forget the horse shoe and simply head up to the Bealach between my two appointed summits. Simples!!
The first thing that didn't go down to well was that there was no anticipated forestry road going my way along the burn. Just a trace of a long since disused overgrown gap along the side of the burn. That would have to do. It got worse before it got better but eventually I made the open hillside which were quite wet and boggy in places. There, any remains of a path or track vanished as did the tops in swirling mists.
Around 700m I saw, much to my surprise a Dipper fly out of a small burn and out of sight. These birds of stream and river are rarely encountered at such hight. There were no sheep on the hill and I saw nothing else of note.
I took a a compass bearing got me to the Bealach where now the winds had increased to less than tolerable speeds for doing an activation. On I pressed and arrived at the top of Stob Binnein some three hours after leaving my van. The summit was bleak. I wasn't exactly enjoying myself at this stage but eventually found somewhere which gave me a little shelter from the wind.
I was blessed by a good enough BT signal and self spotted. Much to my relief I logged my first four CW contacts on 14mhz -, SA4BLM, F4WBN, SM5LNE, DL6WT within minutes. I suddenly felt much better! These were quickly followed by Andy/G4AFI and another 9 chasers before I went to 10mhz and got another 8 contacts. It was time to head to Ben More, still in the swirling mists and strong gusting winds.
Here to I managed to find a little shelter in the lee of the hill. Self spotting again I was soon answered by Chris/F4WBN on 14mhz and another 23 contacts,including an S2S with MQ1EYP/P on GM/SS182. The signal was pretty weak but I was stumped by the Q in the call and asked for a repear. It took some time before it dawned on me this was Tom and he was including the 'Q' as part of the Queen's Jubilee.
It was now 4pm, I was rather damp and getting cold, despite having all my spare clothing on, and, I also faced the issue of deciding the best way to return to the vehicle… I could return the way I came, but didn't relish the idea of floundering around trying to find the way back through the forestry. It seemed much simpler to follow the well worn path leading off the summit to the NW which I knew would likely come out at Benmore Fm on the A85 road. But I didn't anticipate how steep and eroded the path would be. The going down was harder than going up and seemed to go on forever. Eventually the mist cleared I could see that I had an awlful lot of steep descent ahead before reaching the luxury of the road.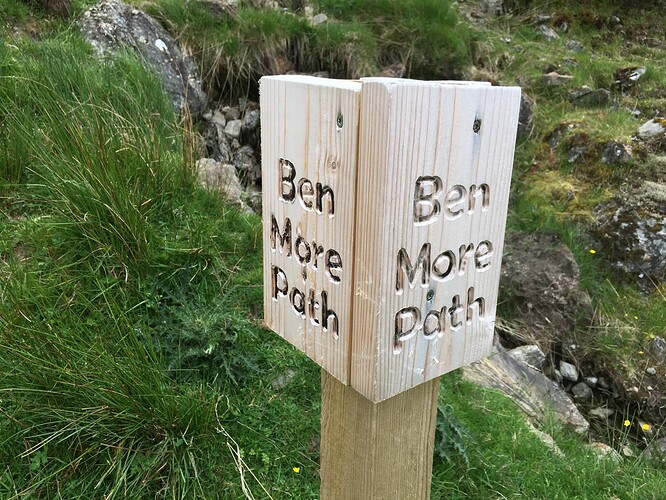 Now, I don't like walking on busy roads - who does? But I had little choice. Yes it was noisy - I expected that, but what I hand't anticipated was that I couldn't walk behind the crash barriers as sometimes there simply wasn't the room, and walking in front of them seemed both stupid and potentially dangerous around bends and so on, so I spent a fair bit of time crossing and recrossing the road and jumping over the barrier when cars & lorries approached.
At 6:30pm, some 9 hours after leaving the van I got back in and had my dinner. I'd left the side door open and noticed I had a guest outside.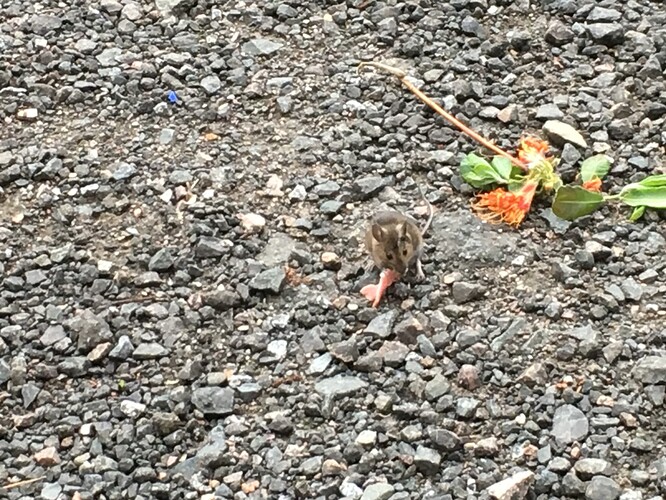 Here my guest is eating a bit of ham. Its a good protein boost for him
He didn't seem too fussed by my presence and he ate some of my ham & muesli I'd scattered for him. The last time I saw him he trotted of with an oat flake to eat in peace. I think he was camera shy.
I drove of, to my next day's target at Tyndrum, Ben Ohdar (GM/CS-050)