North Bay in Ontario is a small city just where the Southern Ontario (VE3/SO) and Northeastern Ontario (VE3/NE) SOTA associations meet. The terrain is gently rolling hills covered in mixed deciduous forest, (maple, linden, oak, birch, poplar and such) just south of where the vegetation changes to that of the great boreal forest that stretches over 5,000 km across northern Canada.
I lived in North Bay for several years, and still visit the area. At the end of May, 2019, I was able to activate NE-485, one of hundreds of un-named, un-activated summits in the NE area. I took advantage of an electrical transmission line that runs close to the summit of NE-485, about 4 km from the small village of Ferronia. Travel along the right-of-way is easy. It is a wide cut-line through the bush. However a small stream runs down each valley, and it is not unusual to find that beavers have dammed the stream, requiring a detour through the bush to get by.
Beaver pond on the way to the summit of VE3/NE-485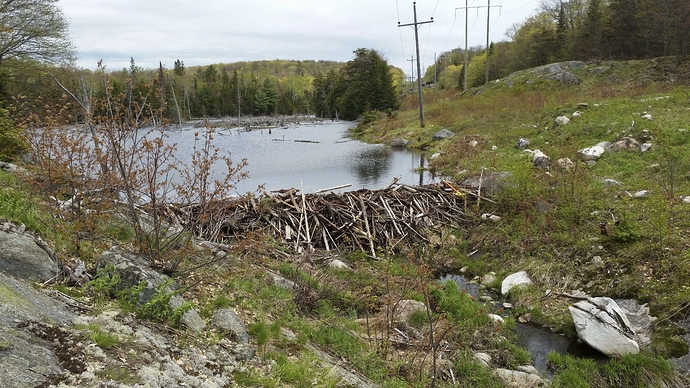 On this particular activation, there was a good steady breeze blowing along the right-of-way, but when I turned into the bush for the final 300 metres to the summit, the blackflies rose to cover me! I had forgotten just how vicious these small, biting flies are. I had also forgotten my insect repellant! I hurridly put on my rain jacket pulling the cuffs and hood as close as I could. I lasted 20 minutes on the summit, making just 2 SSB contacts on 20m before abandoning the activation! Afterwards I was able to count over 40 bites on just my hands from the 20 minute activation.
Blackfly beseiged SOTA activator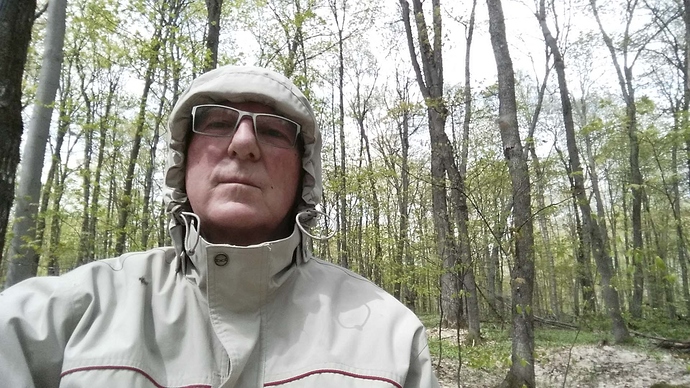 Indeed the blackflies have such a reputation in Canada that they were the subject of an animated cartoon made in 1991 by the National Film Board of Canada, which was nominated for an Academy award!
https://www.nfb.ca/film/blackfly/
Happy activating.
Ian VE6IXD