Has anyone attempted a DIY / Clone of an Elecraft AX-1 antenna?
Let me be the first one to not answer the question. Have you seen this?
Also not exactly as asked, Andy, hi.
Just an addition to the AX1 in the form of a loaded AXW1 for 17-10 m.
And of course also the 60/40/30 m extender for the AX1.
Works excellently, e.g. much loved by Daniel@HB9IIO for the SOTA s2s "competition" and to collect dx raisins with a Sunday luggage, hi.
Sure Andy, @MM0FMF
I have had this in my KX3 bag for years (and I made it long before AX1 existed).

I didn't bother tuning it to resonance, it resonates somewhere around 9.5 MHz when the whip is fully extended. Autotuner in the KX3 makes it work on 40/30/20m.
We discussed this in another thread, some people swear by this type of antenna, I see it more as an emergency backup. I'm more a fan of lots of wire in the sky …
Luc ON7DQ
I was prompted when I found a telescopic whip that extends to 1.4/1.5m and yes it's for somewhere where deploying a "proper" antenna may not be easy but something is needed. I'll find the old threads and read them again.
No I hadn't. But it's the kind of thing I was looking for.
Hi Folks
I realized a AX1 clone that is resonant 1:1 in 20m band bypassing autotuner . The whip Is the a miracle antenna's whip. All banda are available using the right contact on the coil and the automatic tuner. Excluding whip ,all materials are available in a brico shop.
During last cw 20m

activation in central Italy the reverse Beacon showed China and I confirmed qso with Indonesia (CT2VOC). Today I'll upload the log.
Best 73
Iz0fyl Luca
I had the opportunity to test the roWaves mini whip last weekend (the one in the link at the top of this thread).
I was surprised at the results.
I've been informed that the roWaves website crashed last night. It seems to be working now.
Hi
About my clone…
Coil diameter 2.5 cm
25 turns for 20m band
Wire 0.6 mm plastica sheat
Whip lenght less than 1.5 m for 2:1 swr
Tested using mini60s swrmeter and kx3 swrmeter
Other bands 18 MHz and up only whip and autotuner
30 m band 35 turns and autotuner
40 m band 70 turns and autotuner
73
luca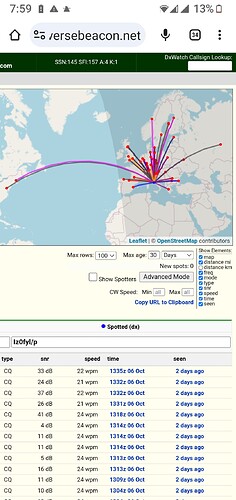 Report of last sota activities
Was that your fault ?

I'm going to take the 5th on that.
So I think I found the corect topic now. Hahaha.
@HB9BCB Heinz, can I use for your construction also toroids with the material 43? If you saw the video of Fraser with the MHW-4217 they used also a varicap…
@MM0EFI Fraser, your MHW-4217 worked great in your video!
@ON7DQ Luc, how happy are you with your DIY antenna?
I want to make a similar small antenna for more band, for fast QSOs or for very narrow peaks like in the dolomites.
I'm having an "ATX-1080" its a little bit to big for my use.
Thank you all!
PS: Found something pretty usefull:
https://vk3ye.com/projects/projped.htm
73
Julian
I bought one of these recently on a trip to JA.
https://www.hamradiostore.co.uk/product/comet-hfj-350m-toybox-portable-antenna/
Last month on an activation, we had just pulled down the wire antenna and I received a text message from VK3PF for a summit to summit contact.
I got the Comet HFJ-350m out and was on air in less than a minute to complete the summit to summit.
So it did the job in that instance.
Cheers,
Glenn VK3YY.
I am currently building 40-10 version. I hope to test it in the field soon. Tests at home look promissing.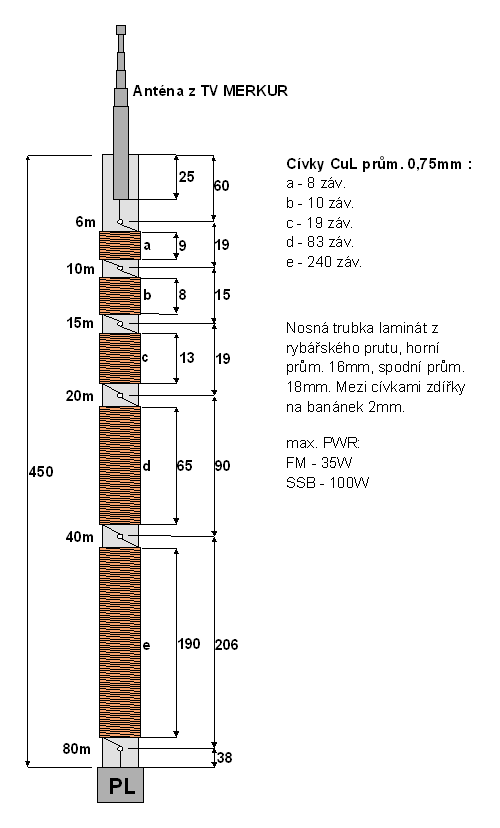 73 Marek
Marku, I built it 20 years ago. It worked fine on the roof of the car.
So I came to a new idea. Im using now a 27MHz CB Antenna. They are on Aliexpress and the price is like 5$.
I'm building it as follow: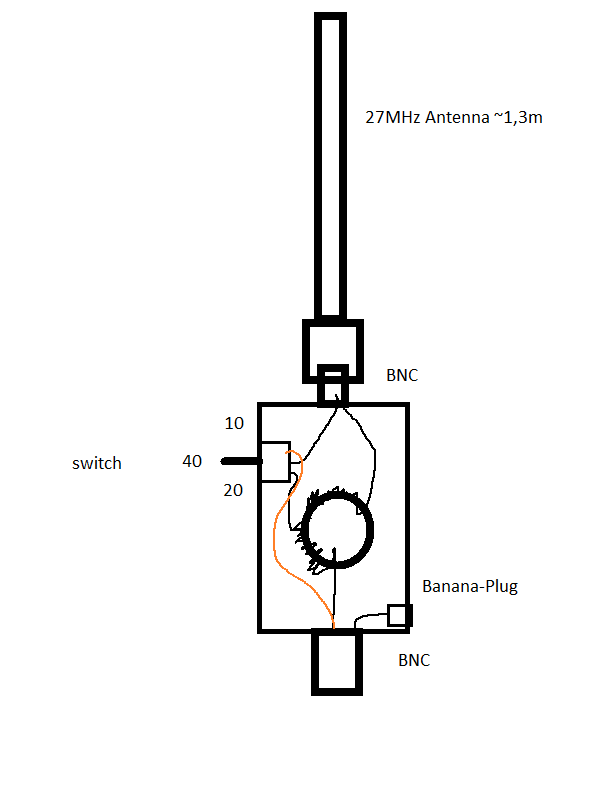 With the switch I can change for 10-20-40m.
Let's see how it will work

73
Julian
Julian
What's the details on the coil and # of turns?
Grazie
John
Hi John,
good question and tbh I tried it only for 20m until now.
I calculated the following data for my T 106-2:
20m: 9.0µh → 26 t
40m: 38µh → 53 t
But of course it depends of the core type, the diameter and the antenna length.
When my antenna arrives and I'm start building my loadcoilbox I will let u know how I did it.
73
Julian