Yes, its wonderful what you can do with a handful of sphagnum moss!
With regards to the title of this thread…
I saw that Police for the Peak District were advising people that whilst exercising with social distancing in mind was good that did not give you the right to drive a few miles, park at a beauty spot car park so you could walk your dog on the moors or jog/hike about the remote (for England) countryside. Anyone who thinks that police force is mistaken should take it up with that force's Police Commissioner and/or Chief Constable.
And turned me into a Tefalhead too.
10 bonus points if you can name the character and name the film (one of the greatest 1950s scifi films).
Would that be Exeter from This Island Earth?
Just going to adjust my Interossitor…
Ding! Ding! Ding! We have a winner.

"…and turn the clarifier disk 18degs to the left…"
Check out the MST3k edition for maximum chuckles.
I became a SF buff in the 50's, and in my opinion there were NO great SF fils in the 50s! In the days when Arthur C Clarke, Robert Heinlein and Isaac Asimov were showing what SF could do, the best the film makers could come up with was Forbidden Planet or It Came From Outer Space! I particularly enjoyed seeing the radio in "Destination Moon" was an R1155 with no T1154!
Sorry, OT, you pressed a button!
A silly thought occurs to me, completely off topic, but I guess valves in space wouldn't need an evacuated glass envelope…?
(No practical use, as they would have to be outside the spacecraft)
Not sure… I've got a soft spot for The Day the Earth Stood Still!
Not science fiction but one of the most amazing films of all time must be Le Salaire de la Peur…
Depends where they are relative to Earth… ISTR there were some where the vacuum was harder than you would get opening the window on ISS, sticking a bottle out and opening the top and collecting a litre of vacuum and bringing it back. Some had extra active getters to make sure the vacuum stayed hard. Things like scintillation detectors, photomultipliers etc.
Is buying fatballs for feeding garden birds considered essential, we've run out? I can see the feeders Sarah put out from my new office and the fatballs have been very popular. Usual birds, Sparrow, Starlings, Blue or Coal or Great Tits. But the last three days we've had Great Spotted Woodpecker come every morning. Wow is he a visual treat! Normally plenty of Chaffinch, Siskins and odd Goldfinch or Greenfinch, but they seem a bit rare right now.
There would be no air cooled valves in space!
We've had the usual droves round our feeders, with up to six goldfinches at once, even a couple of pairs of blackcaps and the odd willow warbler, but all of a sudden the feeders are quiet. A pair of robins have chosen to nest near it and are driving off everything except the blue tits, who are too pugnacious to be bullied!
Sparrows are quite scarce here, Robins greenfinch, goldfinch and great tits most frequent visitors. We don't use fat balls, though, so avoiding that moral dilemma! (sunflower hearts)
Yes, I can see that a stray particle in a photomultiplier would play havoc…
That happens here when our tame Sparrowhawk comes visiting
That's because we have about 99.9% of the World population on our feeders - endangered, not here (but see above comment - although they prefer Bluetits!!)
Its odd, but when a pair of sparrows turned up on the feeders recently we were more excited than we were by the nuthatches, after all years ago we had sparrows by the dozen but none recently and the occasional nuthatch has always turned up!
By the way. I once read that the air in the forest is sterile and relieves the immune system.
I've always known: Sota is healthy!

73 Chris
Hi Andy,
Logically there is nothing wrong with the drive to a remote spot for exercise. However it trips the unnecessary travel sensor. That is you could do something like climb up and down a step ladder in your laundry and get your exercise without leaving the house. It's likely more dangerous if you fall but that's not the point.
Locking down the population is easier to police if you nab people not getting food or medicine or bird food.
We have killed all the small birds here due to unrestrained cats, removal of breeding bushes and trapping by bird haters. Everything smaller than a blackbird is gone, indeed they are rare in our suburb. Enjoy now for tomorrow will be different.
73
Ron
VK3AFW
Lots of people here applied the same logic. That attracted widespread condemnation in the media and social media, but it was caused mainly not by their selfishness and lack of common sense (although those certainly contributed), but by very unclear directions from the Government. There was even an advisor on BBC News saying that if the area immediately outside your home was unsuitable or potentially busy, then it was acceptable to drive in your own car to a remote countryside location or park for your daily exercise. I admit to briefly thinking "That means I can still do SOTA - so long as I use the lesser favoured footpaths and use the AZ rule to operate well out of people's way".
I didn't actually do so, and the much-needed clarification soon came from local police forces rather than government - that your once-per-day exercise outing needed to be from your home without use of a vehicle. Anyway, I had a very pleasant walk yesterday, from home and remaining within a couple of miles of home at all times. Less than two hours, and got my 10K steps in.
Most of the circular route involved public rights of way that I have used in the past when walking to and from The Cloud G/SP-015 from home, but obviously at the Macclesfield end. I also knew the paths to be hardly used - and I didn't see another soul for the entire walk. There was a trig point / "summit" involved too - New Farm. I have activated it on the WAB net a few years ago when their trig points award commenced - that's when I discovered it had a listing under the name "New Farm".
No name is obvious on the OS mapping, and so when I first discovered it a few years earlier, I named it "Great Weston Fell" so I could add it to the old Summitsbase website.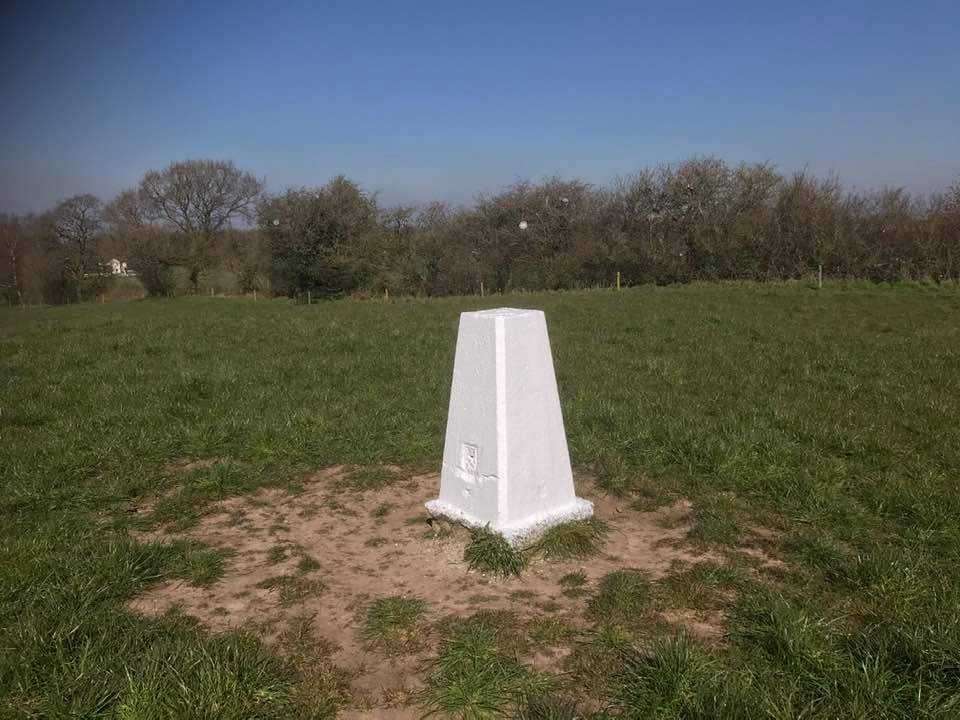 Ye Gods! I always thought of yours as a civilised country! Bird trapping could get you jail time here.
I guess I live in the archtypal "leafy suburb", surrounded by mature trees including several oaks that I estimate are 400 years old. My garden is long enough for a full 80m dipole strung between the house and a tall sycamore, but there are plenty of smaller trees, two each of apples, pears and plums, and ornamental stuff like magnolias, one of which is roof high and earmarked for a future antenna. This is why my garden is rich in bird life with 32 species identified.
A walk to and around my local park clocks up two miles, but the local Cole Brook marks the line of "The Shire Country Park" with a network of paths through open grassland and dense woods and thickets, with several miles of length for walking with a few roads to cross. I am not short of places to get exercise with minimal pavement pounding! I have a few places marked for electronic smog-free /P operation, too, though I guess this is not the time…
Hi Brian,
Bird trapping was allowed in the ACT for Indian Mynahs which are an introduced species of an aggressive (to other birds) nature. Some traps were imported into Melbourne (legal) and used for bird trapping (not legal).
By far the greatest killers were the local councils and their obsessive desire for neatness. No spiky shrubs or briars. Ground nesters were prey for industrial lawn mowers.
Next were the free range pet cats. New rules are belatedly being introduced. But sparrows, several varieties of honeyeaters and insect eaters like wrens and blackbirds, thrushes, even butcher birds and falcons are but a memory. We see magpies, currawongs, a large honeyeater, ravens, galahs, pigeons and some parrots.
You mentioned herding cats. I favour another process.
73
Ron
VK3AFW
I keep a cat, it keeps down the rats and mice attracted to the food waste bins of the local club, it gets the occasional fledgling in spring, but I'm sure the rats get many more. Cats here seem to be by nature territorial, they will repel encroaching cats so the rate of predation in my garden is limited. I suspect that they sometimes get predated by foxes.
Your mynah population reminds me of ring-necked parakeets here, which have formed flocks big enough to be a nuisance in some places, they haven't reached me yet, though they have reached the other side of the city! People are divided between those who like them and those who think they are noisy pests.
One recommendation I heard was to buy them when you are out food shopping. It depends on whether the shops that sell them are open. Thankfully we bought a load and a big bag of sunflower hearts before all this kicked off. More importantly is the supply of food for my Barn Owl. My usual suppliers say they will still be supplying and the appropriate measures have been put in place, so unless the situation changes, he will be okay.