Wondering what stories activators have about ad hoc radio or antenna repairs, either pre, or on summits. There are a few repair stories on the Reflector but most are 'how to fix my broken product XYZ'. The thread on 'Tricky repairs' (not radio-related) prompted this story.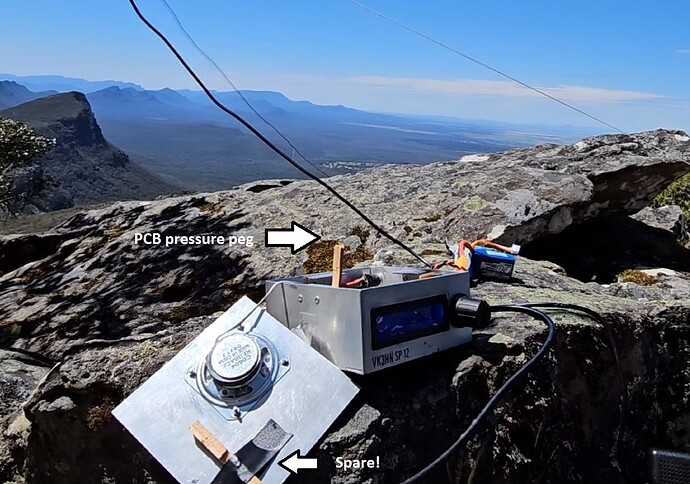 Here's one to kick it off. My homebrew rig developed an intermittent connection, somewhere on one of the two PCBs. It started as an occasional receiver fault, and sounded like a connector carrying receiver RF, IF or low level audio going open circuit. As is usually the case, it started innocently enough, there occasionally, then not. But like every problem, if left unattended, it did not fix itself. The last time I used this radio, I had to give the upper PCB a firm press down with index finger and the fault went away for the entire activation.
Until my last activation with this project, a few weeks ago, in the Grampians range in south west Victoria. Upon powering it up on the kitchen bench, the fault still existed, but had gotten worse. Again, constant downward pressure applied to the upper PCB made it work, but as soon as the finger was removed, it went dead.
Now you cannot operate a CW paddle on a summit with one index finger firmly planted in your radio's PCB. At least, I can't.
Temporary solution? I carved a small piece of wood about 10cm long, adding a niche, so that it could be wedged between a protruding case lug, and the upper PCB. On Mt Abrupt (VK3/VS-011) in the early afternoon, I set up, removed the radio's top cover, and squeezed the peg in place between lug and PCB, allowing me to complete the activation.
Thinking that there was every chance I might lose the little peg down between some rocks, thereby killing the activation, I even made a second one, and taped this spare to the inside of the top cover. Always carry a spare, they tell us.
Two activations on the day completed, and logs submitted, I now have to face diagnosis and isolation of a tricky intermittent open circuit fault on the workbench, and resolve it once and for all.
Will I get around to that task, or, will this little rig travel with me to another activation, with its two little hand-carved wooden activation-saving pegs in place?
Paul VK3HN, amateur wood carver.