Dear all:
Today, I finally managed to activate the Pirchkogel (OE/TI-104, 2828 m) in Tyrol/Austria on skis. This was my second attempt, after I had to give up after only two QSOs in January. The summit is a 10-pointer, and it's now four years since the last qualifying activation by @OE7FMJ on January 7, 2014.
Before I go into details: This was by far my most severe and challenging activation ever, because when I was QRV, a strong mountain storm set in ("foehn winds") and blew snow over the summit at ca. 30 - 40 km/h. I should have taken down my gear immediately, but instead and unwisely attempted to bag at least four QSOs. I managed that, but packing up and getting down from the summit was really more in "survival mode" than anything else. The summit is a very popular skitouring destination and only ca. 400 m in altitude above the top of a ski resort, but with the wrong conditions miles and miles away from that.
Equipment
Rig: Mountain Topper MTR-5B in my GoBox enclosure
Antenna: Hybrid EFHW with Traps for 40-30-20m and two links for 17m and 15m, based on a modified @HB9BCB design and inverted-L deployment as inspired by @WA6MM 's QRZ page (scroll to the bottom of the page).
Mast: Decathlon 6m carbon-fiber pole, 340g.
Route and Approach
The Pirchkogel is a very popular skitouring summit in Tyrol/Austria, and lots of route descriptions are available on the Web, e.g. here: Pirchkogel von Kühtai | Bergsteigen.com. Basically, you start at the Kühtai saddle and either take the "Kaiser" gondola lift or ascent more or less along one of the ski slopes to the respective lift station at 2447 m. Then, there are multiple possibilities to ascent to the Pirchkogel summit at 2828m. I did the trip solo this time, but a few others were also on the same route ahead of me.
Note that the faces to the left of the ascent route are pretty steep (more than 40 degrees), same as parts of the very final passage, so you have to be able to judge the risk of avalanches.
On the top, there is the higher, main summit, which is typically visited only in Winter, and the somewhat lower summit with a cross on top.
It took me roughly 2.5 hours to get to the summit.
Activation
After having left unhappy chasers two days ago on OE/TI-095, I chose to solo this one so that I could stay long enough on the summit to handle all callers, and try 30 and 20m, too.
I submitted an alert the day before, which also made it to both SOTAwatch and several apps.
Unfortunately, the weather got worse as I approached the summit region. I arrived at the summit at 10:38 UTC, already in fog and snow and with some wind, and was QRV at 10:49 UTC.
Once I was QRV, a strong mountain storm set in ("foehn winds") and blew snow over the summit at ca. 30 - 40 km/h. Quickly, the front panel of my MTR-5B GoBox was covered with snow. It was actually unwise to proceed with the activation under these conditions, but I decided to try to fight and bag at least four QSOs this time.
I called CQ on 7.031 MHz and was spotted within a minute by RBN

and RBNhole:

The first caller was @G4AFI, then followed 9A1AA, @9A4MF, @PB2T, and @OM1AX. By that time, my fingers were not only cold, but showed signs of first-degree frostbite and I was unable to clamp a fist with that hand, so I quickly tried to send "SRI STROM SRI STORM QRT" (at 10:58 UTC) and packed up in a hurry (and broke part of my beloved carbon-fiber pole in the course of this :-(). There was a complete white-out and I had to proceed very slowly to get back to the end of the ski resort, where I took a break, removed the snow from my rig and other gear, and had a good, warm soup.
By all standards, this was my most severe activation ever, despite the fact that the summit is very close to a ski resort.
Log


Analysis
This trip was a prime example how quickly and strongly the weather can change in the mountains, in particular in winter.
Also, CONDX were not very favorable - (A = 12, K = 3; Noise Level S2-S3). This also explains the bad SNR in the RBN spots. The same antenna and rig normally yield 10 - 16 dB spots. RBN and RBNhole worked as expected.
I had planned to protect my MTR-5B GoBox with a kind of shower cap (as proposed in this forum) against the snowfall, but this was impractical, because when I was ready to do so, there was already quite some snow on the panel; so I decided to rather try to wipe this off manually than allowing it to melt and flow into the switches etc.; with limited success (the rig is disassembled and drying while I am writing this).
My sincere apologies for all chasers who called in vain; there was really zero choice for any longer operation on the summit; and a big thanks to the five chasers who answered my call so quickly!
Attached, please find a few pictures (taken before the storm set in, hi).
73 de Martin, DK3IT
Antenna and Rig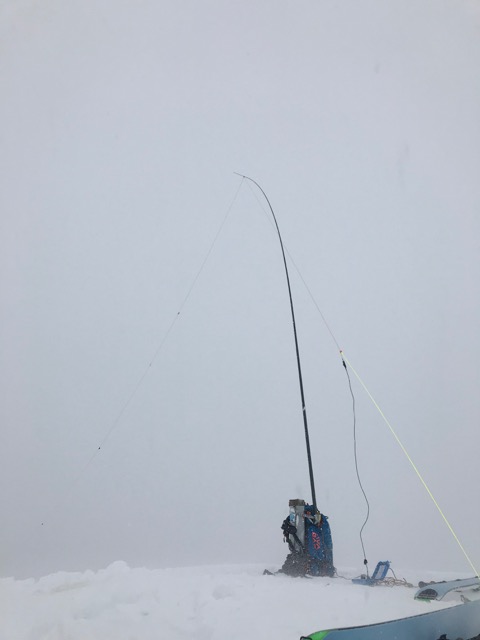 Operating Position