I've been in contact with Chris F4WBN a few days ago because his friend Alain F5ODQ wanted to find out if it was possible for him to activate summits in EA2/NV during these days of Covid19 restrictions. I explained him that, unless justifed reasons (and a SOTA activation is not) it's currently not allowed for anybody to cross the border to enter into Navarra (EA2/NV) from either France or other territories of Spain.
Having explained this, Chris F4WBN asked me if Alain F5ODQ would then be allowed to activate border summits, to which I replied there shouldn't be a problem with that as long as he makes sure he operates from inside the French territory. Chris confirmed to me that Alain will do it that way.
I've seen these spots on SOTAwatch today and I fear that Alain might have got confused and used the EA2/ preffix because the summit he was activating had an EA2/NV reference.


This is the summit he activated today. It's located right on the F-EA border,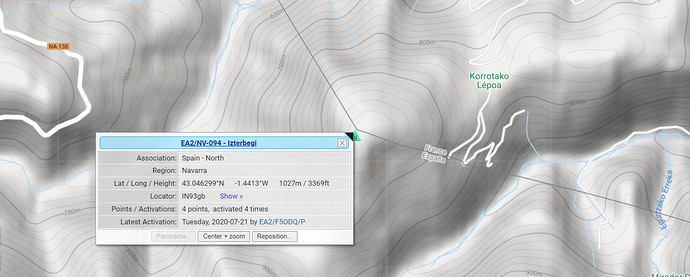 So, assuming Alain F5ODQ did what he said he would be doing of activating from the French side of the border, he shouldn't have added the EA2/ preffix to his callsing and he should have only used his French callsing F5ODQ/P, despite having to pass a SOTA reference EA2/NV-094.
Adding the EA2/ preffix means that he operated in the EA side of the border, but that's not authorised for him right now and would make his activation invalid.
I have already written an email to Chris F4WBN for him to forward it to Alain F5ODQ, but I also post this info here for the general knowledge.
73,
Guru
P.D. Chris just responded saying thanks for the explanations and confirming he already passed my message on to Alain F5ODQ.
My recommendation for Alain's chasers is to wait and see his activator log, as I guess he will probably correct his callsing into just F5ODQ/P without the EA2/ preffix.