Activation report for the following summits activated: 'Great Gable' G/LD-005, 'Kirk Fell' G/LD-014 & 'Pillar' G/LD-006 - Saturday 7th May 2022:
A very early start for Sniffy and me on Saturday morning, leaving Mid-Wales at 3am in the morning with a 4 and a half hour journey in the old discovery to 'Wasdale Head' in the Lake District.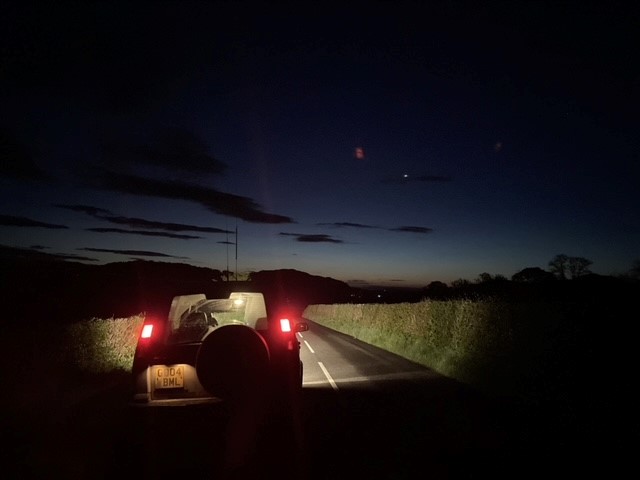 After a few coffee stops (and fuel stops

) and songs listened to on the radio, we eventually approached the Lake District which never disappoints on the wx front. The sun was rising with blue sky around us - that always helps on a big SOTA adventure.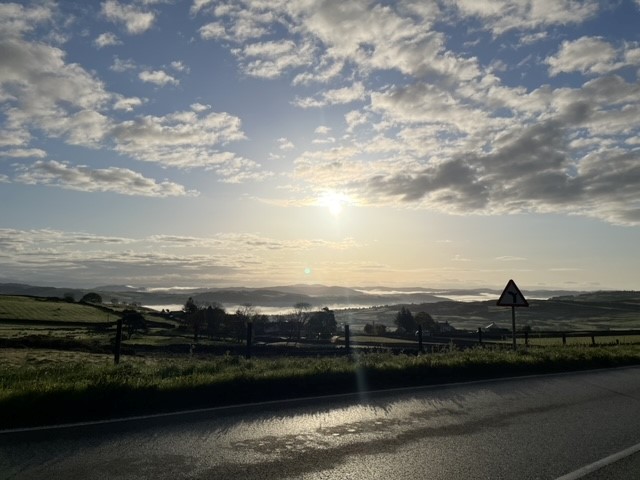 We arrived in quite a large car park just south of Wasdale Head, with the sun beating down on us. Gathered all my gear together and off it was to go go go.
The route began following a flat path for a good 1/2 mile where I could see my first summit in the distance 'Great Gable' G/LD-005 - it did look a beast from afar!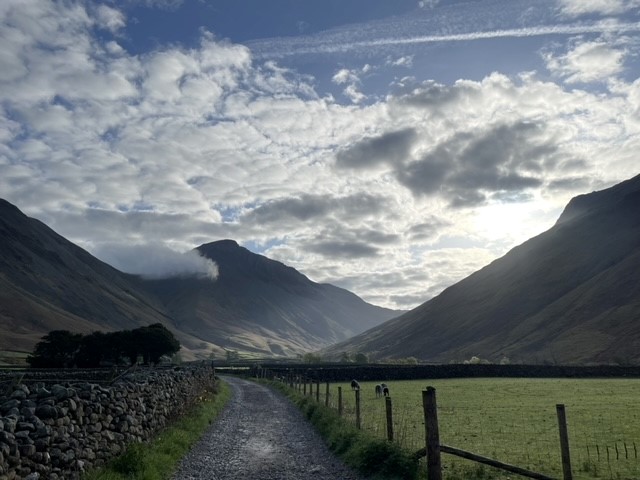 We went over a small bridge and veered off to the left to begin the climb. This was steep, well it felt it after a 4+ hour drive, haha. I reached half way and took a nice image of the valley behind me.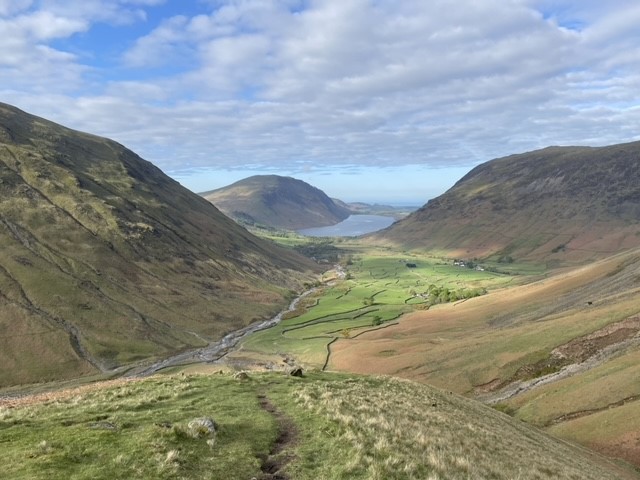 Now the route I had planned was not the best! I studied the map and thought I'd manage to use the vertical path all the way to the top… never again! I ended up scrambling for quite a while and in a few places I had to rock climb, and carry little Sniffy. You'll see on the map below, I choose the green line, not the best choice I've made!
Nevertheless, Sniffy and myself made it to the top safely in one piece. I set up for HF while Sniff had a drink.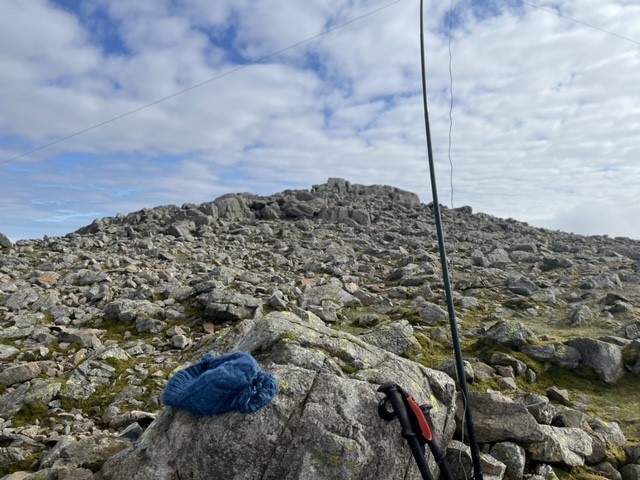 Put a call out on 40m and managed two contacts the band wasn't very open, tried 60m and that was the same. I did manage to get a S2S with Neil @G0WPO on 40m who was operating in GW/NW land - thanks Neil. I then called out on 2m FM and managed to work a further 8 stations in the log. Summit number one of the day qualified, time to pack up and make our way to summit number two 'Kirk Fell' G/LD-014.
The descent from Great Gable was down a steep scree with a lot of loose stone, so you can imagine, there was some slippery moments, but we reached the bottom safe and sound.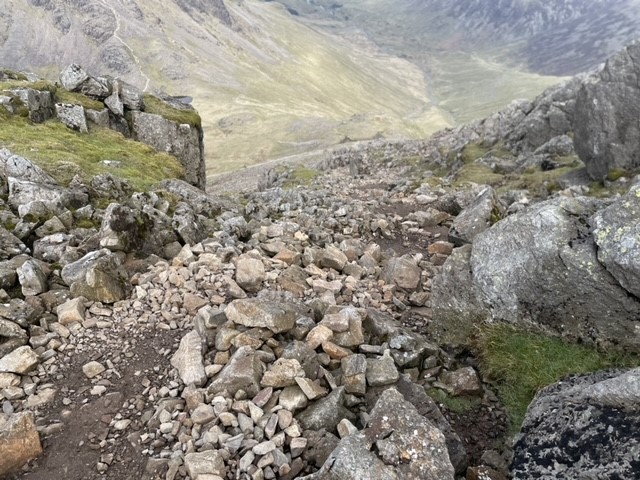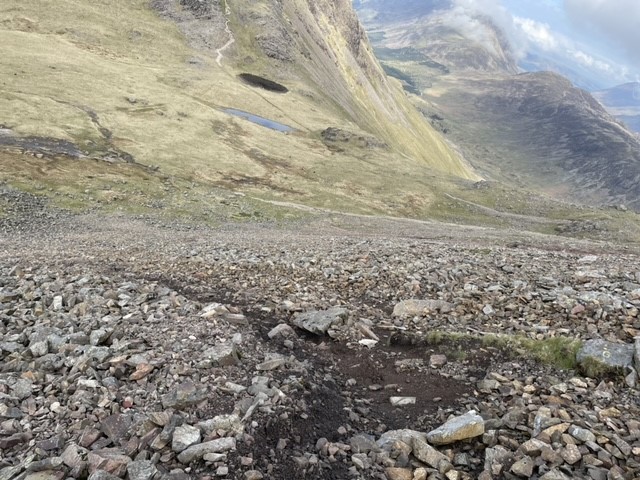 Now we were in the col, a few hundred yards of flat walking to then hit a vertical rocky climb thinking the summit would be on top… No… we had another grassy flat walk and a smaller gradual climb to find the summit

Great Gable was really standing out in the background! You don't realise how high it is when climbing.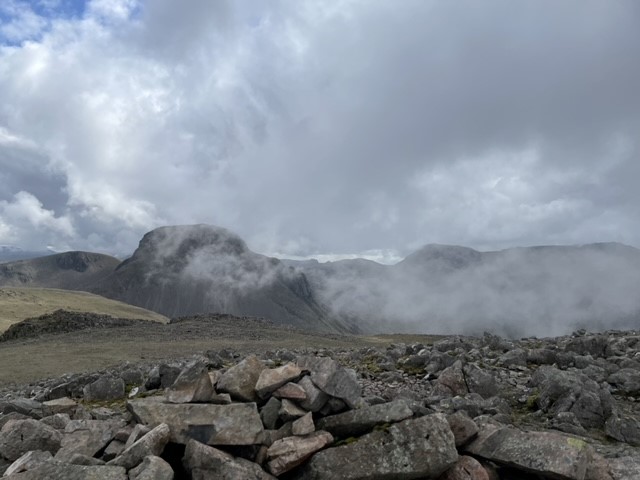 We found a nice Cairn on top where I used as my office and Sniffy guarded my antenna while I operated on HF.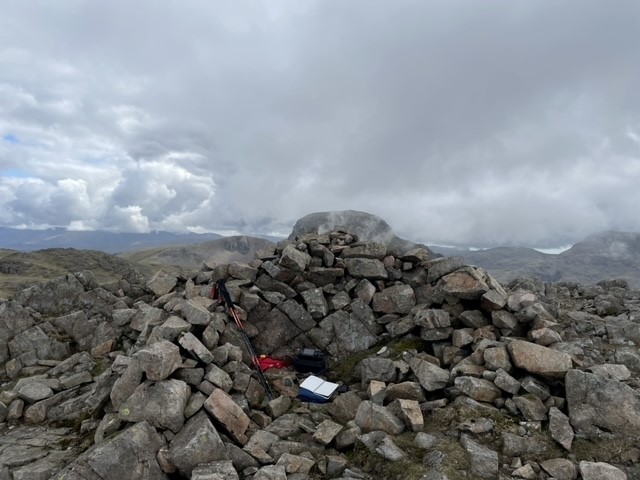 Put a CQ SOTA call out on 40m and managed 8 stations in the log - conditions were improving slightly! I then moved over to 2m FM and managed a further 4 itl. Put a few final calls out and packed everything away. It was time to have some lunch while eyeing our next and last summit of the day up 'Pillar' G/LD-006 which was standing in mist in the distance.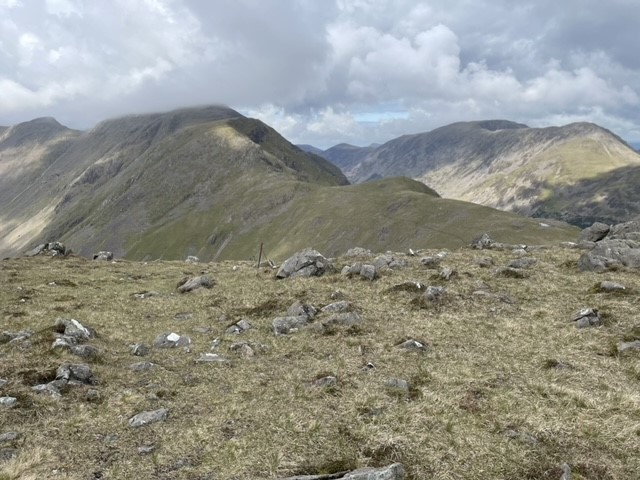 Once we had a drink and were full of food, it was time to plod on. Again, a nasty scree to descent off Kirk Fell to the col. The stone/rock under feet was loose, so you had to take care not to slide. When we reached the col, it was a nice gradual climb on a well worn track towards Pillar for a few hundred yards. It was then a matter of following a steep rocky path all the way to the trig on top with lovely views of the valley behind.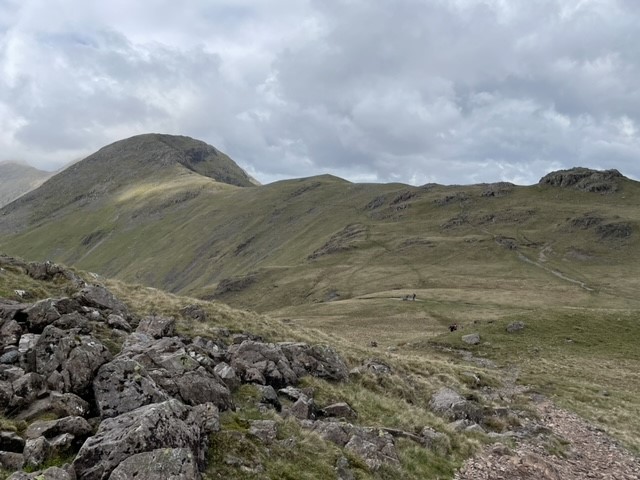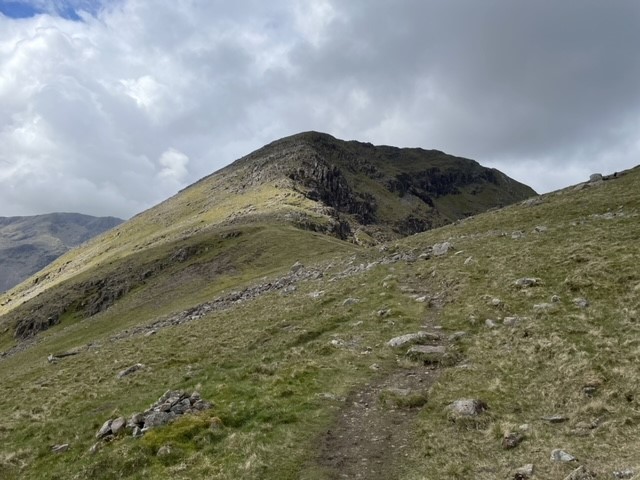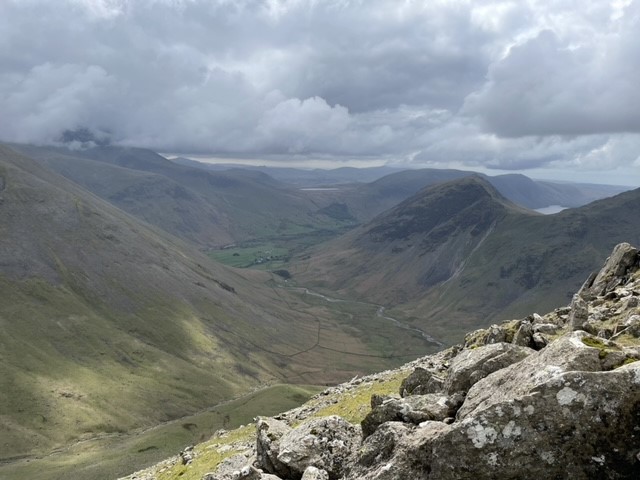 On top it was rather busy, so we passed the trig point and found a nice small cairn to get set up.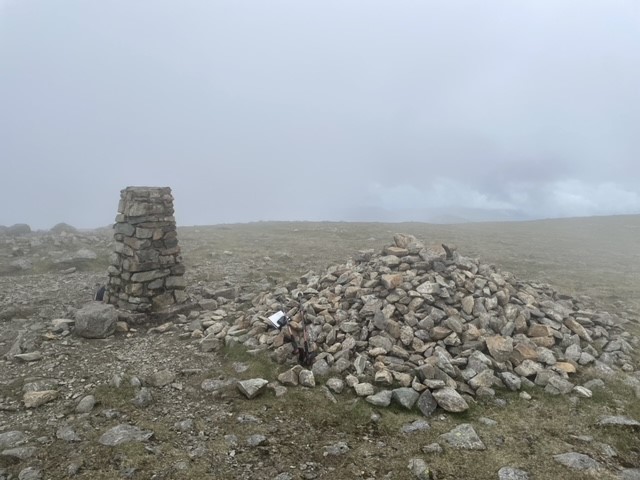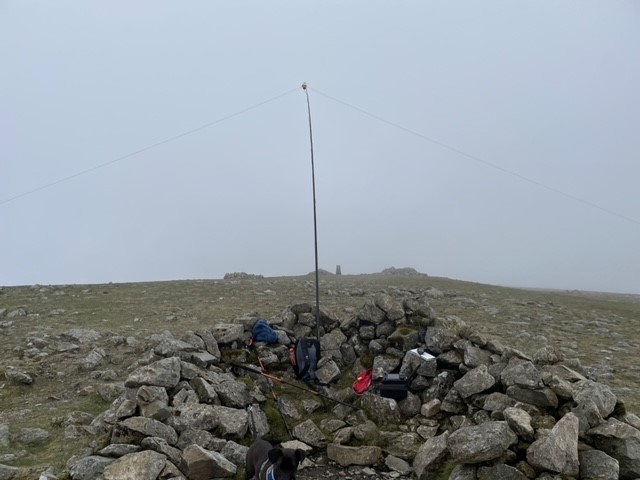 I put a call out on 40m and managed 12 in the log with one being a S2S station, Martin @2E0BIA who was on G/SP-004 - thanks Martin. I then moved over to 2m FM and finished off with a further 8 stations itl with two being S2S contacts, Malc MW0NLG and Kevin @MW0KXN who were operating close to each other in GW/NW land - thanks both, great to make the qso!
A sigh of relief, 3 summits qualified and a reasonable day out

it was now time to have a summit selfie - it's gotta be done, hi!
And head for the truck in the distance.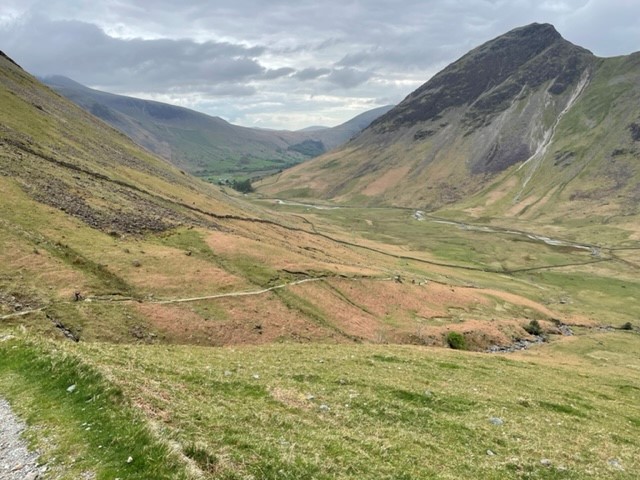 I must say, it was a great day out… tough at times… but that's the enjoyment of the hobby! I'd definitely change my ascent route for Great Gable next time I visit, but apart from that, I thoroughly enjoyed it.
Many many thanks to all the chasers - your support is fantastic! And thank you to anyone who spotted me, phone signal on the mountains was shocking for this route!
Until next time, 73. G(W)4BML. Ben