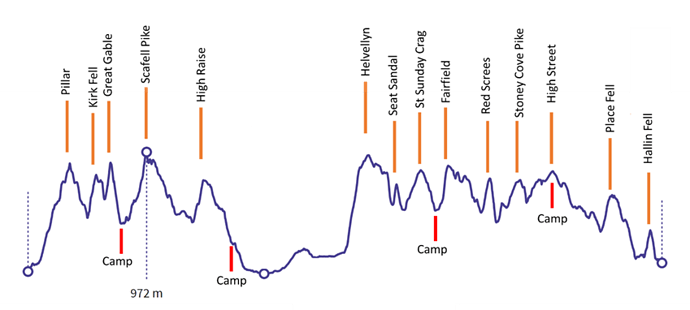 Thursday 30 March 2023:Pillar to Styhead Tarn
Having activated Swinside (G/LD-057) the previous week (a difficult to activate summit, due to needing landowner's permission) I am not looking to complete my last remaining summits in LD – all but one of which are 1 pointers. I set myself the task of activating Hallin Fell (G/LD-043), but thought I would begin the ascent from a less often selected point for this fell – Wasdale Head.
Setting off at 0830hrs on Thursday 30 March, the weather conditions did not look promising, to put it mildly. The cloud base was at about 200m, and heavy rain had fallen overnight. The gills and brooks were brimming with water, and more rain was forecast. Still, the temperature was relatively mild, and no snow or ice likely which I hoped would ensure relatively easy going.
The cobbled path on the east side of Mosedale beck was treacherous, with the stones slick and greasy in the morning dampness. I was glad to break away from the cobbles after grossing the aptly named Fog Mire to begin trudging along the path passing Ritson's Force. Ahead of me lay Mosedale and Pillar (G/LD-006) – but visibility was already down to a few hundred metres and I had barely started climbing out of the valley.

Low cloud base entering Mosedale - Pillar is somewhere at the back of the picture
The path turned northwards and began the steady climb up Black Sail Pass. My pack felt heavy with supplies for several days, lots of battery power and three radios (two HTs and a HF CW radio) plus antennas. I paused halfway up the climb for brief rest and water stop. It was now raining with a good breeze blowing. Looking back down into the valley I occasionally caught a glimpse of Mosedale Beck. The valley sides were marked by strings of running water – every water channel was bubbling and frothing. There seemed to be water everywhere.

Approaching the top of the pass
At the top of the pass I turned left after passing the mangled remains of an iron gate – seemingly becoming more and more decrepit every time I pass here. The last time I made this climb was in early March last year. I had set out from Wasdale head at about 1900hrs and made the ascent in the dark (camping on the summit). I saw more of the scenery during last year's ascent than I did today. The route passes Looking Stead and the climbs over a craggy section before a lovely stretch of grassy hillside. A fell-runners route follows a path a little south of the main route, bypassing some rocky sections before emerging on the summit plateau.
A headed straight to the summit shelter where I quickly setup to work 2m FM on my Yaesu VX6 handheld with RH770 antenna. I have recently bought a Yaesu FT5D but prefer the VX6 for SOTA activations – the FT5D screen is difficult to read in sunlight (not a problem today), but also the VX6 has fewer settings/options so is unlikely to need fiddling to get it out of the wrong mode.
It was 1030 hrs when I called CQ. First to respond was 2E0XGO, followed by G4VFL, GW4ZPL and M0MKU giving me my four contacts. A fifth contact with 2E0LDF was then made – and we were able to have a chat about weather conditions and my plans for the next few days.
Pillar is one of my favourite huills in the lakedistrict, the area adjacent, including Scoat fell, has a wealth of camping options. In the early 19th century featured in Wordsworth's poem The Brothers.
You see yon precipice—it almost looks
Like some vast building made of many crags,
And in the midst is one particular rock
That rises like a column from the vale,
Whence by our Shepherds it is call'd, the Pillar.
I didn't hang about to ponder on Wordsworths poetry (I hate poetry actually, except perhaps Vogon poetry) after the five QSO's and was partly glad there were no further calls! I headed off the summit, retracing my steps to Black Sail Pass. It was raining quite heavily when I reached the pass, and it would have been a very bad idea to attempt ascent of Kirk Fell via either the crags of the two gulleys, so I skirted around to the north side of fell for a rest break in the gorge of Sail beck. The Beck runs in a narrow cutting, creating a shelter from the southerly wind, and driving rain. I sat in my bothy bag for 10 mins and ate some lunch (mostly consisting of flapjack). Sail Beck was a gushing and roaring, tumbling into the mist as I crossed it carefully. After crossing the beck I deviated from the path, taking a more southerly line to climb across the hill side and find my way through a break in the crags to access Baysoar Slack – what I regard as the safest route up to Kirk Fell from the Black Sail side.
In these wet conditions I was conscious of the risk posed by the steep grassy slope, coupled with shiny wet clothing – a recipe for a slip and long slide to the valley below. After about 100m of ascent the gradient slackened and I was pleased to enter Baysoar Slack. Despite the shelter of this delightful cove, the rain was driving hard onto me now. The Buffalo jacket I was wearing was performing well – I was staying warm and dry. Baysoar Slack is a lovely spot ona nice day – I have never seen anyone else using this route, and at some point I will camp here for a night.
After another 100m of ascent the summit plateau emerged in to view, and I made my way to the summit shelter of Kirk Fell (G/LD-014) – rather lazily using GPS to set the route. Crouched in the shelter I turned on the radio to hear a conversation ongoing, speculating about how long it would take me to get from Pillar to Kirk Fell-, I was pleased to hear 2E0XGO and 2E0LDF, giving me two good contacts. GW4ZPL and G1OHH followed, with contacts also with G6LKB, G0TDM and GM6TVR – all of whom were to regular chasers on most of the summits ahead of me.
Heading off the summit, I passed south of Kirkfell Tarn, taking a route along the south side of the summit plateau before cropping down to Beck Head. The tarn at Beck Head frequently fries-out in hot weather but today it was brim full, and looked like an infinity pool disappearing into the mist.
I gobbled up half a packet of Jelly Babies to give me energy for the next bit – ascent of Great Gable (G/LD-005) . I had been hoping all day that a weather window might open-up for my climb up the stony western face of Great gable, but it seemed things had worsened. As I climbed the scree and boulders the wind and rain strengthened. As often seems to happen to me on this path, I unintentionally strayed from the main route, its odd how one moment you can be on a clear path and the next it seems to disappear – there seems to be so many little scree chutes and false paths on this face. After scrambling over boulders I regained the path and headed to the summit.
The summit of Great Gable is a hugeboulder field, it seems to be popular with campers, but I much prefer Pillar for a summit top camp in this area. The highest point marked by a rock outcrop set with a cairn and a plaque commemorating those members of the Fell & Rock Climbing Club who died in World War I
At the summit I wedged between some rocks and sat in my bothy bag with the rain drumming on the thin fabric, calling CQ at 1443 BST. First to call was 2E0LDF followed by G1OHH, G0TDM and M0MKU. I then exited the bothy bag and stood atop the summit try and get a better take-off for the antenna, this yielded contacts with G6LKB, GW4ZPL, G4YTD and GW1KGW on Anglesey.
The bothy bag was then stuffed into the outer part of my backpack – there was no chance I was going to faff about with the undersized stuffsack it comes with, and headed briskly off the summit. I had preset my compass the correct bearing during a break earlier in the day, so there was no need to get my map out.
I was headed to Aeron slack, but first there is a step down form the summit that is difficult with a heavy pack (it was well in excess of 20kg including food), the wet weather making it even more so. To make things easier I using a length of paracord I keep in the top of my backpack for just such occasions. Around 10 to 15m of paracord with a bowline in one end, passed though the handle on my pack allows my to lower my back ahead of me, belaying myself with my feet. With the pack resting safely below me, I can then climb down without 20kg of weight trying to pull me off – it also means I can descend on my bum.
Looking back up at my route – the steamy mist, jagged black rocks and rivulets of water looked like the entrance of Cirith Ungol. I hefted my pack, and headed down to Aeron Slack, looking forward to camping at Styhead tonight.
As I descended Aeron slack my mind wondered to a time when I crossed Great Gable in exactly the same conditions about twelve years ago, I recalled heading down Aeron Slack on this same day. The path has stone steps and I had slipped on a step, just before crossing the river, and landed hard on my bum – it hurt but was fine and able to continue. Today I was careful of my footing, until my mind wandered again to thoughts of my tent, and sure enough my foot slipped on exactly the same stone step – in the same location just before the river. Fortunately I caught myself before falling. Inspection of the step showed it to be the only one with a thin growth of dark algae on it. I poked at the step in annoyance with my walking pole, but I don't think it cared.
When I reached Styhead Tarn I saw the first other walkers of the day. Styhead is quite shallow, at about 9m deep, the tarn occupies a scooped hollow, dammed by boulders fallen from the slopes above. The tarn apparently contains trout and is a very popular location for wild camping. The rain had eased-off and I decided to pitch my tent at the Tarn. I would only every camp here "off-season" and in poor weather as it attracts too many other campers (and presumably they must all be toileting somewhere), but tonight mine was the only tent.
Inside my tent, dinner was chicken tikka with rice, eaten while watching the mist tumble across the surface of the tarn. I had tucked my tent in underneath the wall of the pass – a little way from the tarn – to give some shelter, as the wind was coming through the pass at some pace.

Spot my tent in the mist (and the tarn is there too, somewhere
Friday 31 March 2023 Styhead Tarn to Easedale Tarn
The rain had fallen heavily again in the night, and it was still raining when I awoke. I lay in my tent until about 0745 BST, using the time to listen to some ARRL Morse practice sessions I had downloaded to my 'phone previously. The rain had stopped and so I made a move, everything was packed and I was on the move by 0820 BST. The mist had cleared and I had a clear view of Great Gable – the day held more promise than yesterday.
I headed along the corridor route, occasionally looking back to see Styhead retreating in the distance. Views across the valley to Great Gable and Kirk fell reminded me of my route the day before. This is a pleasant route up Scafell, with great views across the valley and across to Piers Gill. A short rocky down-climb into the ravine below Great End is only slight difficult bit, the path is flag stoned for much of the route.

View back to Styhead Tarn from Corridor Route, Great Gable at left
I deviated form the main route to head up the col between Broad Crag and Scafell Pike. A steep scree chute slowed the climb to the col, but it was nothing too bad. Ascent from the col is then easy, and the summit was reached just after 1000hrs BST. There was no view to be had today, the cloud base was at about 900m.
I was alone on the summit at first – possibly the first time I have had Scafell Pike (G/LD-001) summit to myself ever. I called CQ at 1025BST, using the summit cairn as a windbreak. GW4ZPL called first, followed by 2E0LDF, G4VFL and G6LKB, once the first tranche of calls was exhausted I stood atop the cairn and the pileup got a second wind.
When all had quietened down I headed back to my pack - and saw the first other person of the day. I retraced my steps to the col, and then climbed around Broad Crag and Great End to reach the cross shelter at Esk Hause. The weather was overcast, with the odd spot of rain – but this was a grand day compared to yesterday. A spot of lunch in the shelter replenished my energy, and I headed down to Angle tarn, the first of two such named tarns to be passed on this walk. Ahead of me High Raise was rising in view, the central point of the Lakeland fells, with Langdale Pikes to the right.
Making good time I crossed the boggy ground to Stake Pass, joining a feint path to head up High Raise (ignore the public right of way (PROW) on OS maps here – it is spurious, the route up High Raise is about 500m north, and parallel to the PROW).
I reached the summit of High Raise (G/LD-019) at 1439BST, and was delighted to find this as the first summit of the round where I had a view. I was able to look back at my route from Scafell Pike, and could also see across to the Helvellyn Range (the tops of which were cloud covered), to the south was Windermere.

High raise summit looking towards Keswick
I called CQ, and was greeted by G6LSO/M, 2E0LDF, GM6TVR and 2E0XUP/M followed by G6LKB and 2E0GVD. I had toyed with the idea of trying 40m CW, but the rain started again so thought I would save it until a brighter summit. I headed SE off the summit. Seargent Man and Codale Head are favourite places so I had a little wander around, exploring various nooks and crannies. I then took the root along Blear Rigg passing around the south of Easdale Tarn before dropping steeply to the tarn itself.
I was pleased to have the tarn to myself again, pitching my tent on a spot I have used a few times before. It was a dry, still evening and I enjoyed cooking my meal while watching the tarn. Interestingly, a stone hut at one point was built near the outlet of the tarn. Now ruined, the hut served for a time as a refreshment outlet, where Victorian visitors to the tarn could pay for the privilege of lemonade and tea to sip as they admired the view. No such comforts are present now, although I did have a very restful evening which included drinking some hot chocolate and more Morse practice.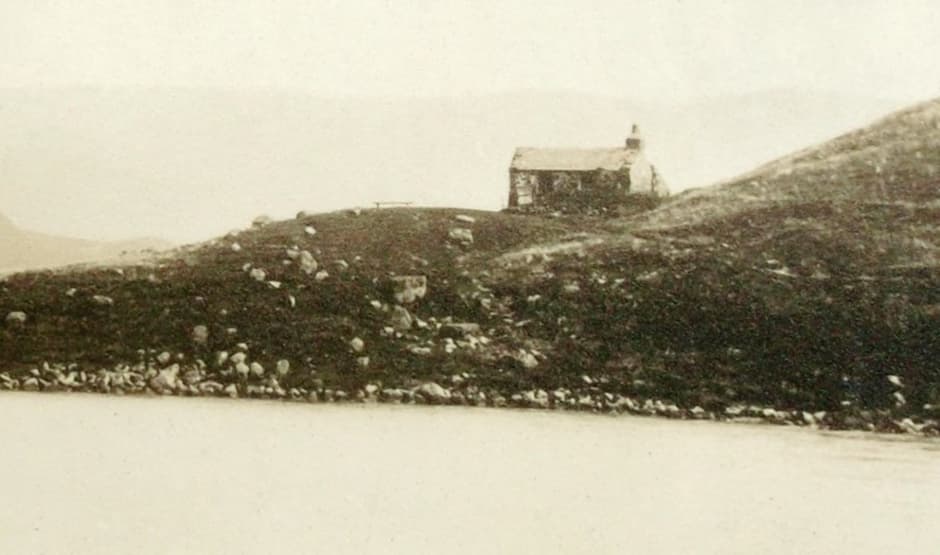 Refreshment hut at Easedale Tarn
Saturday 1 April: Easedale Tarn to Grisedale tarn
A fine morning greeted me – the sun breaking through a partly cloudy sky. The tent was packed and I was on the move by 0730BST, heading to Grasmere, passing the 17th century Brimmer Head Farm (marked in squiggly text on OS maps, so must be important/historic in some way). My next summit objective was Helvellyn; purest walkers would have headed off High Raise to Dunmail pass, and gained the Helvellyn ridge from there, but I needed to resupply. I few years past I was more of a purist, and after resupplying at Grasmere would have not broken my walk, but instead headed on foot the entire way; however, this would have meant either significant backtracking (between Helvellyn and Grisedale Tarn) or a long road walk. So I decided today, after resuppying I would use the bus to get to Thirlmere (a few miles north of Grasmere) and begin the climb up to Helvellyn (G/LD-003) from there.
The bus journey gave my chance to recharge my 'phone, drink a litre of apple juice and consume a whole punnet of grapes (fibre is lacking in my food rations when out walking!). From the Thirlmere carpark I headed up the stone steps to Helvellyn – a popular route on a fine Saturday morning.
At about 800m I entered the cloudbase and the weather changed remarkably. Bright sunshine turned to cold and breezy, with an occasional snow flurry. Atop the summit I sat in my bothy bag a short distance from the summit shelter and called CQ at 1140BST, with the first four callers being G7CDA, G1OHH, G0TDM and GW4ZPL. I was very glad of the shelter from the bothy bag, as it allowed me to take some time over the calls, and relax. Some time after midday, I closed down, packed away the bothy bag, and began walking along the ridge.
The ridge is popular with wild campers, and as an interesting point, 500m east of the summit (and 90m in descent) is a spring - Brownrigg Well. In the nineteenth century a leat was built taking water from this spring into Helvellyn Mine further down although this leat has now fallen into disrepair. Also, as commemorated by the plaque, in 1926 a plane twice landed on Helvellyn – almost crashing into striding edge on take-off the second time.

Best not to take that route down!
Snow began to fall, and for a short while the ground had a white frosting. The low cloud created a blanket of fog over the ridge with just occasional glimpses to the north. After crossing Dollywaggon pike a came to the iron post – a great landmark to signify the point at which the steep drop to the Seat Sandal Col starts.
The next 200m of descent a rather unpleasant – a steep grassy slope, that would benefit more from have a zig-zag path. I tired of the descent after a little while and so sat down and glissaded most of the distance. Part way down a view across to Seat Sandal emerged, with Grisedale Tarn to the left. A nice big rock provided a perch for a late lunch consisting which included Scotch Pancakes and Hot Cross Buns, yummy.
I was glad to begin ascending Seat Sandal (G/LD-022) – the ascent was much easier the previous descent, it around 150m of climbing so relatively straightforward. Settling into the shelter at the summit, I found the mist had cleared giving a view across to Windermere and Morecambe bay, with St Sunday Crag and Fairfield behind me.
First to respond to my CQ call was G6LKB/M, G0TDM, G6AEK and 2E0FFS I also got a nice S2S with @2W0LWF on GW/NW-076. This was a really enjoyable activation with lots of good chats with chasers and a pleasant view.
I still hadn't fully decided my plans at this stage, the plan was to do St Sunday Crag (G/LD-010) next and then either camp at Grisedale Tarn or go on to Fairfield G/LD-007. If doing Fairfield I would need to cross Cofa Pike (not a great route in poor weather) and following the activation would be a another hour or more of walking to get to a good camping spot. I would decide what to do when I summit St Sunday Crag.
Weather improving temporarily - activating Seat Sandal, note St Sunday Crag behind on second photo
Heading off Seat Sandal I avoided a craggy bit at the bottom by circling around onto a grassy slope, and then followed the path along Grisedale Tarn. The ascent up to St Sunday Crag is a favourite route – the narrow path rises up at the same time as the valley beneath drops away, giving an airy walk and great views back to the Grisedale Tarn.
The summit of St Sunday Crag was shrouded in mist, I gave a hasty CQ call and then QSY'd to 145.525, in my haste I almost forget to ask if the frequency was clear but then caught myself and found G4VFL/P was already on frequency atop Little Hen Hill (a trig point hill in Northumberland). After a good catch-up he gave up the frequency to me and I went on to work G6AEK, G6LKB and G0TDM after several other calls I worked @MW6BWA/P on GW/MW-027. I finished the activation at about 1540BST and headed off the hill. It was now raining with a strong breeze at times, so I decided to choose the easy option of camping at Grisedale Tarn so retraced my steps to the Tarn, past the brothers parting stone and camped at NY3494 1222.

Ascent to St Sunday Crag - click for panorama image
The Brother's Parting Stone, is a rock etched with a now very faded inscription from a poem written by Wordsworth in memory of his last meeting with his brother John in September 1800. William, John and their sister Dorothy had walked from their home, Dove Cottage in Grasmere, to Grisedale Tarn Four years later John died when his ship was wrecked
Over the years I have tried just about every possible camping spot at Grisedale tarn, and I keep coming back to this one – the north side is generally better sheltered from the wind, and this particular spot is elevated a little, and away from the popular camping areas at the NE corner of the tarn.
As I sat in my tent eating dinner a number of fell runner passed along the south shore of the tarn, this was to continue into darkness, with an occasional torchlight bobbing along the track, and then down to Patterdale. It turned out that this was a long distance Fell race covering Wainright's Coast to Coast route (with a shorter option to finish at Shap). The winner completed the ruin from St Bees to Shap in 9 hours 46 minutes, while the full Coast to Coast route was won in a time of 47 hours and 14 minutes.
Sunday 2 APRIL 2023 Grisedale tarn to High Street
I was expecting a nice day today, but on peeking out of my tent I couldn't see the Tarn, despite being pitched about 10m from it. I hoped that the thick fog was just sitting in the bowl of the Tran and that I could climb about it.
On the move at about 0830 BST I walked around the tarn to the foot of Fairfield, and began the slog up the steep scree zig-zags. It took about 30mins to get to the top, all along I was expecting to emerge from the fog at some point, but it never happened. Visibility at the top was around 10m and I carefully made my way to one of the summit shelters to begin the activation.
I called CQ at 0930BST with G6AEK first, followed by G6LKB, G0TDM and G7CDA, I made 9 contacts in total before closing down on a cold and damp summit – the forecast had been much nicer! Heading off on a safe SSE compass bearing for 50m until I found the intersection of the Great Rigg and Hart Crag paths, I then set an easterly bearing and was pleased to pick up the clear path and line of cairns and avoided falling into the pit called Flinty Grave. Wainwright commented that this was not an ideal summit to be walking across in fog, and he was quite right.
The path gradually trends round to the SE, climbing over Hart Crag and Dove Crag before dropping over Bakestones Moss to Scandale Pass. The mist started to clear now, and I could see across to Red Screes, and down the pass to Ambleside.
Climbing up Red Screes I took a route well to the north of the dry-stone wall crossing the western flanks of the hill and passing by a couple of streams – providing me with some replenishment of water. Arriving at the summit, it was 1230 BST, and with the weather turning fine I setup a flowerpot antenna on a 6m fibreglass pole. This gave a relaxed operating position to munch my lunch, and hopefully gave better reception than the RH770 I had been using until now.
First to call was G7CDA, followed by G1OHH, G0TDM and G6AEK, I then had a S2S with 2E0BIA/P on G/SP-004. I was operating for about half an hour in pleasant dappled sunshine. By the time I packed away, the day had turned brilliant – clear blue sky and a steady breeze. I was now overdressed in my Buffalo shirt.
The steep climb down to Kirstone pass gets easier each time I do it, there is a nasty stone ledge near the summit which I am never keen on – even less so today with it being a still wet. I avoided the ledge by hopping down (and using the paracord to lower my pack).

Red Screes from Kirkstone Pass
Crossing the Kirkstone pass road I headed up St Raven's Edge and found a nice water source at NY408 087. I visited Caudale Moor summit first, and looked back at Red Screes, before jogging across to Stoney Cove Pike (G/LD-018). It was now 1530BST – I'm not sure where the afternoon had gone, the fine weather had meant frequent pauses, and I was enjoying exploring the hillside (I also called the XYL). I called CQ at about 1535 BST with G6AEK responding first followed by G0UOK/P on G/NP-004 (Wherneside), G0TDM and GM4WHA, I then worked two further S2S: G4ZOI/P on G/LD-049 (Kirkby Moor) and 2W0LWF/P on GW-NW-039. I was having a lovely time, and sat atop the summit for awhile admiring the views.

Blue skies on Stoney Cove Pike
The Descent to Threshthwaite mouth is an enjoyable puzzle, over mixed grass and crags, during which time I was admiring the steep aside up the other side. At the col I collected some water from a spot I have camped at a couple of times, and then headed up the other side. Rather than climb the scree zig-zags I followed a faint route north towards the names summit between Thornthwaite Crag and Grey Crag, I then turned eastwards up the grassy slope to meet the enclosure wall, and back southwards to the Beacon at Thornthwaite Crag. A gaggle of DofE expeditioners were enjoying the sun, and preparing to head down the Roman Road to Ambleside.
I turned east and spent sometime scouring around the SE side of the triangular summit plateau looking for water, I have found running water ere several time before but today was disappointed and ended up taking water from a muddy pond in the middle of the plateau. As I filled my bottle I toad swam past – I was careful not to collect him into my water pouch. Frog spawn is, apparently, edible and delicious, but I opted not to try any today – I would imagine it is quite a nutritious foodstuff though.

Frog pond waters source on Thornthwaite Crag
With 5kg of water collected (much more than I needed to drink – but good for showering too), I headed NE across Racecourse Hill to the summit of High Street. The fell's flat summit was also used as a venue for summer fairs in the 18th century. Every year on 12 July a typical Lakeland fair would be held to return stray sheep to their owners and test each other at Cumberland wrestling, horse racing was presumably a key event too and hence the summit of High Street is still known as Racecourse Hill
The sky was a clear blue, and I would see the radar dome atop Great Dun Fell (Near Cross Fell G/NP-001) to the east, the Howgills to the SE, Penrith to the NE and across the Helvellyn Range and beyond the Scafells (Friday morning felt an age ago).
With the tent setup, I then erected the 6m pole and an EFHW for HF. After working 2m FM on my handheld at 1820 BST I put some calls out on 20m and 40m CW, using the Venus SW-3B and made a handful of contacts. When the QSOs dried up I started cooking (Pasta Carbonara and some hot chocolate). And watched the suns setting. A couple of more contacts on 2m FM were made, and then I retired to my sleeping bag.
Monday 1 APRIL 2023 High Street to Hallin Fell

Pre-sunrise veiw frmo my tent towards my antenna mast, EFHW balun hanging at right
The morning was icy cold, I opened the flap of my tent to see a deep frost all around. I lay in my sleeping bag and watched the very moment that the sun rose above The Pennines. To save battery I didn't activate the hill in the morning – I wanted to be sure I had enough left for the last two hills.
On packing away my stuff I found that the two 2litre water pouches had frozen solid. Not wanted to carry 4 litres of ice with me, I had to tear them open to remove the ice. I headed of the hill at 0740 BST, rounding the east side of The Knott (note: not Knott G/LD-023) making my way to Angle Tarn, where two tents were sited on opposite sides of the tarn.
Across Boredale Hause I began a climb up Place Fell, all around me the skylarks were singling heralding the start of spring. I could see down to Patterdale and Glenridding, and the Ullswater steamer boats that I hoped to hitch a ride on later.
Atop the climb I took the avoiding route to miss out the section where the path climbs over Round How (head around the west side on grassy slope). I sat on the northwards of the rocky summit, to shelter from the wind, but then climbed up to the trig point to do the activation. I wasn't sure If I would qualify on 2m FM alone, but hoped to not need HF.
GM4WHA/A was first to call followed by G4YTD, G6LKB, G0TDM and 2E0LDF on G/LD-020 (Dale Head). I made eight QSOs which I was pleased with. In bright sunshine I then headed north off the summit, dropping into Boredale/Martindale. If I could choose anywhere to live in the Lakes, it would probably be Bordale/Martindale – a lovely quite secluded valley.

Hallin Fell (the smaller hill to the right of centre in the background)
I started my ascent of Hallin fell after crossing the bridge at NY433 190, heading NW up the ide of the hill before turning N to follow a sheep track directly up the hill – possibly not advised when the bracken is in leaf. . Wainwright claimed that the southern side could be "ascended comfortably in bare feet", in his pictorial guide to Lakeland, but I wouldn't recommend it on this bracken filled route. The weather was delightful – blue sky and sunshine. A white sail boat passed below on Ullswater, as more sky larks could be hears in the grass around me. The ascent of Pillar just 4 days ago felt a lifetime previous.
I put up my flowerpot antenna expecting this hill to be difficult, and immediately worked 2E0LDF/P on G/LD-21 (Robinson), we chatted about my journey, and remarked on our QSO on Thursday morning to a wet and windy Pillar. QSOs with G0TDM, G4YTD and G4WHA/A followed.
When the QSOs finished I checked the boast timetable on my 'phone, and found I had 18 minutes to catch the next one, after which would be a 2 hour wait, or a long road walk to Pooley Bridge. With a long trip home ahead, I opted to dash for the ferry.
My antenna got tangled, then my guy lines knotted, and finally I couldn't retract the pole. I had extended it my flicking it out, which had caused it to jam Iin place. I ended up snapping it into pieces so that I could stow it away. Running down the eastern flank of the hill I could see the boat approaching, and then found myself in a deadend with a hear drop,. I retraced my steps, and found a better route, making it to the shoreline, about 1km from the pier as the Ferry pulled away.

Racing the Ferry - Ferry is in the distance (can make out the wake) near the top third of the lake (click for panaorama)
I donned some suncream and prepared for the walk to Pooley Bridge, only to find that the ferry I had missed was heading to Glenridding. My luck was in as a second, northbound boat arrived, and I renewed my sprint across the last 1km to make it in time.
The Ullswater steamers are great – well worth a trip. The boats have an open deck up top, and an enclosed cabin with a bar down below. I celebrated the completion on my round with a can of Fanta and packet of ready salted crisps – delicious. On arrival in Pooley Bridge I caught an open top bus to Penrith followed by two trains, another bus (not open top this time) and a couple of miles of walking at the other end to get home.
In total the round covered 14 SOTA summits, giving a total of 97 points. Collectively the summits add up to 7720m of height, although my route only 5979m of ascent
Equipment
Radios:
Yaesu VX6 (VHF/UHF, FM)
Yaesu FT5D (VHF/UHF, FM/C4FM)
Venus SW-3B (CW, 40m, 30m, 20m)
Paddle: Bamakey TPIII
Antennas:
6m fibreglass pole + gulyines
EFHW (with element length up to 40m band)
RH770 (two off) (BNC)
Diamond 2m 1/4-wave whip (BNC)
Flowerpot antenna
Tent: Hilleberg Akto
Stove: Pocket Rocket
Sleeping bag: An old Rab down bag that I use for between-season camping
Bag: Osprey Kestrel
Boots: Altberg Tethera c/w superfeet green insoles
Bothy bag:: Summit Superlight 2 Bothy Bag
Walking poles: Black Diamond Alpine Carbon
Power:
20 Ah USB PD Waterproof/Shockproof Powerbank (its a beast!)
10Ah USB PD Powerbank
USB-C PD 12V cable (gives 12V out when connected to a USBC port - for HF radio and charging HTs)
USB-A DC-DC 5V to 12V (basic DC DC converter as a backup to the USB-C PD cable)
two sets of batteries for both HTs

**Hallin Fell from Ullswater"

Open top bus through Pooley Bridge