Not All work and No play
Wednesday 11th May
A couple of (work) days in Edinburgh, staying right in the centre of town. A team build. My boss always gets me to organise the activities. This time it was a treasure hunt, all organised remotely. I had my colleagues charging all over town, New and Old, up hill, down Closes and in and out of various museums and public spaces looking for answers and articles, carrying out daft tasks and the like. I couldn't take part, one because I knew all the answers and two because my right ankle was really quite stiff and swollen from the previous days mis-adventure. 10m and 2m anyone? GM/ES-032 Mount Battock - #21 by MM0EFI
The last three times I've been in Edinburgh with work I've carried a handheld in my bag, the aim being to activate Arthur's Seat GM/SS-272. I've just never had enough time to do it. This time could be a Go. The Thursday morning meeting session had been cancelled and as long as my ankle held up and I kept off the wine at dinner, then I should have time for a morning ascent before catching the 11am train back up north.
Thursday 12th May
0700 BST - eyes open, one at a time. Head feels ok. Cautiously climb out of bed. Ok, ankle not too bad. Showered, dressed, packed and down stairs for 0745. A quick continental breakfast, checked-out and I was out in the morning sunshine on Princes Street, directly across from Waverly station at 0800.
My geography of the Edinburgh Old Town isn't the best, but I knew that if I crossed the North Bridge and turned down the Royal Mile towards Holyrood Palace and the Scottish Parliament, then I'd be in the right postcode for Arthur's Seat.
Scottish Parliament and Salisbury Crags
My route was straight from Google Maps and approached the hill from the north, ascending a cycle track, before switching back to climb an initially rocky but then well graded path, somewhat eroded and widened by the passage of thousands upon thousands of feet.
the main part of the ascent
A further switchback led up the ridge towards the summit, with the last 100m or so a myriad of paths, polished rocky scrambles, lumps and bumps.
Despite the reasonably early hour, (0845) there were half a dozen or so visitors on top and a few keen runners too. It was a tad windy on the small summit area and extremely windy at the trig point! I helped a couple who were struggling to get their selfie. Goodness knows how long the selfie queues are on a nice August afternoon?
the Pentland hills
west to the Forth bridges
I wanted to find a wee sheltered spot away from others, out of the wind and also to be discreet. It is understood that using a radio in this park is against the by-laws. I had emailed for permission, using the email address that Phil @G4OBK had mentioned in his blog. I never received a reply and to be honest I forgot about it until Andy @MM0FMF mentioned it in a post at 2300 last night!
bylaws
There was a little rock step off to the north, so I sat down there, assembled the RH-770 whip on to the Yaesu FT-3d, clipping the hand speaker/mic. onto my lapel. VK Port-a-log was running on my phone, which was balanced on my knee.
micro SOTA station
In true MM0EFI style, I'd alerted via twitter, WhatsApp and SOTAwatch3 (via SOTL.AS). I still have a healthy paranoia that I will fail to activate summits on 2m - even in a populous area.
Out of the half a dozen stations I worked over the next 9 minutes, two had seen twitter and one the WhatsApp, so the strategy was pretty necessary and paid off. As I was in QSO with MM0GOG, he told me his QTH was near Bathgate. Naturally I glanced over my shoulder to the west. There was a big bank of cloud rolling in from that direction. "Is it raining with you?"
It was. It would soon be raining here. It would soon be time to go. A couple of other stations in the log and then the rain started to splash on the radio screen. Packing up took seconds.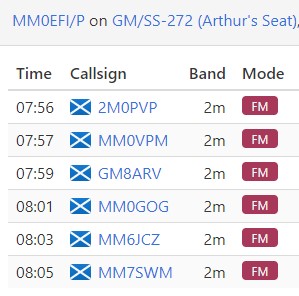 Mainly local. MM7SWM ODX in Glasgow
The initial descent was actually quite tricky! I actually used my hands in places on the wet, polished rocks of the summit. The rain stopped soon enough and the path re-appeared. I followed the same route back - all the way back to Princes Street/Waverly station in fact.
I was 55 minutes early for my 11am train, which meant that I was 5 minutes late for the earlier one. I actually bumped into a crowd of hungover colleagues who were taking the 1025 to Aberdeen. a London train that I hadn't spotted on the timetable. That would do!
"Where have you been?"
"Arthur's Seat".
Blank looks. I don't think they believed me.
Summary
This was much more fun than I ever thought it would be! 45 minutes from the centre of town, awesome views and some nice relaxed 2m FM QSO's with locals. I'm glad to finally have got it done. I'm ashamed to say that it is the first time I've been up there in my life. I'm scarred by childhood visits to Edinburgh with my parents, where my sister and I were dragged in and out of every shop on Princes Street. Princes Street is a very long street…and I've avoided the place for a long time!
73,
Fraser