I decided to clear off on my own for a week and get a load of activations done. Jimmy @M0HGY plotted me a kind of circular route kicking off around Welshpool, working across Mid Wales and down towards Pembrokeshire, back across South Wales, then into the Mendips, Exmoor and a brief stop into Cornwall, before moving back across Devon, into the Forest of Dean and Herefordshire. He kindly programmed a huge number of parking spots from his memory into my satnav. There was an ambitious longlist of 64 summits to work through, although that was decidedly unlikely!
In the event, I did start to skip out a few of the longer walks in Wales, and ultimately I ran out of time to finish everything hoped for in the Midlands at the end of the week. Nonetheless, a total of 48 uniques summits were activated in the week. Accommodation was a mixture of camping (3 nights), sleeping in my car (2 nights) plus one guest room in an otherwise closed pub, one Travelodge, and a night in a spiritual retreat (with a free bar!).
Here's the results: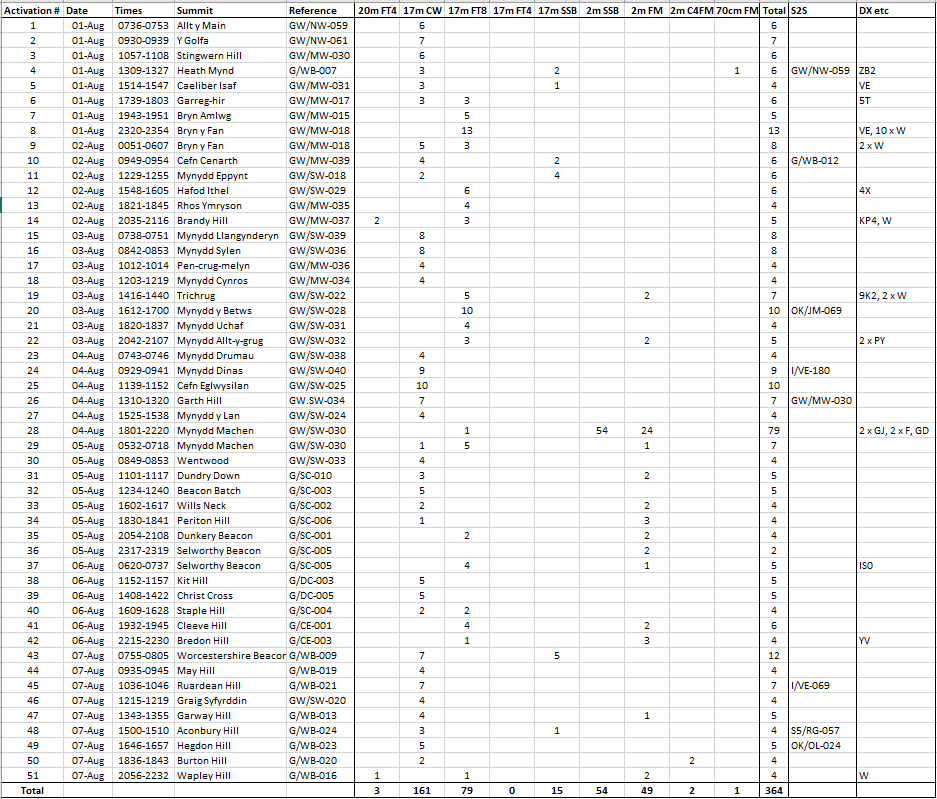 There were a few interesting experiences! The only antenna carried was the 17m GP for the Challenge flavour. On a couple of activations, I had secured a 17m QSO for the Challenge but then couldn't get a contact on any mode on 18MHz or on the 2m handheld - but still needed QSOs to qualify the summit. The "exit strategy" was to go to 20m FT4 where the band was still open after 17m had closed - and work the QSOs needed despite the high SWR!
There was an activation where I had qualified for the SOTA points - but hadn't managed a 17m QSO. CW and SSB produced no responses, and indeed those portions of the band were completely silent. The FT8 frequency 18.100MHz was buzzing away but getting quieter and quieter. I called and called on there, getting nothing, until eventually a line in the RX window went red - and I was being called by YV Venezuela! Ukraine or Italy would have done - but I was happy to accept some South American DX!
Accommodation decisions were always made late in the day. Richard @g3cwi pessimistically advised me that getting accommodation in these Covid times would be difficult, but I was much more relaxed, knowing that I always had the options of my backpacking tent or my car if needed. The choice to go for paid booked accommodation was influenced by when I needed to recharge my 16Ah LifePO4 battery - and when I really wanted a proper wash and a good night's sleep!
So it's around 9.30pm and I'm about to go up Mynydd Allt-y-grug GW/SW-032 and thinking I need somewhere to stay. I went on Booking.com and found an ideally-situated single room for £30. I gave them a ring to check if an 11.30pm arrival would be acceptable. It was, so I booked.
After the activation, I looked up a bit more about the place - chiefly to put the postcode in my satnav - and discovered that it was a spiritual retreat. I assumed that it would be a "dry night" therefore, but on arrival and filling in the check-in form, I spotted a healthily stocked sideboard with beers, lagers, wines and spirits. I asked if it was possible to buy a beer to take to my room. The young lady replied "Oh that's just stuff our previous guests have left behind, feel free to help yourself".
I almost wished I wasn't planning on an early start and another full-on multi-summit day, but fortunately my SOTA-obsession won through, and I restricted myself to a can of Stella and a large Baileys… It didn't half make the £30 room rate incredible value though!
I must make a special mention to Jan @OK2PDT - not only the world's leading SOTA activator, but one of the world's leading chasers too. Jan worked me on no less than 27 of the 51 activations - very impressive!
I guess I better get on with entering the logs…!