Nice, eventful afternoon spent on Mount Battock. Train journey to Edinburgh tomorrow, so will write a report then.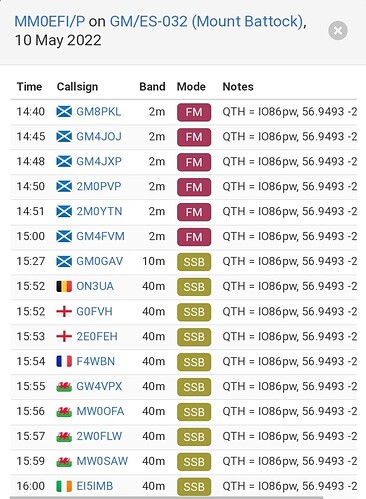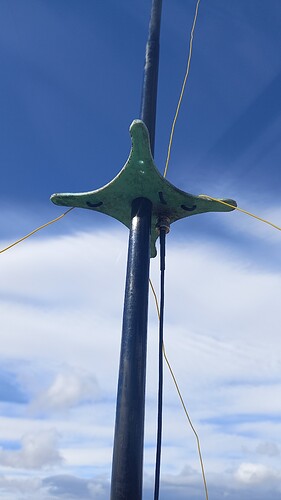 Report and 10m antenna test
I've climbed Mount Battock before. From home one approach is a long drive round to Glen Esk and then a walk up decent tracks, climbing the summit from the south. Or there's the 25km walk across various bumps including the knobbly Clachnaben, approaching from the east. Both of those were too time consuming for an afternoon jaunt, so I decided to go in a third way, by cycling up Glen Dye as far as I could and walking the rest of the way. This would be a 25km route too, however hopefully quicker.

As I drove out from Westhill, a couple of showers passed over. No rain was forecast, so when I set off on the bike I was just wearing a top. Then a shower came from nowhere and soaked me. Otherwise, it was pleasant, but slow cycling despite the strong headwind.
In Glen Dye
It's remarkable how a bit of spring sunshine, a sparkling burn and a few birds can transform an otherwise stark glen into a beautiful landscape.
I soon reached the bothy at Charr and went inside for a look. It's beautifully maintained and very clean. Just 5km from the road end - ann ideal spot to turn a climb of Mount Battock into a short overnight mini-adventure.
Charr bothy
I still couldn't see Mount Battock, one because it was hidden, and two because my head was down cycling uphill into the wind. Eventually though, I got a glimpse and I could see that the Land Rover track seemed to go right up to it's shoulder. Good news!
first glimpse of Mount Battock
At a junction I started up the 2.5km climb to the shoulder. Good progress on the bike, and then when it became more efficient and faster to walk, I pushed. The angle eased and I was able to cycle within 1km of the summit on a decent surface. When the track became heather and peat, I ditched the bike and headed off on foot. I had another soaking as a final shower passed over, not bothering to dig out my waterptoof. The wind soon dried me off.
I arrived at 1420z, having taken 1hr 35 mins to get there, which was a bit under the 2 hours I'd allowed. This was a good thing, as I'd be attempting a complicated (for me) activation involving multiple bands and aerials.
Mount Battock 778m GM/ES-032
Activation
First up was the Spectrum Communications Slim-G 2m antenna that Ben @GW4BML has kindly given me after our Cairngorm outing. I'm always complaining about the lack of 2m activity up my way and hoped this would be efficient to erect and get me some contacts. As it happened, it was up in 2 minutes, thanks to a handy crack for the 7m mast. I got six stations in the log, fairly painlessly, with 128km to GM4FVM on the English border being ODX. So far so good! Now for the 10m vertical…
2m G-pole
2m FM efforts
I telescoped the mast until I could reach over the top, slid over the antenna baseplate, unfolded and attached the radiator and hoisted up until eight sections of mast were elevated. Then it was a simple matter of pulling out each radial in turn and pegging it. No snarls, no tangles. It went up in 2 mins.
10m 1/4 wave
DX heat showed a 10m opening to South America, however I couldn't hear anything on the section of band I tuned over. I spotted on the QRP frequency ("antenna test" in the comments) and called anyway. With the internal tuner turned off, SWR looked good.
After a couple of calls Gavin @GM0GAV kindly replied. Not DX but the signal was getting out and I'd made a SOTA contact on 10m SSB. Thank you Gavin! The antenna packed away as well as it went up.
I still had plenty of time on my hands, so decided to run a 41' wire for 40m to give some inter-G chaser points away. With K=3 it might be difficult, but what was more difficult in the short term was finding my guy ropes. Couldn't find them! However, the summit of Mount Battock is actually a SOTA delight, with two cairns, a fence, some posts and a trig point. There wasn't an issue jamming the mast into the base of a shelter and tying the tail of the antenna off to a post.
40m set up on a windy summit
Anyway, 40m was indeed problematic but I was able to get a few more stations in the log.
At 1600z I was done, packed and started trotting down the heather and peat towards my bike. I was watching my footing on the uneven geound, especially as I was wearing trainers. I soon spotted the bike and just before reaching it, crunch and I was lying on the heather. I'd gone over my ankle in a big way. It instantly swelled over the side of my shoe. I was really angry with myself, as I'd been protecting it since spraining it on Ben Macdui the other week. Anyway, I hobbled over to the bike and had a rapid but painful ride back down to the glen, the wind pushing me along in the warm evening sun.
I was concentrating so much on avoiding bumps and protecting my ankle that I overshot the right turn that would take me back to the car park, by a good way. Thankfully there was a riverside track that cut back towards the car park. I took this and added another couple of km, that I didn't need, to the day. The descent had only taken 45 minutes, even with the diversion.
When I got out of the Land Rover after the 35 minute drive home I could barely walk. Ice applied, elevation and an early night. It's a little better today but I think Ill be keeping off the mountains for a week or two.
In summary, a great route, the 2m antenna was a great success and I was pleased to have two QSO's with borders stations running 5W from the handheld.
The 10m 1/4 wave was much easier to deploy and pack up than I expected. It's so light and compact that I really should carry it everywhere in case there is an opening.
10m antenna stowed
Now that I know it works, I will tidy it up and apply some weather proofing to the connections.
As for the ankle, well as I type this from an Edinburgh hotel room and with time to kill tomorrow before my train home, I can't help thinking that Arthurs seat GM/SS-272 may be just what the doctor ordered.
After all, I do have my handheld with me…
But have you got permission sorted from the Queen's wardens?
I emailed and never had a reply, so the answer would be "No".
That's a bit poor not replying. They're normally on the ball. I'd wander into to town tomorrow and say hello but sadly I have a wonderful day of meetings as we are moving the office and a zillion servers etc. need relocating.
Cracking report and photos @MM0EFI Fraser! I listened on 28.365 USB for you, but nothing heard unfortunately. I did have a flick through the 10m band and it was dead, so that's probs the reason for no DX contacts. Just you wait until it opens, 10m is great, I love the band from my home QTH!
I see you've alerted for today in Edinburgh, I new you would

have a safe accent and stretch that ankle! Good luck.
73, GW4BML. Ben
It's the descent that always get me! Thanks for listening out for me. I didn't expect much from 10m, but it was great to see how well the setup performed on a hill top.
Not so for me either in early March. I didn't get a reply. I wonder if they've changed their email address and not updated the website.
We'll have to try a S2S soon from two high peaks (GM & GW land) on 10m, see if we can make the contact!