Spotting SOTA activation at Sotawatch via DMR Brandmeister network
Thanks to SMS to APRS facilility of BM and APRS2SOTA server, I have successfuly sent a SOTA activation spot to Sotawatch server, with my Hytera handy.
We are more and more SOTA activators with DMR handys activating at DMR simplex and this feature will be a nice solution for spotting our SOTA activities.
Perhaps at the future, a service could be available to insert spots directly from BM to Sotawatch without using APRS… but anyway this is a nice feature.
73 de Iñigo EA2CQ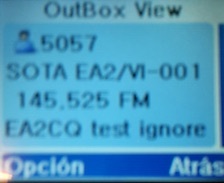 Heading