A short tale, with a question at the end…
I'm really new to SOTA operating and have been on a steep learning curve, mainly figuring things out for myself on repeated climbs of (very) local hills.
I constructed a "100 gramme 2m yagi" from a spare bit of fibreglass mast section and some aluminium welding rods, having had little success on summits with the tape measure version, due to it folding in the slightest breeze.
Yesterday was a breezy day, so off I went up Pressendye (GM/ES-047) to try it out, intending to lash it to the summit trig point. It was so windy on top that I instead retreated to the substantial stone shelter and guyed the mast there. All good so far.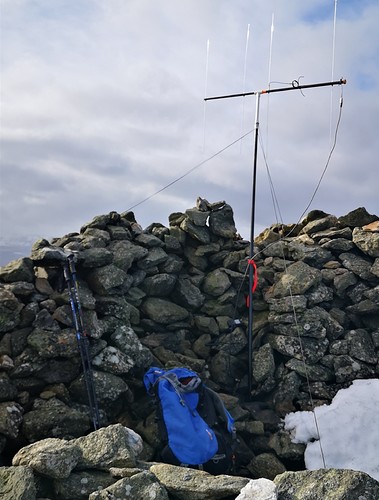 I made three contacts using my ft-3d HT. One off the front, one off the side and one off the back of the beam. I couldn't make any more because every time I moved it round, the wind blew it back in line with the wind direction, like a weather vane.
So, I'm looking for suggestions! The beam needs to turn when I want it to and not at other times. It's currently mounted on the fibreglass pole using pvc conduit fixings.
And yes, the guys are rigged too high. Schoolboy error.
Looking over to Morven GM/ES-018, my "even more local" SOTA summit.