Not a microphone splitter by Yaesu, but a splitter for Yaesu microphones, purportedly.
But WILL IT WORK?
I've put this in the Off Topic category on here is the link to SOTA is tenuous at best. I will be using my new Yaesu FTM100D mobile rig en route to and from SOTA activations, but moreover, I'd welcome the thoughts and input of the SOTA Reflector community, who I trust more than other AR online groups!
The FTM100D has no possibility to initiate memory scans from the front panel. This can only be done from the UP/DOWN buttons on the supplied MH48 fist microphone. I do not wish to use a fist microphone while driving. Although there is an exemption for this kind of radio use, I do not consider it to be safe or sensible personally (and a traffic officer's assessment that it was interfering with the quality of driving would be difficult to argue against). Either way, I want to stick with using my hands-free kit.
This is the Watson WM-S - but only the PTT works with the FTM100D. The UP/DOWN buttons send a signal to the rig (indicated on the display), but do nothing. It is reported that the Komunica AV-1KM-Y hands free kit (marketed a compatible with the FTM100D) has the same issue. (From photos, it would appear this is exactly the same product as the Watson WM-S that I have).
So I've ordered one of these so that I can have the MH48 on a mic-clip mounted on the dashboard for UP/DOWN buttons, and the hands free kit connected simultaneously for the microphone and PTT switch.
Has anyone any experience of this kind of arrangement? Does it even work? I've had one suggestion that the mic pins on one side of the splitter need to be disabled, and the scan pins on the other side. Otherwise the impedance of the two connected mics is affected (though I'm not sure what the effects of this would be).
This diagram was sent to me: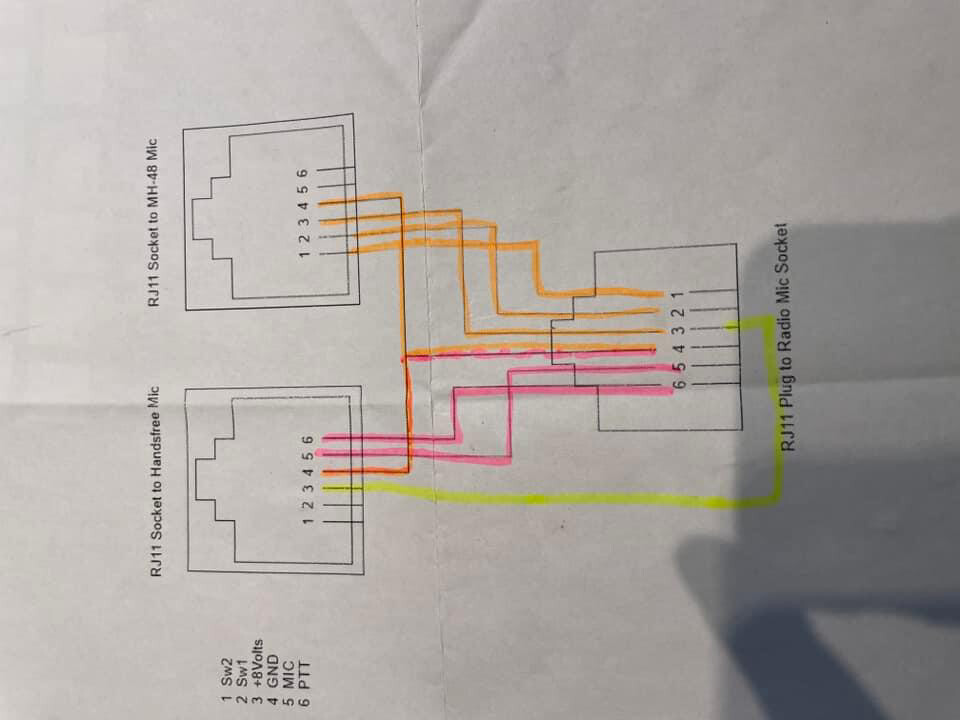 So, trusted SOTA friends with rather more understanding of this sort of thing than me - over to you!
[It is very tempting in the first instance to try it without the mod with both mics connected and see what happens - but is this even advisable?]