Hi all,
when I was activating HB/GR-012, it took a little longer than expected for the first chasers to call me. It turns out that the reason was a grossly wrong frequency in the first RBN spot:
I was calling CQ steadily on 7.0304 MHz, never changed anything on my MTR, and yet the skimmer operated by HA2KSD spotted me on 7.0158 MHz.

RBNHole then quickly took this frequency up.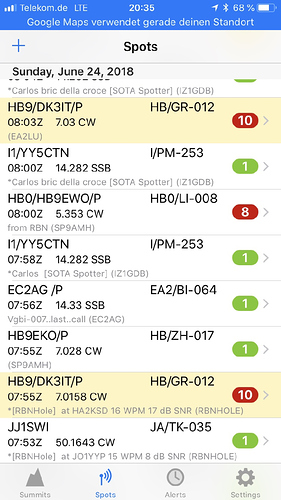 Luckily, some chasers found me despite the wrong frequency, and later on @EA2LU was kind enough to post a correcting spot manually.
Strangely, there was only a single RBN spot despite calling CQ for a couple of times. My guess is that the RBN filters out new spots on a new / different frequency for a certain amount of time, and so the first wrong frequency spot blocked others with the correct frequency. Also, the long prefixed callsign HB9/DK3IT/P might be harder to receive than others.
Now, my questions:
Have other experienced similar problems?
Is there anything I could have done better?
73 de Martin, DK3IT