Having already activated Worcestershire Beacon this year I was out on Saturday, just for fun. At home near Wotton-under-Edge the temperature was only just above freezing at around 6.30am but the temperature slowly rose until it was about 11 or 12 degrees by the time I reached the car park. I had seen the night before that Jorden M3TMX was planning also planning the activate Worcestershire Beacon that day at the start of a three summit trip with Bredon Hill (G/CE-003) and Cleeve Hill (G/CE-001) to follow. I wondered if I might see Jorden on the way. Activating mainly in the South West and and occasionally South Wales I don't often meet other SOTA operators and I was keen to see if our paths would cross.
I was monitoring the 2m calling channel on the way up and close to the summit I heard Jordan calling. I was second into his log and I let him know that I was on the way and would look out for him. We had both opted to walk up the east side of the hill, out of the wind and it wasn't long before I caught up with him. It was great to spend some time chatting and hearing about his SOTA adventures – I really hope our paths cross again, and not just on the air.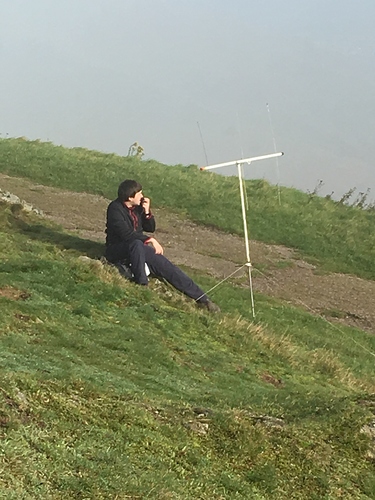 Jodan M3TMX at the summit
I had wanted to try and do some chasing on 20m and set up around the corner from Jordan's spot with only a low dipole. 20m was absolutely packed and I really couldn't find a clear frequency, I tried a couple put with terrible QRM I soon realised that it would be a struggle. I tried for a few s2s but with no luck. It was certainly windy and I was starting to get cold so I thought I would give 2m SSB a go. I remembered that last time that I activated Worcestershire Beacon (back in June) I had got a good run of contacts. This time, first in the log was Simon, G6AHX, not far away in Tewkesbury. I realised that conditions were good when my next contact was Mike, 2E0OOM near Gravesend in Kent at a distance of almost 200km. G3RMD, Frank in Cheltenham followed and then I heard a very distant call, I soon realised that the call was an F5 and after a bit of a struggle (not helped by the wind at my end) I made out F5UBH, Toullec not far from Dieppe at about 300km. I have worked the Channel Islands from Brightstone Down (G/SE-012) on the Isle of Wight before by that was my first SOTA contact into France on 2m.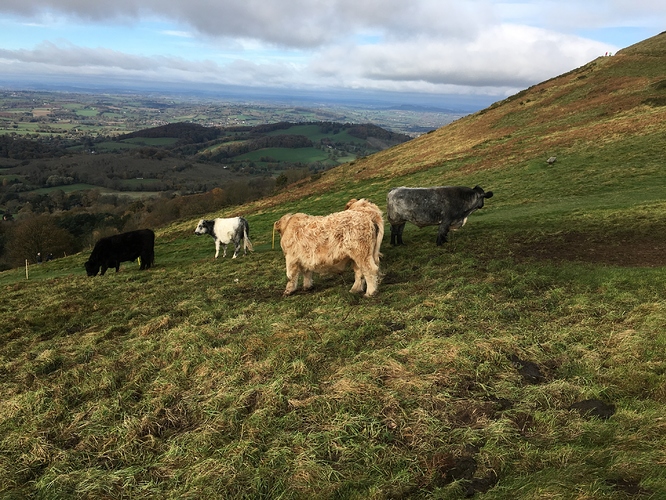 These guys didn't have to worry about staying warm!
I had hoped to stay and catch Jordan for an s2s on Bredon Hill but it was getting cold and threatening rain so I decided to call it a day around lunchtime and enjoyed a pleasant walk back to the car. The highlights of the day were meeting a fellow operator and working France on 2m SSB with just 5 watts from the FT-817.