One of the 1st real summits I ever did in GM for SOTA back in 2006. I did it again in 2007 then left it for 9 years. On a frozen day it's brilliiant but it can be a bit wet and soft half way up. I picked it as it's a short drive and the WX is a bit rubbish right now, lots of snow and ice etc. If the WX isn't going to be stunning, I find it difficult to drive for a few hours to walk a hill in the grey mist, may as well walk up a local hill in the grey mist.
I did the standard route, parked near Blackhopebyres Farm and up the track. The flatter parts were very wet and it looked like significant traffic had been over the track. In places it's twice as wide as it used to be as vehicles had been trying to minimise damage to the peat. It was a miserable, cold, grey day and it wasn't long till I was into thin mist. At the Grouse butts the mist thickened up and there was more and more snow on the ground. There are a few large peat hags to climb just before the summit becomes a gentle climb and these were full of snow. I found the big hole hear and needed skill to extract my foot so it still had a boot on it. Wet sock full of ice and snow and very cold water, grr!
That's when the contraption appeared, looking through the mist like Surveyor lander at first. (Images copyright NASA)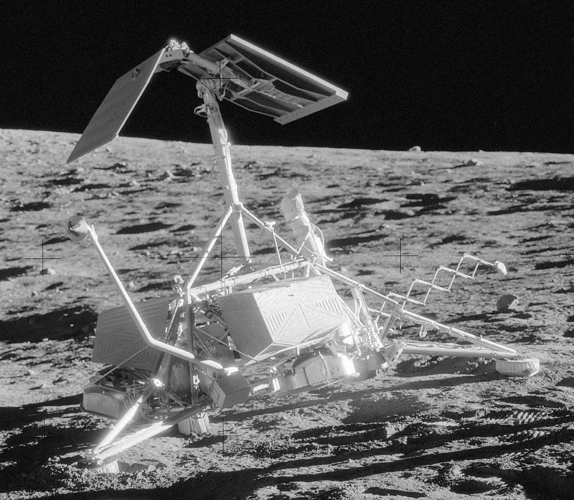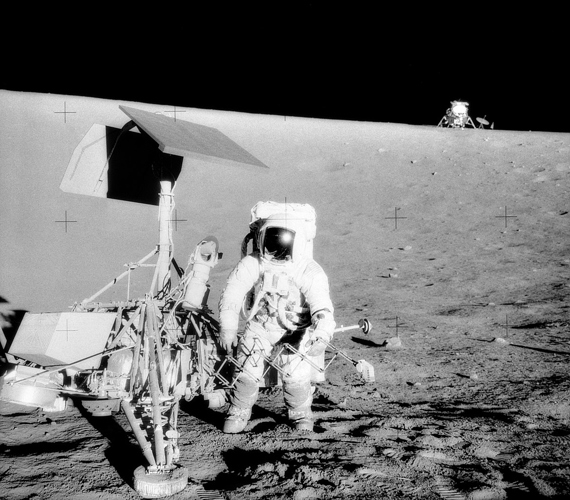 © NASA
But on closer inspection, was some big bore aluminium scaffolding poles, 2 large solar panels and a lot of Ubiqiti wireless networking equipment.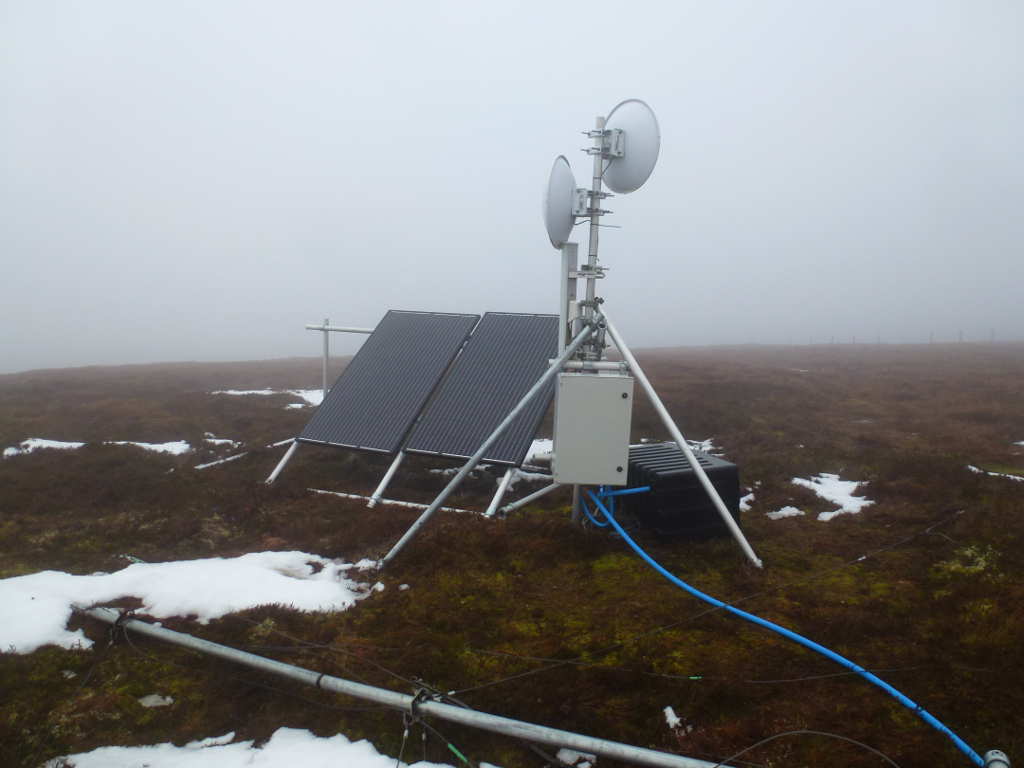 The mast laying on the floor did have a wind generator on it but I don't think it was up to the wind speeds on this exposed summit.
It turns out it's part of Heriot community broadband internet services. It would be lovely to live in the part of the world till you see how pish the internet connectivity is. Most places get rubbish dial-up never mind ADSL. This is a way round that, just a little more than a self help scheme but offering 25mpbs up/down speeds with a 200GB/month cap for a reasonable £25/month. I'd be signed up if I lived out there. I expect lots more of these things to appear as high speed connections become essential instead of desirable. Something to consider for those of us who play on frequencies not too far removed from 2.4GHz Wifi. The dishes maybe link on 6cms (5.8GHz) another European microwave band under heavy threat of loss.
I set up at the fence just visible in the above photo. By now the wind was howling and the mist had turned lumpy, a mix of hail and rain that stung the face. I spent a few moments contemplating whether it was just a little daft to set up in such miserable conditions or completely foolhardy and I should go home. "Little daft" won but I put the vertical not the dipole up and decided 30m was the band to try. It worked OK, nothing exotic but plenty of good strong Euorpean chasers. I'd finished off all the chasers in 25mins and was contemplating 20m when some other fools wandered up. They too couldn't be bothered driving for hours for rubbish wx on a summit when rubbish wx was available locally.
I gave up at this point, packed away and walked down chatting to the other visitors. It was noticeable windier and colder on the way down and I was glad to get back to the pickup and 2 dry socks instead of 1 dry and 1 wet. It was worth doing TBH, the exercise was good, I learnt of the broadband project and know to check for others when considering summits for 13cms operation and it was nice to be chased. Could have done without finding the big deep hole on the way up though!