My original plan was activate in Saturday three new summits in Central Finland were I had not visited earlier. All those are located very close of the City Jyvaskyla. Driving 300 km north and do the job – easy case – and the same driving back. In Friday started to snow heavily in Central Finland. First I thought that when the snowing is over it is easy to go and activate them. But, but – on the Saturday morning when I was driving towards Jyvaskyla they talked on radio that around Jyvaskyla was terrible traffic jams and main roads are full of snow, power is cut in many places etc. What closer I came that more convinced I became about the message in radio. As extra I had a special task to visit in my grandparents' house where they had lived until 70's. The house was also close of City Jyvaskyla and distance from there to the first summit was 40 km only.
My grandparent's house was located only one kilometer from main road but the sub road was full of snow, not cleaned and there was woods across the street. The amount of snow was 20 cm plus, temperature about one minus degree.
Being there and looking around - White Friday changed my plan. I decided to return to south and activate my "home summit" Jyranvuori OH/JS-066 and leave the planned summits to next summer because I suppose this snow will not smell before Eastern. Late afternoon I reached Jyranvuori where I kept couple of qsos and will be on air tomorrow again. Well planned is halve done, but not always!
73, Saku OH2NOS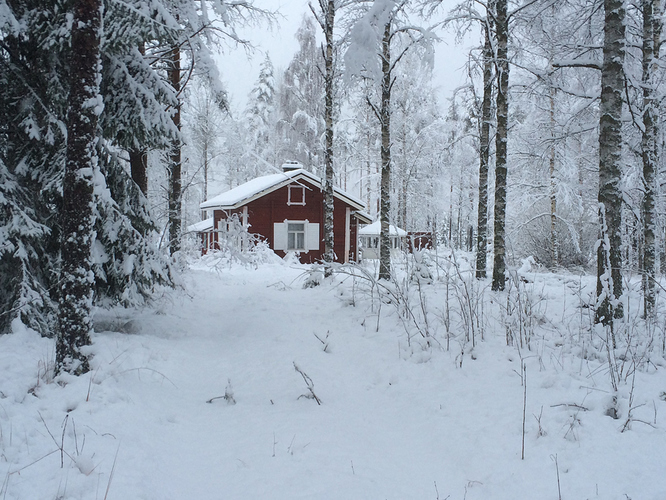 The original (red one) house is more than 100 years old.