My opinion on two types mentioned above:
First the facts: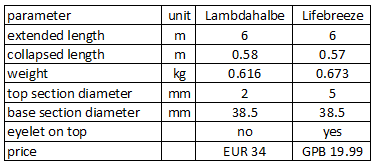 At only 2 mm, the top section of Lambdahalbe is more or less unusable. Just got my Lifebreeze (thanks Bruno HB9CBR for initiating and handling a collective order).
73, Markus HB9BRJ
P.S.: The 673 g of the Lifebreeze is correct. Measured using my kitchen scale. GPB should read GBP, sorry.