Ladies & Gents,
As I have mentioned in other posts, I am in the process of trying to set up a remote (internet controlled station) on a piece of farmland which I own (approximately 2 1/2-3 acres). Up until now the project has been delayed by internet/networking issues, but I now have sorted that, so it's time to decide what antennas to put up…
Obviously in an ideal world, I would stick up a 100ft tower with a rotator + beams and be done with it. Unfortunately this just isn't possible (planning regulations, restrictions on budget and other practical restraints prevent this).
I primarily plan to use it for chasing SOTA stations, but will also use it for other amateur related activities.
Basically the question is "what would you set up if this was your land?" I'm looking for some collective group wisdom.
I have attached a rough drawing of the site. Don't laugh; drawing was never my strong point!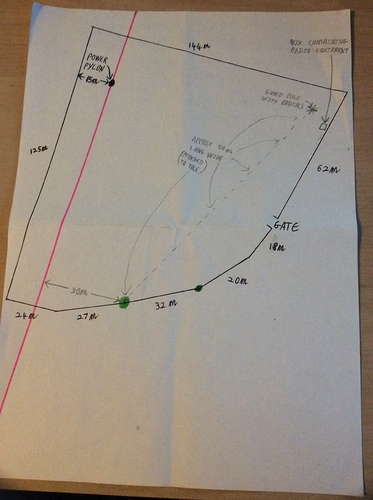 The measurements are not exact (I took the measurements from Google Earth, so they could be a few meters out either way) but I've drawn it to a very rough scale (as best as I could with the measurements available to me) and it should give you a very rough idea what space I have available to play with.
The requirements/criteria are as follows:-
Looking to work NVIS mainly on 80m & 60m.

40m for SOTA contacts.

If I can also get good results on 160m that is a massive bonus (I know that there isn't much SOTA activity on 160m but I've always wanted to play on 160m. I've just never had the space for a big enough antenna to make it work).

Need to be as discrete as is physically possibly because:-
The land is classed as agricultural so I won't be able to get planning permission & I don't want to draw the attention of the local planning department.

Possibly more of a concern is security. Given that I can go a couple of weeks at a time without getting down to the field, I don't want it to advertise the fact that there is expensive radio equipment on site!!!
Note the power cables running across the field (pink line). UK government HSE guidelines recommend a minimum safe distance of 10m horizontally (along the ground) from underneath the cables. Other guide lines (aimed at boom lift operators) suggest 9m safe operating distance from wooden pylons (which this is) and 15m for other (very high voltage metal) pylons. Either way I really don't want to get too close. My approximate measurement of 30m between the power cables & the tree should be safe.

Want to work a bit of DX on 20m and possibly 40m, so may add a vertical later, but for now my main goal is to get on 80m, 40m, 60m & 160m (probably in that order of priority).
As far as I can see, I have 3 options:-
Option 1:-
Use the 40m/80m trapped dipole which I already have. This should give good NVIS on 80 & would also be usable on 40 (if I can get it high enough)
Unfortunately it means sacrificing the 60m band. It also means that 3 masts/supports are required (one in the middle & one at each end).
Option 2:-
Looking at my measurements on the plan, I reckon that I could squeeze in a full wave loop for 160m (which as far as I can tell from looking on the internet, should also work on 40m & 80m with slight gain). Should also be able to tune 60m with a tuner? Would probably do what I do with my current 40m loop at home (feed using 50ohm coax via a 4:1 balun).
On the plus side, this antenna would probably give the best performance out of the three options.
The negatives are that it requires a minimum of 4 masts/supports to keep it up in the air. Hence not particularly discrete, and there is also the cost of buying mast sections to build it.
Option 3:-
Just put a long wire up (which was my original plan, as shown in my diagram). Probably around 6-10m high mast to support it at one end and use the tree at the other end. It's about 90-100m from the mast to the tree, which means around 100-120m of wire (when you factor in the height of the mast). I would probably use a 9:1 unun (or maybe even a 4:1) with a decent radial field.
I'm guessing that this would give reasonable NVIS results on 80m & 160m? I've heard of people running an earthed ground wire along the ground (directly underneath the radiating element) to give an improvement in NVIS performance (apparently it's quite a noticeable difference of between 3 & 6 dB).
This is probably the cheapest & also the most discrete option (less noticeable from the road). Only needs one mast (as I can use a tree at one end) and should give fairly good performance as long as I have a decent amount of radials.
To my understanding, the theory would suggest that it won't perform as well as a full wave 160m loop, but it may be the best compromise of the three options.
The thought did occur to me that I could use an aluminium mast to support the antenna and cut it to length to make it resonant on either 20m or 40m with a radial field underneath it, giving me a vertical for DX. Obviously I would need to make sure that it was insulated from the ground, guy wires & whatever antenna it is supporting (not sure if there may be some undesirable coupling/interaction there)?
As I said, in an ideal world I would absolutely love to just put up a massive tower with beams on the top & be done with it.
Although there is technically space to do that, planning constraints would prevent that. It would also be like putting up a massive advertising sign saying "expensive radio equipment here, come & nick it".
As I said, I need to be a little bit sensible with what I do as I'm trying to keep it low key & under the radar!
Other amateurs that I have spoken to are trying to convince me to go for a dipole arrangement. What do you folks think?
So fellow chasers, what works best for you? Working within the constraints above, what would you put up if you were in my position?