Utah Mountain Goat #3!!! Way to go Greg!!
(Note! He's on W7U/NU-067 right now for his Mountain Goat Summit!)
Congratulations, Greg on MG !
Glad I got to work you on 17 meters!
73 Gary
Congratulations!!
73 Martha
Congrats, Greg!
Keep up the good work!
73,
Guru
Congratulations Greg on your Goat
73
Dan KC7MSU
Well, cool! Thanks for the S2S with W6/CT-225 and congratulations, Greg!
73,
David N6AN
Congratulations Greg!
Sorry to have missed you for an S2S on your MG summit but plenty of other opportunities.
73,
Keith KR7RK
Congratulations Greg! Bob AC1Z
Congrats, Greg! Good work!
73
John, K6YK
Congratulations, Greg. The first USA Mountain Goat of 2021!
73, Walt
Congratulations Greg on achieving Mountain Goat.
Jimmy M0HGY
Congratulations on achieving MG, Greg.
73, Charlie - KØLAF
Well done Greg. Keep climbin those hills!
Scott kw4jm
Congratulations Greg!
MG is a great accomplishment.
73,
Dale
Congratulations on MG Greg!
73,
Andy, N4LAG
A couple of years ago, I helped Ryan, K7ODX give a SOTA presentation to a local ham radio club. Besides getting to know him, I benefited from that exercise by seeing in detail how Ryan did things on his activations, including how he set-up his radio, paddles, antenna, battery and all of the accouterments necessary for a successful activation. I also noticed that he was very serious about making Goat, and I suddenly realized that if I didn't get serious, at the rate I was going, I wouldn't make Goat until age 150.
When the pandemic came, I found it easy to socially distance yet stay in-touch with my friends on the air. Because I am retired, I had a more time to seek-out cool summits, see some truly wonderful country and enjoy fun experiences I would not have had without the commitment to making Goat.
I appreciate the friends I have made since becoming active in SOTA, including those in this post. Those friends are not just a quick contact from a summit, but a brief touch-stone each time I work them. Some of them are so regular that I worry about them if I don't hear from them. Those acquaintances extend from all across North America to Europe, Oceania and Asia.
My future goals are to remain active in SOTA for as long as possible and to spend more time on each summit. It occurred to me on this last activation that I no longer needed to rush off to the next summit to reassert my commitment to my goal, I could just relax, enjoy the sunshine and exist in the present.
See you out there!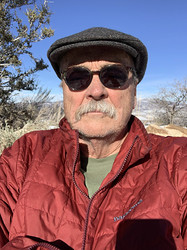 W7GA on W7U/NU-067
Outstanding!!! Congrats Greg, always good to work you.
Carl WB7ULD
Congratulations, Greg! I made many QSOs with Greg, and glad that Greg achieved this milestone!
Congratulations, Greg! Glad to see you got it done and plan on still going! Our small Utah herd is happy to have you!
73,
Mike AC0PR