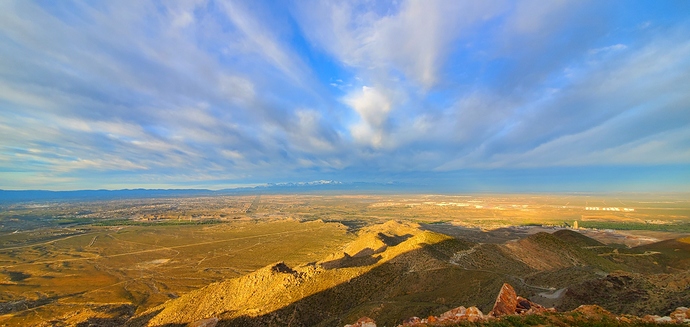 On Thursday evening (4/16) I was feeling especially cramped and decided to load up my Tacoma and head out to the desert. I landed in the area of Silver and Quartzite Mountain near Victorville. Thankfully the weather was stunningly beautiful and I enjoyed listening to "Astrophysics for People in a Hurry" by Neil Tyson that night while enjoying an unobstructed view of the stars above.
The next morning I was able to activate Quartzite Mountain (W6/ND-241) and landed DX QSOs with EA2IF and SA4BLM. Additionally, I got great signal reports from each station despite my transmitting only 5w from an MTR 5b. After about 12 additional QSOs I activated Silver Mountain (W6/ND-241) and had 23 QSOs that included DX stations EA7GV, SA4BLM.
On my drive home I was realizing how thankful I was for everyone who chases SOTA. Despite operating a low power station, I was the one being chased and working a pileup. DX was looking for my station! How cool is that! Not to mention I can always count on a core group of regular chasers W0MNA, W0ERI, WW7D, WU7H, AC7P, NW7E, W4KRN, N4EX, N0RZ, K0LAF, K3TCU come to mind off the top of my head; however, there are probably about 20 or so that I can count on regularly to chase me no matter the conditions.
In short, the purpose of this post was to share great conditions on 20m and thankfulness to everyone who consistently chases SOTA as well as satisfaction with the program itself. To me, there is nothing better than operating CW from a remote summit and making exchanges with familiar calls and discovering new DX.
I hope to meet you on the bands soon! 73 DE KM3A (David).