When: October 19-22
Where: Sarah's Creek Campground - https://www.fs.usda.gov/recarea/conf/recarea/?recid=10497
Ryan - WG4I (the activator formerly known as KK4OSG) had the great idea of putting together a SOTA camping weekend. We will be camping in the northeast corner of W4G in the middle of a number of easily accessible and seldom activated summits. Most of the summits are within a 30 minute drive from the campsite and a couple could even be hiked to from the camp, in theory at least.

There are many other summits within a short drive including summits in W4C/US and W4C/WM. This will be a great opportunity to pick up some SOTA uniques/completes, swap stories/ideas and score some points. If you haven't activated before or don't have the necessary gear to activate with there will be plenty of opportunities to tag along with other activators. Please let Ryan or myself know if you are planning on attending.
Sarah's Creek Campground is a developed campground, but there is no electricity or running water beyond the creek running through the campground. There are vault toilets for easy disposal of, um, care packages…. Sarah's Creek is one of my favorite campgrounds and has my all-time favorite car camping campsite. There are many excellent campsites along the creeks. I will bring a quiet generator for battery recharging and some dutch ovens for cooking some tasty treats. If you need a break from activating, campfire libations and SOTA story swapping, you can try your luck fishing for trout in Sarah's Creek, the West Fork of the Chattooga and the legendary Chattooga River - http://georgiawildlife.com/fishing/regulations.
These are the summit opportunities within even a 15 mile radius from the campground, but below the map are some details on nearby summits. Many require some basic off-trail hikes to reach the actual summit. These are mostly what I refer to as 'up and done' being nothing more than just the final climb with no navigational skills required other than 'up'.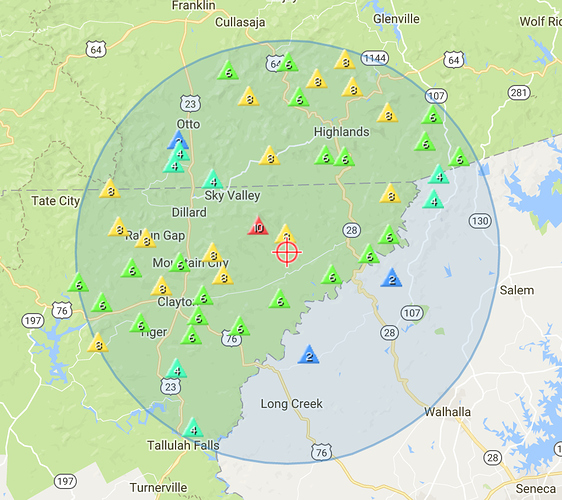 W4G/NG-049 - Pinnacle Knob - Multiples routes and I can provide info on shorter access from Warwoman Rd. Summit has nice outcrop and great views. Nice waterfall if hiking from Warwoman Road.
W4G/NG-024 - Rock Mtn - 1.7 mile hike along the Bartram Trail with 0.3 miles off-trail to the summit. Summit has a nice outcrop and great views. Access road requires high-clearance/4WD vehicle.
W4G/NG-015 - Oakey Mtn - Previous activations have been accessed from the NW (2.3 miles/1400' EG), but I may explore a shorter, but mostly off-trail route from the trail head for the previous summit. Anyone wanting to experience some real off-trail hiking are welcome to join me.
W4G/NG-058 - Rainy Mtn - 2.2 miles/1251' EG from Pool Creek Road along the Bartram Trail and off-trail hike to the summit. A bit longer access from Warwoman Rd along the Bartram trail is 3.5 miles/1900' EG estimated with no off-trail hiking.
W4G/NG-069 - Pollywah Knob - Unactivated summit. Better get there before Ryan…
W4G/NG-043 - Hale Ridge - 1.57 miles/800' EG with the last 0.4 miles off-trail.
W4G/NG-002 - Rabun Bald - Multiple routes possible, even from camp, but typical route is 1.53 miles/1034' EG. In my biased opinion, Rabun Bald has the best views in Georgia with views of 4 states on a good day. Rabun Bald should have LOS to all the other nearby summits for easy 2m S2Ss.
W4G/NG-071 - Oakey Top - 1.8 miles/640' EG hike. You can actually drive the first 1.1 miles along a Forest Service Road, but it is quite overgrown and you will get some scratches on your vehicle.
W4G/NG-066 - Oakey Top - Yep, another Oakey Top! One of the two summits accessible from Burrell's Ford Rd/FS 646. 0.8 miles/650' EG.
W4G/NG-061 - Rand Mtn - An obvious choice to pair with the previous summit along FS 646. 1 mile/500' EG
Other summits in the area that I would recommend are Scaly Mtn, Wolf Knob, Blackrock Mtn, Glassy Mtn, John Mtn, Whiteside Mtn, Fishhawk Mtn and Joe Mtn.