Part two of the VK ZL JA - EU S2S 6 April 2019 day.
Short status report from my activation on OE/OO-075.
I had no success on 40m and 20m to VK ZL and JA. I heard a QSO with a station in ZL but I guess QRO.
But a lot of stations and S2S all over Europe in the log. Thanks to everyone taking part in the event and specially to the organizers.
Will need some time to get my audio recordings, video and pictures sorted for a video. Did a double activation (continued to OE/OO-271) so a lot of stuff to do tomorrow.
73 Joe
First time out playing radio for some time. Found one of my LifePO4 batteries completely dead last night (Don't think it has been used for over a year!), seemed to charge up OK though the FT857 seemed to have reverted to it's 'default' settings…I really should check things out before going out next time

Blowing a gale (as always) on G/WB-004 and at times I couldn't see more than 10m. I couldn't find anywhere out of the wind, since they demolished the old NATS building near the trig. Only stayed a short while, and only on 40M so thanks to those who called and/or replied. After the log book blew away, and I had to leg it to retrieve it, I decided to give up

Thanks to those organising it, and all who called!
Don
m0hcu/p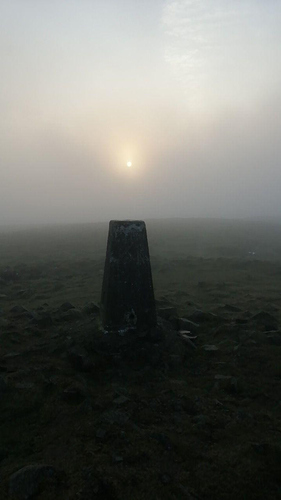 Trig point whilst trying wandering about trying to find some shelter from the wind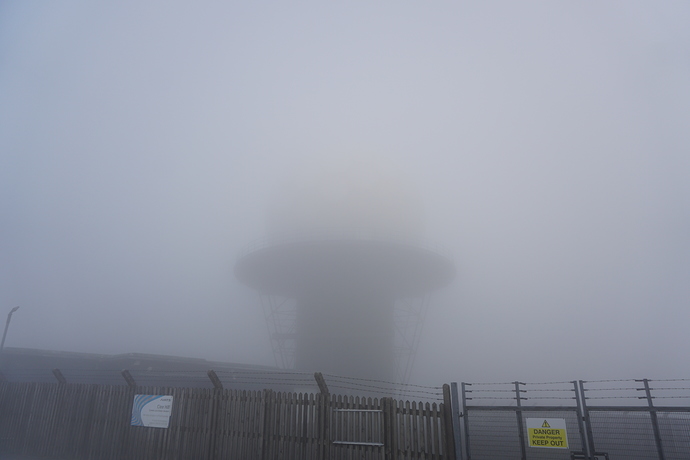 There is a radar dome there somewhere!
I started out of bed at 4:45 am local time. I wanted to activate a new summit for me DM / BW-019, which has no forest at the top. Punctually at 06:45 local time I left the parking lot to ascent. There is a lot of space above - but unfortunately between some transmission towers. So 20m did not work … I could not hear anything.
I hope I did not miss to much. - But I have my first two VK s2s at all …on 30m. So i'm happy!


The next time I'll take a summit without any transmission tower.
No luck for us in terms of VK/ZL/JA contacts either.
We mainly chased but couldn't hear any stations over there - not even in CW. However, we were able to collect a nice list of S2S stations (mainly on 40 m).


It was also quite foggy and windy on our summit OE/OO-330 (the one we usually choose for such events) so I went back to the car to collect a sleeping bag to keep my feet warm

Used a ground plane for 20 m (which was pretty dead) and a dipole for 40 m.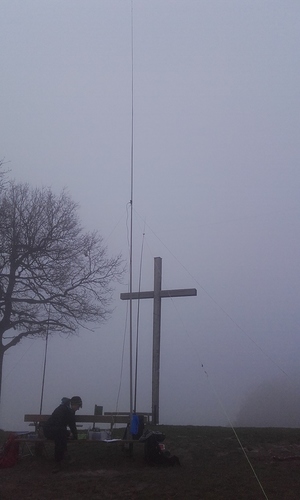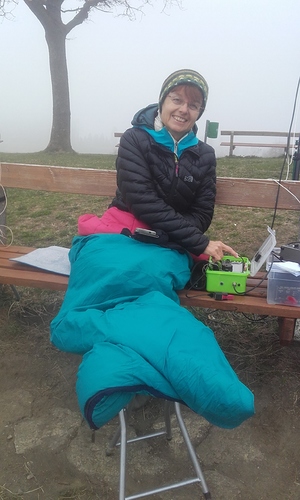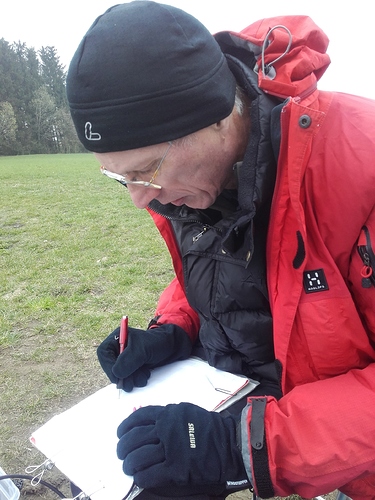 Thank you everybody!
Sylvia OE5YYN & Peter OE5AUL (this time without Kimo)
Hi Don,
It looks like our contact was an F2F (Fog to Fog) contact not just an S2S: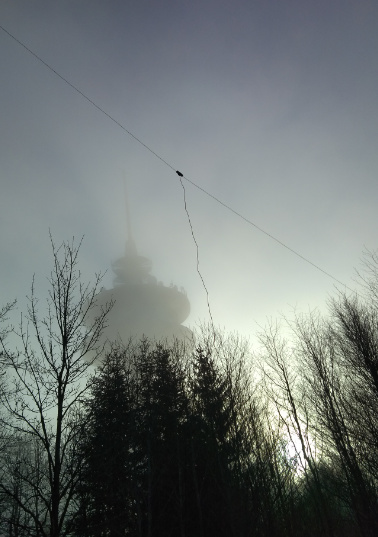 There's a TV transmitter tower in there somewhere!.
73 Ed.
My report later on my blog site but in short - 6 S2S contacts around Europe - furthest was Marat RA9WJV/P on R9U/SO-235 but no VK/ZL/JA contacts today but for 5 minutes on 20m there were some VKs booming in but I couldn't break into what seemed to be a local net. Then they were gone as the MUF dropped back below 14MHz.
Another early start and cold one (minus 1 at the car park probably -2 or -3 on the summit) despite the local weather forecast to the contrary.
A full report will follow, but here are the highlights! Up at 04:00 UTC and on summit at 05:00 UTC, G/LD-050 Gummer's How is a 30 minute ascent with 360 degree views at the South end of Lake Windermere in the Lake District. Snow still just about clings to the highest summits in the Lakes.
21 S2S contacts and 2 VK S2S with @VK1AD and @VK1MIC. A total of 74 contacts for the 5 hours I was on-summit, all voice, SSB on 20m, 40m and 80m and 2m FM. I was using an FT-857 50-100w and a Sotabeam QuadBand dipole at 7m on a 10m compact travel mast. Two 4.2AH LifePos provided power, with 2m contacts using FT1XD and the excellent Diamond RH-7700. First in the log was Mike @2E0YYY - ever helpful and a real credit to SOTA.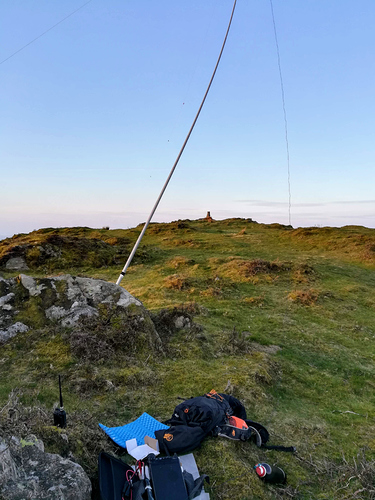 WX was much nicer this S2S event and after a chilly start it turned out to be a lovely day, with only a light chilly Easterly wind.
Obviously great to get the VK S2S contacts, made up about that, but I get a real thrill with EU S2S as well and it was nice to talk to everyone in our 'club'. Makes me feel part of a very special group of people.
Cheers, Mark.
Good evening to our friends in Europe and the UK, it's now 6 am in VK1.
Last evening I had a fabulous time at Mt Ginini @ 1760 m ASL. First I qualified on 23 cm 1296.225 MHz FM and made three unique chaser contacts on 2.4 GHz. Distances were in the order of 50+ km.
To the HF component of my evening from 0500 UTC to sunset 0700 UTC. On 40m SSB I had the absolute pleasure of working Mike 2E0YYY/P and Mark M0MON/P both S2S, one other UK chaser included 2E0WDX. Elsewhere in EU I worked Manuel EA2DT and Fred F5UJK. Signal strengths ranged from 55 to 57, the 40m propagation window was definitely open between 0600 to 0640 UTC.
My HF antenna is a 40/20/17m linked dipole supported by a 9m telescopic pole. Once again the linked dipole has proven to deliver.

On 80m I was using a ZS6BKW.
Closer to home I worked four ZL stations on 40m and a mix of VK stations on 80 and 40m SSB. 20m was dead, flat as a pancake.
S2S contacts:

Thank you to everyone who participated either as an activator, chaser or SWL.
A big thanks to Mike and Ed for their help in publishing this event across many media platforms. The next VK ZL JA - EU S2S QSO Party will be held in October 2019.
Survey marker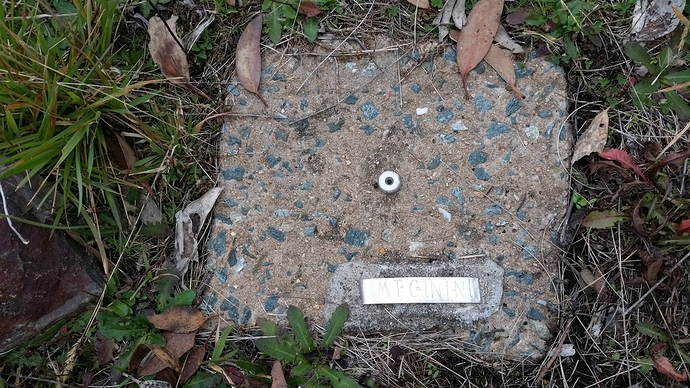 VK1AD SOTA shack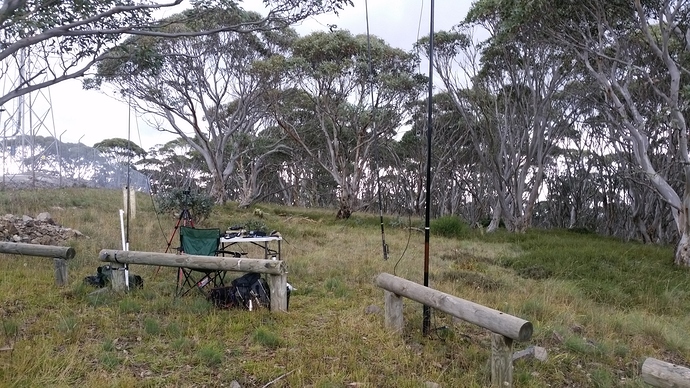 73 Andrew VK1AD
A cold wind on Shining Tor this morning. I was well hidden behind the dry stone wall.
Some nice DX found my log. 10 VKs worked 6 of them summit to summit, 3 of the summit to summits were VK7. All on the 40m band ssb. One ZL logged too.
Forget 20m in the morning, it's bang out of shape. Only DX on 20m, was Ernie VK3DET and after about 15 minutes, he was gone.
Thanks for DX s2s with…
Jonathan VK7JON
Andrew VK1AD
Helen VK7FOLK
Wade VK1MIC (amazing signal if you were QRP, Wade?)
Andrew VK1DA
Rod VK2ARJ
Peter VK3PF
Also
Ernie VK3DET
Tony VK7LTD
John ZL1BYZ
20m
Ernie VK3DET
Thanks to Ed DD5LP and Andrew VK1AD.
Total of 17 s2s logged.
73 Mike
2E0YYY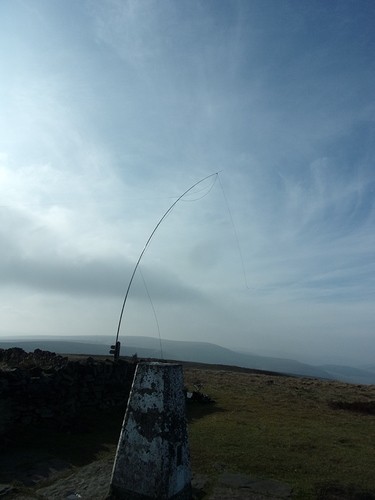 I missed this event due to being double booked.
What date (or possible options) is the next event?
Maybe 21 September 2019?
Mike,
Our contact was S2S. I was on VK3/VT-049. I tried to get the summit code through several times without success. Thanks for your perseverance to get the call and reports through OK despite the QRM.
Cheers,
Peter VK3PF
I started with some local contacts on 1296 but only just "qualified" with 4 distinct callsigns worked.
I agree with the comments on 20m, my antenna worked fine and was hearing well but propagation was very poor there. My only logged contact was with Wade VK1MIC about 20km away.
30m was better but although I made a few good contacts, an S2S with DF4FO was marred by QRM and possibly some fluctuating conditions, as just when I was trying to receive the RST report, QRM and QSB took over, I think Christian lost my signal after that as my pleas for repeats on the RST were unsuccessful. Other contacts on 30m were KH7XS, VK6NU, ZL1BYZ and ZL2ATH.
On 40m SSB I made contacts with 2E0YYY (great to make the distance again) then on cw: VK2IO, ZL1TM, ZL3ATS, VK7CW, VK5OUI, VK4TJ, an S2S with HB9DQM was spoiled by QRM at both ends, so I never received my report despite numerous requests RST? Etc. and I can only suspect QRM at Manuel's end of the path as well as mine, where a helpful operator responded to my HB9? Qrz call, by sending at s9 strength "you have been conned" and under that noise I could only just hear Manuel.
Finally just on dark I dropped down to 80m for some relaxing contacts with VK3PF, VK2IO, VK2YW and VK2LEE on ssb.
Although I constructed the 3/8 wave antenna for 20m by adding a link and a 50cm extension to the 30m vertical, with 3 radials switchable between 20 and 30m (slide switches at the appropriate point) the 20m band was not playing nicely and that was all wasted. The pole collapse and a later pole fall caused by the property owner tripping on a guy line after visiting to say hi and bye as he was finished his hang gliding (he was very apologetic and nothing was broken so quickly fixed, I reassured him all was ok) added flavour to an otherwise disappointing event if counted by number of EU s2s. I packed up in darkness after 0800 (7pm local time), got home just after 9pm.
But still, it was a successful SOTA activation, I qualified the summit on many counts, 1296, SSB and CW, 40, 30 and 80m, got some good contacts. Thanks to the organisers and to all who participated. We will do it again…
Hi Mikey,
Neg on QRP - 40w chasing the hard stations like you

Mini vid coming… video of the MM and 2E0 contacts… plus a F5 coming.
Wade
Last night I was propped up on Mt McDonald VK1/AC-048 for about 4 hours with 2 main goals - test my mini 40w amp with the 817 and to really give my DIY 10ah LiFePo4 battery a walloping to see its handling. The actual activation and DX was all a bonus.
I set up my 80-10m linked dipole and made a number of contacts on 80m including a s2s with VK5CZ Ian - was a real pleasant surprise.
As the night wore on the QRN was getting worse and worse with s7-9 crashes - not great when you are working a station that is barely tickling the digital s meter.
All in all I put away 48 contacts, with DX s2S with @2E0YYY and @M0NOM, also worked a genuine 59 contact with F5USK who was not as excited as I was for the contact. The stand out - sorry to the G stations - was @VK6NU for an S2S - VK6 is a very hard contact to make across VK - looking at my 2000+ Log of all time SOTA contacts, I have 3 - he is the only s2s I have.
I have the second half of @2E0YYY and @VK1DA's SSB contact, all of mine and the F5 on video too.
FYI 4 hours of calling on full power used 4.5ah according to the metre in line.
The walk down was stunning, as you will see in the video, I was a little gushing and awestruck but the vista and colours looking back east from the summit, with Telstra Tower, all of Stromlo's observatory hardware on view, as well as the space comms dishes peaking out from behind the ridge down at Tidbinbilla.
Thanks again all for the contacts.
Video : VK / EU SOTA Action - VK1/AC-048 Mt McDonald EU S2S - YouTube
Wade
Nice to see your photos and to work you again for another S2S Contacts.
Nice to see you had so many S2S contacts.
73
John VK6NU
A late minute diasaster with my activation at Mt Lambie. My usually reliable LDG autotuner locked up and would not tune. Some frenzied checking of leads and everything which took a while to no avail.
Intended to use the autotuner with the KX3 and 45W PA but it was not to be so bypassed the tuner in the end and ran the KX3 at 10W barefoot.
Was in a somewhat confused state at first and fear some of my morse was a tad incoherent. 40M was not very productive so hopped onto 30M and what a plenthora of CW signals !
30M was jammed full of callers and qso's in progress everywhere. 30M was the place to be.
Have not yet tabulated my results as yet.
Most incomming DX was rather weak which made it difficult to pick out callers particulary when there was three or four calling in at the same time.
Yet I was getting mostly pretty good reports from UK and EU.
Sadly due to the early crash missed out a bit I fear, still stuck it out to the end and had a good time.
Clear this is a popular event and well patronised, my thanks to those whom I contacted and another thanks to the organisers of this event.
Will pull the LDG apart and see what is going on, usually it is a very reliable device.
Cheers, Wal VK2WP
EDIT: DX S2S contacted 4x HB, 1X G (UK), 1x I (Italy) and 1x DL plus 1x VK6 which at 3,000km surely would be DX
Here in the souhern France it was a raining day … then no activation.
I listen many activator, i try to listen FT8 and i was lucky to QSO MM0MZW/P.
Next time.
73 de Roger
30m CW was playing well, with ZL, G, HB, DL, VK4 and VK6 in the log. 10 x S2S. I was running QRP with an FT817 and ¼ wave ground plane antenna. My apologies to those who tried calling me a few times, but I was unable to fully copy some callsigns to make a valid contact. Very nice afternoon watching the kangaroos grazing and the sun setting over the mountains.