There have been a few mentions of valves in recent threads, and prompted by this I have taken the first small step towards a valve activation.
Consulting Mr Google, I found a design for a "cigar box transmitter" published in Short Wave Magazine in 1955. This uses 1.5v heater valves intended for portable radios, and I found all the bits in my junk box (or shack, as I like to call it). Output is given as 1 Watt.
http://sm0vpo.altervista.org/tx/cigartx.htm
I've just lashed up the oscillator stage using a DL94 valve and a 7.025 MHZ FT243 crystal. It oscillates, and, to my surprise, there is minimal chirp when keyed.
The output stage uses a tapped anode coil, designed to match a half wave end fed wire - I may use a Pi tank arrangement instead.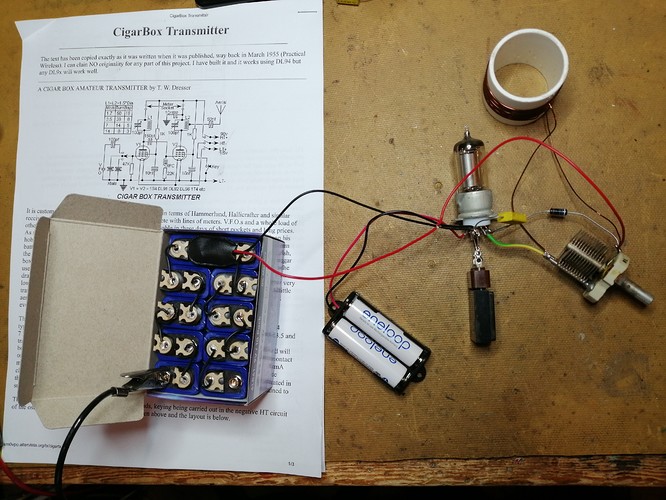 I'm using 10 x 9V PP3 batteries to provide the 90V HT. This will be an expensive choice if I use this thing regularly, but in that case I'll consider an inverter. To get started, it was the quickest and simplest solution and is in keeping with these valves, of course.
So, a way to go yet, but I thought I'd post now to get the ball rolling :o)
There is too much uncertainty to suggest a date for activity, so I suggest aiming to get on the air during 2021.
Please post in this thread, and of course, Alert for any activations.
Glow bugs, Para Sets, whatever, lets see and hear them!
Happy building / restoring etc,
Adrian G4AZS