After this weekends attempt to chase Andy, MM0FMF/P on GM/SS-135 on 60m, I've felt motivated to post my frustrations on my receive capability from a 'average' to 'good' domestic location.
With this problem there seems to be no obvious solution other than to move away from everyone in existence to get a noise floor which is both stable and low.
What is really really hacking me off is the continually rising noise floor of many low frequency HF operators around the UK. I notice this as an Activator observing others and my own experience. So some background information of my own situation.
I moved to Cambridgeshire in 2016, found a small bungalow on the outskirts of a Fenland town known as Chatteris. It has open fields from about 5 houses away, a large field to my immediate left and some fairly well spaced houses across the street. No solar panels in the immediate surrounding area. Seems OK, an initial sweep with the KX3 when I arrived there for the viewing seemed all good. Great I thought, once some larger wire aerials were put up, not so great…
Aerial's at the moment…
1/4 L 38 meters long, tuned at the base with an Icom AH3. Large countapoise array, no ground spikes currently.
1/2 L inverted V dipole for 80M 50R ~ 3.56MHz
Both coaxially fed, choked with GM3SEK HmBrew baluns and kept well away from any mains wiring.
I've tried different feeding techniques, balun positions you name it still gets in !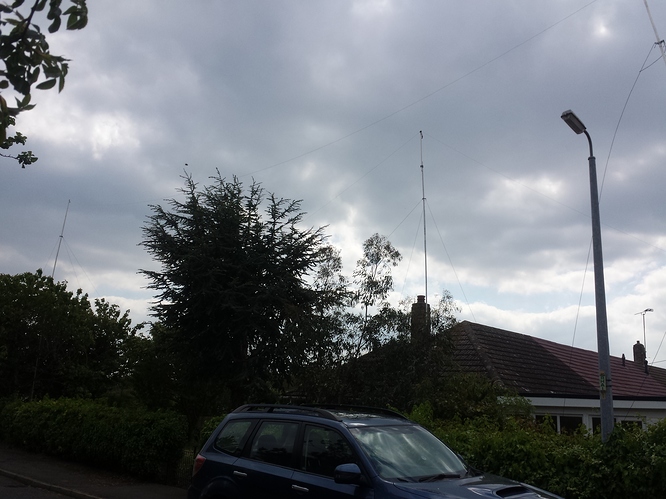 Inverted V(80m) (back) (L towards the front)
Google maps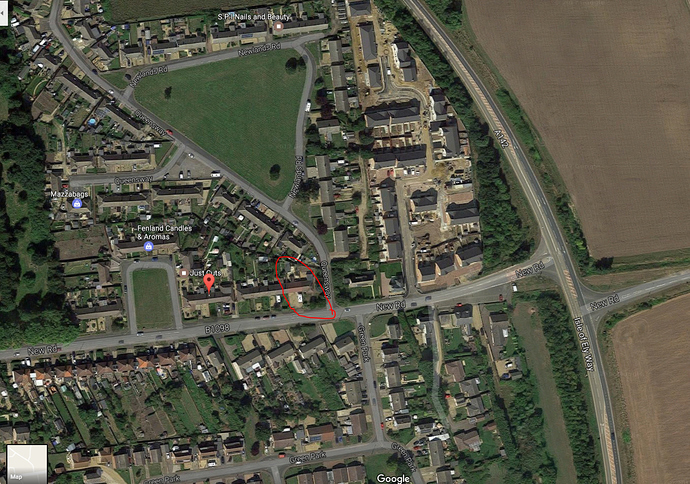 Noise levels can be as high as S7-9 depending on time. I can hold a QSO easily on 60m in the evening. The variation is large enough to stop a casual chase on Sunday afternoon.
My thoughts are next to investigate and plot the noise to hopefully find its source. I would be interested to know of similar experiences from others and what / if they managed to resolve their problems / what technquies they used and how they feel currently.
If I cannot improve the situation, remotely receiving is going to be the only option. To quote Les Moxon in one of his books "Using two separate antennas to receive and transmit is not a good idea" apart from that it feels like cheating !
Bizarrely though 160m is rather good !! 5 MHz and 7 MHz bands are poor noise wise and the bottom end of 3.5 MHz band
Or I could just move again…

.
Jonathan