I am not an electrical engineer, so I don't know whether this was a good idea or not. I'm curious to hear yalls' thoughts.
Since both weight and space are concerns on longer hiking and camping trips, I abjure the idea of bringing single-purpose batteries. Why should I bring a battery that only powers the KX2? I also need a battery bank to top up my cell phone, so shouldn't I be able to use that for everything?
I'm not inclined to homebrew a LiFePo4 battery bank–see previous re: not an electrical engineer. Nor am I keen to use a step-up voltage adapter to make a 5V battery bank supply 12V for the KX2 since I've heard that can have bad effects on the output RF. I took the easy route and bought a USB-C Power Delivery-capable power bank. PD is a protocol for negotiating power supply between devices, and there are various little boards you can buy that act as configurable terminators for homebrew devices. I don't like that they're mostly naked PCBs, and cases for them are hard to come by, and I'm lazy, so instead of using one of those I found a cable that includes a built-in terminator for 12V PD, cut the end off, and soldered on a barrel adapter. As an added bonus, I can power the KX2 from a USB-C PD wall charger when I'm using it in my shack at home… or could, if I had anywhere to put an antenna at home…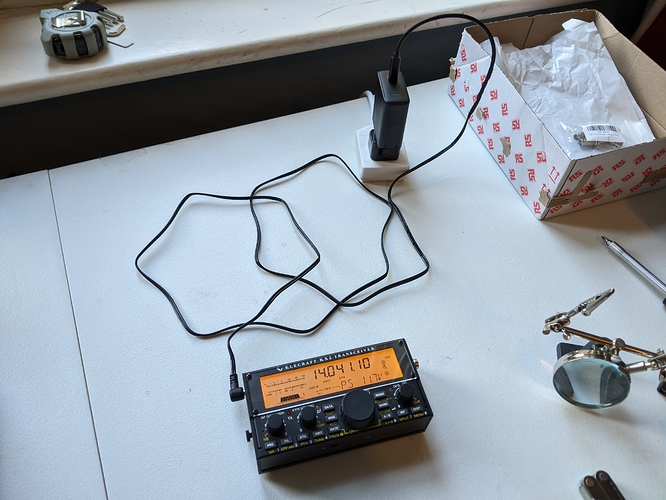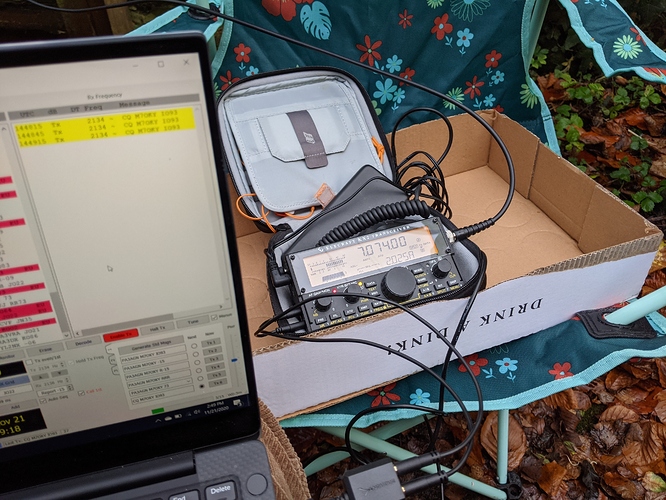 I don't think there's any step up/step down conversion involved so it seems safe to me. I've made several contacts over FT8 using this arrangement, but given the insane amount of error correction involved with that I doubt I'd notice any negative effects anyway.