See attached !
73, John K6YK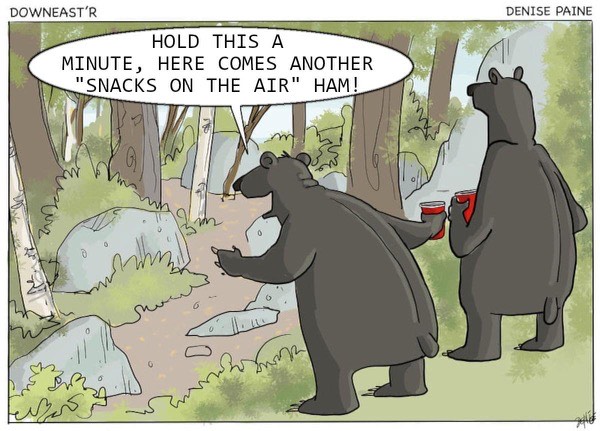 Good one, John! I can think of a few activations where I felt like I was walking into something similar!

73 de K9PM Paul
When I went to Kings Canyon National Park in California with a friend many years ago we kept hearing stories from people who had seen bears. We climbed Mount Whitney by the mountaineers route and wild camped so we borrowed a bear barrel to keep our food in. We didn't see a single bear in the whole two weeks!
In New Zealand a couple of years later I was eaten alive by the sand flies. They make the Scottish midges seem insignificant.
great video Richard
Geoff vk3sq
Ticks have figured us out too! Five today on my activation.
73,
Andy, N4LAG
The black fly song; Written by Wade Hemsworth, canadian fellow, 1949. He actually did work in Northern Ontario one summer.
Reminds me of a sailboat charter we did a few years ago up on Lake Superior. It was just in time for the annual Black Fly Festival. We were dinner – every night.
I picked an O and A out of the CW the black fly in the video was sending. . .
73, Jim KK0U
Jim, they DO know CW, which is why they know where you are operating from…