Fabio, I am really sorry to hear this news. I hope all goes well for him.
Appropriately, today is also International Marconi Day, so let's see if we can do Marconi proud with some good "cross-the-pond" contacts (S2S or chaser to activator).
73 Ed.
Me and LZ1GJ are planning to be on air at 13,30 GMT from LZ/RO -144.
Ok I'm about halfway up (I know I'm early). VERY windy even down here. No idea if I'm going to be able to get an aerial up. Worst case - 2m FM local

Windy here in the Lakes too. Will make an assessment later.
Hi Ed, I worked the special call for Marconi day. it was GB8MD. Very pleased
Cheers, Geoff vk3sq
Extremely windy across the valley on Whernside too! You obviously got an antenna to stay up as I worked you! I was surprised that my 20m vertical stayed, well, I was going to say vertical, but I guess it was more of a curve shape, lol!
No DX at all for me today, but eventually it seemed that I managed to light up some RBNs across the pond, I guess at least that's something.
73, Colin
A rainy day, i tested my new tarp on mt Tesoro I/LO-222. worked on 14,18,21 and 5. I had a pleasure to contact VA2EO from va2/es-034 559 559.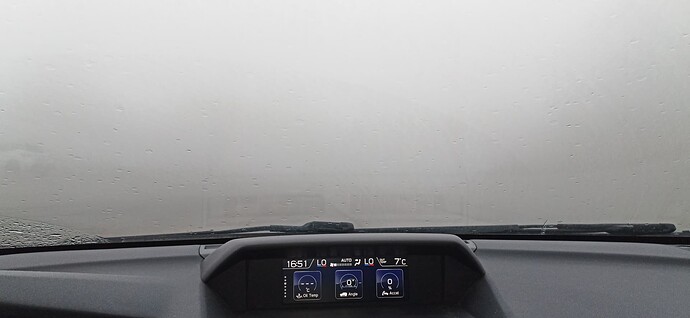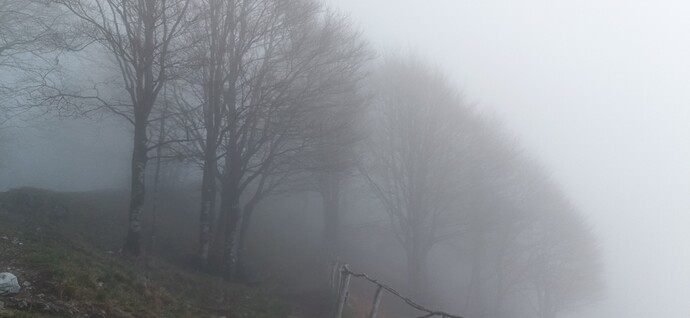 Thanks at All!!!
73
Well done Geoff.
I had a fairly active afternoon with 70 contacts, 10 of them being S2S but only within Europe, no transatlantic contacts at all (which was the purpose of going out this afternoon), despite using the DL20SOTA/P special call sign. Tried calling several IMD stations with no success but one responded to my CQ so that's not bad.
73 Ed.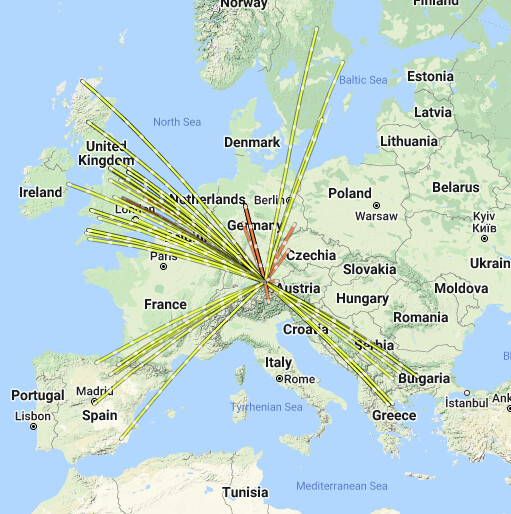 Hey all,
Went to my local summit by bike and brought the MX-P50 amp along. Plenty of contacts within 2 hours but unfortunatly no DX. But 8 S2S in EU are very appreciated.
Main activity on 20 m and some chasers contacts on 17m and making the local chasers happy on 2m FM.
So I guess another time it will work out big time.
Let's see if others were successfull.
73 Joe
It took me around 30 mins to put my 20m vertical antenna up in the strong wind. You were a good signal on 17m on Whernside
G /NP-004, the highest point in Yorkshire, but I couldn't face the fight to reconfigure the antenna. In hindsight I should have set up the 17m antenna in the beginning.
73, Colin
Many thanks SOTA friends,
We did it with well supporting WX.
Umbrella I needed but to secure KX2 from direct sunshine.
2 summits activated.
129 contacts logged but 3 of them I need to underline:
S2S QSO with @VA2EO on 18MHz CW - many thanks Eric, first time in my log
chasing me by

@KG8P

on 18MHZ CW - many thanks Thomas, first time in my log
chasing me by

@JH1MXV

on 14MHz CW - many thanks Hatori San for next meeting on air
See you all on next event.
73, Jarek
Edit:
forgot to inform - I heard nice copy of PY3/PY2TTN on 28Mhz SSB, during that time somebody was chased him, after that chase and a while that activator copy unfortunately dissapeared
No s2s love across the pond today…I worked one S5 station in EU…but pretty sure he was operating from the home QTH.
I could hear GM4OIG on 20M at times, but never enough to even try and make a contact…he was busy working east coast US stations at the time.
Same for all the other higher bands…zip on all SOTAWATCH spots from Europe…very quiet.
Made lots of stateside s2s contacts as a consolation prize Hi Hi…
Great WX, nice hike…still tons of fun.
November will be different…
73
Pete
Just home and too tired to even look at my log - tomorrow! Lovely walk in sunshine, but what a breeze! I'm not sure if I'm sunburnt or wind burned. I found quite a good spot out of the wind, but possibly the steepest activation site I've ever clung to! The dipole was rigged at the top of the 7m pole but probably only 2m above the summit level (it made band changes easy

).
Quite a few S2S and 2 N American QSOs (on 15m I think) including a S2S. So I would class this a success! Great to hear so many SOTAists on the air. I also worked 2 **20SOTA calls (Germany and UK).
Thanks all
Here is a quick summary from the W6/SD-026 activation by Gus, W9SSN and David, N6AN.
The first QSO Gus made was an S2S on 15 with EA2BD/P! Several other EU were heard and chased but without success. Gus worked several S2S in the US and VE.
David finally got an EU S2S when EA2GM/P called on 12 meters. I think DK2RO/P might have called before that, but no QSO was completed. Thirteen S2S in total, of note W1ND whose 10 meter signal was very solid. Thanks, to JH1MXV, Hitori San, for the QSO on 30!
Nice to work Lorene, W6LOR, on her Goat summit this today.
I walked outside this morning into 35 F air and a frozen windshield. Luckily, it was warmer at the trailhead. Once on the summit we were pummeled by strong cold winds. It's a wonder our antennas stayed in the air the whole time. Once off the summit things warmed up nicely and we were trying to peel off layers. Beautiful vistas in all directions!
73,
David N6AN
Managed 2 hours up on GM/ES-070 starting at 1725z. No S2S I'm afraid - didn't hear a single one on SSB or CW.
20m wasn't in great shape - a VE1 and 10 EU. 17m was much better for NA chasers - NH, FLA, K6YK in CA which made my day, CT, VE1 NS, Maine plus EU and 5B4. Bands above 17m were dead.
Thanks to all, Simon
Hi Pete,
Same we had in Europe


Moreover in SP nice WX opened possibilities for 2m FM and we used them

73, Jarek
Good work nonetheless, Simon. I thought things were pretty poor generally around the middle of the day but good to read that others were faring better elsewhere. S2S certainly in short supply here. Excellent with your CA. Fine effort. 73 Mike
Here a summary of my activation for the EU – NA event.
SOTA Ref: EA2/NV-151, this one is an easy drive up summit with a clear take off for NA.
I choose this one to have enough time to setup a 2 element wire vertical antenna.
Nevertheless, weather was bad when I arrived, wind and light rain, so I changed my plans and decided to put just the driven element: a 5,1m vertical radiator on a 7m pole with a single elevated radial, feeded with an open wire line to a ZM-2 manual antenna tuner to work on 14-18-21 MHz.
Rig: Elecraft KX-3 and 4S1P LiPo batt with diode volt reducer. Power was set to 10 watt.
I was lucky I had brought a homebrew small tarp that I tied to the pole. That saved my activation from being a nightmare as it kept my gear dry from the constant lateral rain I had all the afternoon.
I was ready to operate at 14:30 utc.
As planned I operated on 21, 18 and 14 MHz. I started the activation chasing in 20m @M1BUU, that I had just worked from home prior of my depart to the summit. Thanks Colin!
I then chased Jarek @SP9MA on 21 MHz also with great signals. I moved a bit and found @VA2EO calling CQ. Signals were not as loud but after a few call Eric showed good ears and we completed my first S2S NA of the day.
Soon I found @N1AIA who was calling also near. His signal was consistent and was easy to log the second S2S NA, thanks Scott!
I then QSYed a bit and started cqing CW. This brought me the call from a few europeans and also logged KD1RT in MA, KT5X in NM and KY4ID in SC, all welcome.
I then heard a S2S call quite low with deep QSB.
I sent ? and heard a W9…
Sent AGN but nothing heard
Sent S2S ? ?
Heard SS…
Sent AGN holding my breath and finally heard @W9SSN calling me for a S2S from W6/SD in the West Coast, wow! That was a great moment and Gus was patient enough so that we completed with difficulty due to QSB our S2S, the third S2S NA in my log: thanks a lot, that was a blast!
I kept on cqing and got some more europeans operating in 15-17-20 meters, both CW and SSB, but never get another NA call.
Thanks also to the EU S2S in my log: @GB20SOTA operated by Tom M1EYP, @OE5JFE Joe, @EA8/HB9HCS Stefan, @MW0PJE Peter and @DL2DVE Andy, great to work you all!
All in all 37 qso, 10 S2S. Despite the bad weather it did worth the participation.

With shaky hands due to cold I dismantled and went back home under a pouring rain.
See you next time, cheers.
73 de Ignacio

My day started badly due to a closed forest caused by serious tree damage following the Storm Armin in November. I had hoped to activate G/SB-007 but this proved to be impossible.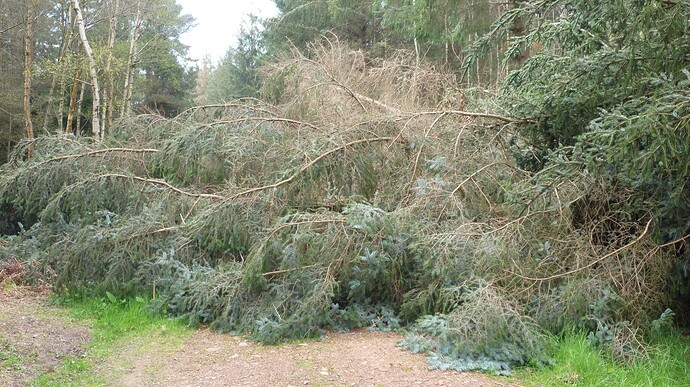 I then drove to Long Crag G/SB-008, took local advice and followed a trail that had been cleared of many fallen trees.
I managed to top out at 1230GMT and set up my elevated Ground Plane on 17m. WX was pleasant, sunny, warm with a gentle breeze from the east. I was running 100W on CW from my FT857. Propagation was not great, but I did manage to get Colin M1BUU/P on Whernside on 20m at a reduced 50W and a horrible SWR. "Stranger and stranger said Alice"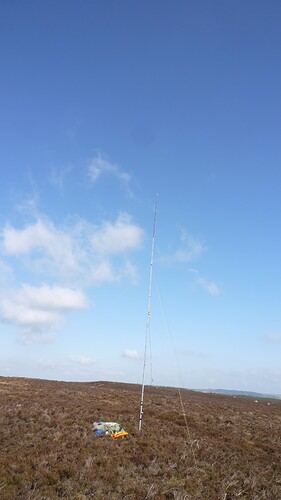 I worked 8, S2S contacts including one S2S NA station KI4SVM. This confused "Old Cloth Ears" 'cos he did not sign portable (I did know that in NA this is often the case). I closed down at 1500GMT and came home for chicken stew and a glass (3 actually) of wine!
Regards
David
G0EVV