A SOTA roadtrip through the Great Southwest
by Paul AA1MI / HB9DST
I've been living in Switzerland for almost 20 years, and when people learn I come from the USA, I often hear that they have visited my homeland, and a large number of them mention in particular the great national parks like the Grand Canyon. They are surprised to hear that as an American I never visited that park – but having grown up and lived on the East Coast, I never got around to many such far-away places. Well, now that I'm retired, I figured it was about time that I also visit that and other national parks in the southwest. I combined this with a SOTA roadtrip to activate as many new associations as I could, bringing my current total to 68 associations. In particular, I did activations in W6 / W7A / W5N / W0C / W0N / W7Y / W7U / W7N. Over 3 weeks in late April to mid May we drove 3980 miles (and spent roughly $500 on gas!).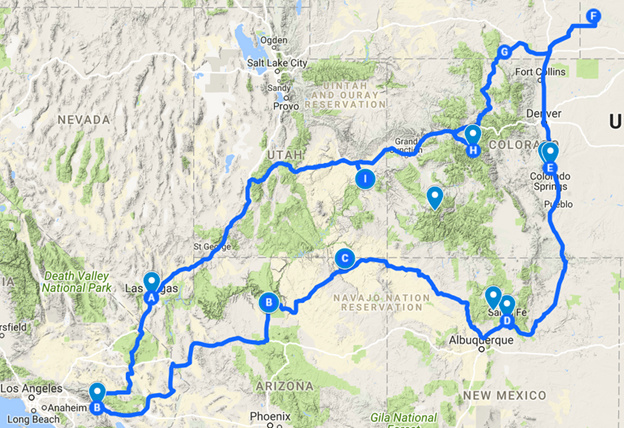 The route of our SOTA road trip (we went counter-clockwise).
I am grateful to those many SOTA activators and chasers who provided extensive information ahead of time that made my trip so successful. I'm particularly grateful to a handful of hams who found time to join me on joint activations, and they include W6PNG Paul, KT5X/WS0TA Fred and WG0AT Steve.
We followed a looping route starting and ending in Palm Springs where my sister-in-law lives. She lives a short ride from Joshua Tree National Park, and here we were accompanied by Paul W6PNG. He brought us to the trailhead of W6/CD-016 (Ryan Mountain) and then W6/SD-037 (Inspiration Benchmark), saving us lots of time in trying to find them ourselves. Both hikes were just great and a wonderful way to kick off the trip. Because of the heat we started quite early (getting up before 5 am), and we were done with both activations by early afternoon. My sister-in-law has been to the park before but was never aware of the wonderful hikes there that Paul introduced us to – and plans to go back soon with friends.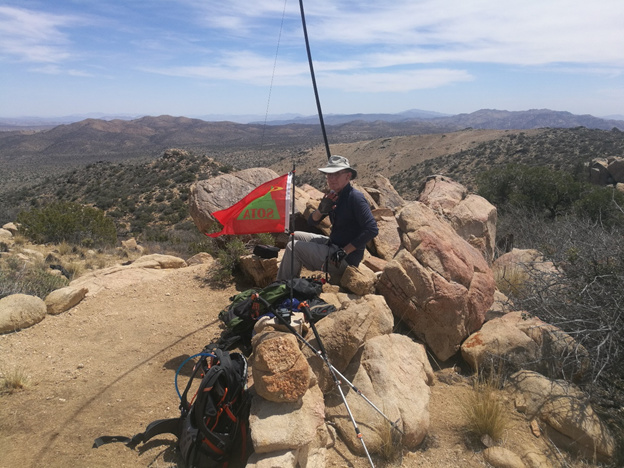 Paul W6PNG operating from Inspiration Benchmark in the Joshua Tree National Park.
Out next destination was the Grand Canyon South Rim. My travel partner Marge agreed to come on this SOTA road trip as long as we could fit in some spots that had long been on her bucket list – and the Grand Canyon was a "must". Fortunately, there is one easily accessible drive-up SOTA just a few minutes drive from the rim: W7A/CN-013 (Grandview Benchmark), making it easy for me to check off the W7A association.
After that, we headed to another very scenic area, Monuments Valley State Park. From a SOTA standpoint it is an ironic and frustrating spot. Here you are surrounded by the most beautiful, inviting SOTA summits – but none of them have been activated because they are on sacred ground in the Navajo Nation Reservation.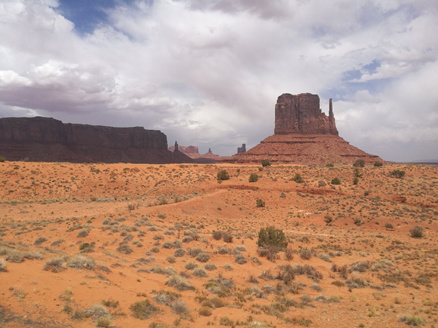 Monuments Valley State Park – filled with SOTAs that have never been activated.
Now on to Sante Fe, and a visit with Fred KT5X (aka WS0TA). Using his tough SUV, he drove me and John K1JD on a very rugged road in the direction of W5N/PW-013 (Thompson Peak), after which we hiked another hour to the summit. I was so glad to have him do the driving on this particular road!! And that evening Marge and I got together with Fred and his XYL Debby for a dinner of great Mexican food. At their suggestion, the following day we started at Bandelier National Park and a visit to the Pueblo cliff dwellings, and afterwards we activated the nearby summit of W5N/SE-011 (Cerro Grande). There is a large parking area at the trailhead and the trail itself is extremely well marked and not at all technically difficult but is nonetheless very rewarding.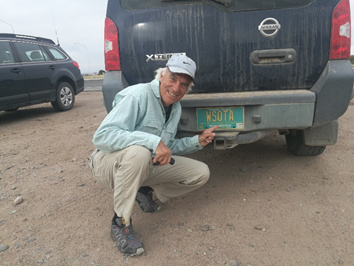 No caption necessary.
From there it was northwards to Colorado Springs, where we ran into the only day of foul weather during the entire trip. We had come from 100 degree weather in Palm Springs, but on the ride to visit Cripple Creek we drove through a heavy snowstorm! We had also wanted to drive up Pike's Peak and get that activation, but the road was closed because of snow. Packing for this trip mean being prepared for extremes at both ends of the scale.
The next day the weather improved dramatically and we hooked up with Steve WG0AT. We were delighted to be accompanied by one of his pet goats Peanut for a hike up W0C/FR-063 (Mount Herman). On this hike I was joined by my partner Marge and my daughter Toni, who both found Peanut enchanting – and he turned it into one of the top highlights of the entire trip. After the activation, Steve also pointed me in the direction of OEM Parts, Inc., an electronics surplus store in Colorado Springs where I found some teflon-coated wire very well suited for some upcoming antenna projects.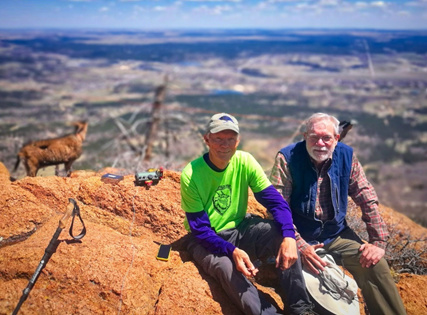 Steve WG0AT and Paul AA1MI on Mount Herman with Peanut in the background.
The next destination would take us to the eastern-most point in the trip, which meant driving into the southwest corner of Nebraska and an activation of W0N/PH-005 (Scotts Bluff). This stop proved to be extremely interesting from an historical standpoint – when the wagon trains left Kansas City, they had easy flat traveling until Scotts Bluff which was 1/3 of the trip to the west coast; they then had to decide which of several trails to follow depending on where on the west coast there were headed (California, Oregon or wherever). This was another quick drive-up activation, and the weather was once again great.
That afternoon we started west again and proceeded to the tiny Wyoming town of Jelm; the next morning we then drove up and up, including through small patches of snow to reach the Wyoming Infrared Observatory (WIRO) at W7Y/EW-006 (Jelm Mountain). What made the overnight in Jelm so special was that we stayed at the nearby Woods Landing Resort and had booked one of the few cabins with running water (most of the bungaloes are served by a common bathroom building). We also had our meals at the Woods Landing Bar and Café, a rustic log building listed on the National Register of Historic Places because of its unique log construction and a dance floor supported by boxcar springs. We we were totally surrounded by locals and didn't feel one bit like we were in a tourist destination. This was another unexpected highlight of the trip and a stop here either for an overnight stay or simply for a refreshing beer is highly recommended to anyone doing this activation.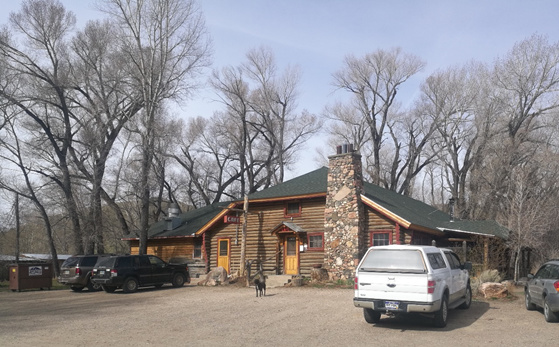 The Woods Landing restaurant and dance hall just below Jelm Mountain.
Following that morning activation we continued on to our hotel at an intermediate overnight stop (Aspen) before we got to Moab, UT, the town associated with the Arches National Park. This is indeed quite a spectacular place with unbelievable scenery. Within the park there is also a very nice SOTA summit, W7U/GR-044 (5580), just beyond the "Double O" arch. This involved an hour's trek, partly along the top of a rock "fin", and was a really fun hike we enjoyed immensly. We were among the first ones in the morning there so not only did we avoid the heat, we avoided the crowds and were able to get some great photos by ourselves.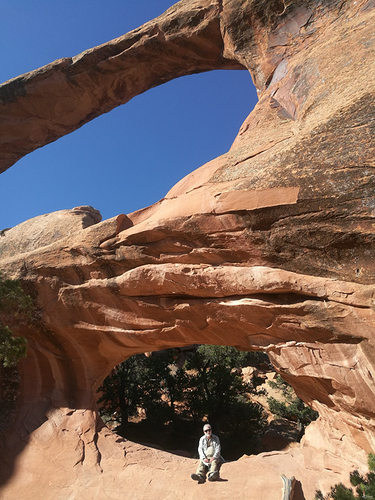 The author sitting in the bottom of the "Double O" arch, just behind it and up to the left is the activation zone for W7U/GR-044.
Just one more association to check off: Nevada. Marge had never been to Las Vegas, and I convinced her that it's a spot everyone should visit at least once in their lives. After the trip, she agreed that Vegas is unlike any other place in the world! And of course, a new "must" for any visitor is the now famous Gold & Silver Pawn Shop, where we had to stand in line to get in. We also chose this destination because just outside of downtown Las Vegas there is a frequently activated summit, W7N/CK-227 (Lone Mountain). It involved a slight amount of scrambling on Marge's part, but we also met many other people on this very popular trail. From the peak, in the haze you could see the skyscrapers that make up the Las Vegas skyline.
Finally back to Palm Springs and our flights back to our homes in New Hampshire (Marge) and Zurich (me) and our own comfortable beds. It was a very rewarding trip, and we saw natural wonders that we have been wanting to do so for years and years. As for SOTA, I now have activated all the states in the Lower 48 except for the Pacific Northwest (W7W, W7O, W7I, W7M) – so I know where my next big SOTA expedition in North America will be taking me!