This was at 10:22 TU this morning on FL/NO-064

A meeting of 2 great activator's and chaser ! do we need to introduce them ?
@G4OBK Phil & @F5LKW Roger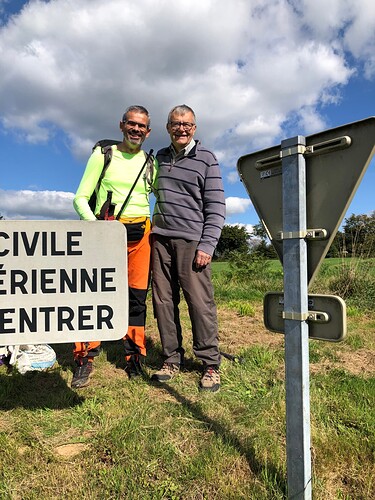 73, Éric
F5JKK
Hi all,
TM2SOTA will be QRV tomorrow, weather depending

23/09/2022:
73, Éric
F5JKK
Raining in Normandie
Stay home
Sorry
Roger
thnx for the S2S today Gents!!! de mm/n6jfd/p
@N6JFD Thanks for your patience in our S2S qso.
it was my last QSO with only 9v to the FT817 Sigs were not so strongh 339 / 559
my antenna 19.5m endfed:
Gerald F6HBI/TM2SOTA
Hi all,
Tomorrow 27/09/2022 TM2SOTA on the air again for a 10 pointer summit activated only 2 times (last was in 2014).
This is the last TM2SOTA activation before go again to TM15SOTA until the end of 2022
F/AM-177 by Gérald F6HBI (short stay)

& 73, Éric
F5JKK
Roads are closed


canceled
But Gérald has another solution, he offers us another 10 pointer activated only once (2017) so it will be :
(Only 29 lucky ones already have QSO this summit

)
73, Éric
F5JKK
Early this morning… From Gérald @F6HBI
The fate is relentless… A car accident on the access road, Gérald tells me that he will be late !

A little later : "it rolls now !"

15 minutes later : "I'm stopped again !"

And for good reason see this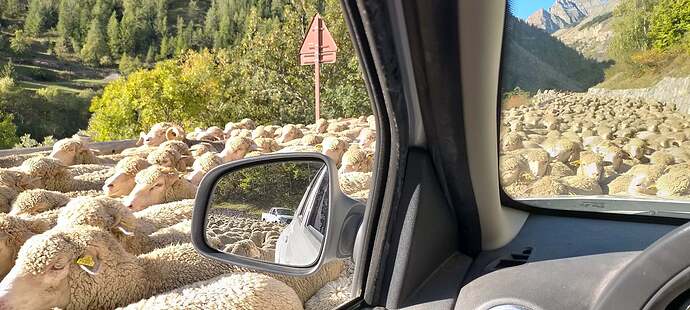 Lucky for us after long hours he reached his goal, the F/AM-761 wow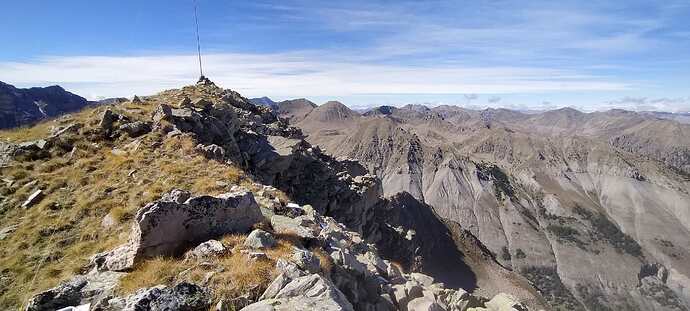 Merci Gérald

73, Éric
F5JKK
Merci pour contact.
Nice signals.
Merci Gérald pour le S2S aujourd'hui avec moi dans F/MC-242.
Apologies also for the French I should have used Google Translate!
Une très bonne raison. Quel beau troupeau.
Merci pour le S2S sur 60m, Gerald. Cela me surprend toujours jusqu'où va le 5MHz
73 Chris
---- Google traducteur ----
Hello, this is Gerald F6HBI
Yesterday 27/09/22 it was a special day: 11 years ago, as we were youger, F5LKW and myself went to activate the highest Sota summit in south-est of France F/AM-057.
Thanks Roger for this great souvenir.
F/AM-057 - La Cime du Gélas - YouTube.
Gerald
congratulations Gerald, hope you had a great day.

cheers, Geoff vk3sq
Hi,
The TM2SOTA cycle being over and before starting next month (November) the last of TM15SOTA here are some statistics.
By Gérald F6HBI
After 45 days of celebration:
20 french operators have put TM15SOTA - TM1SOTA - TM2SOTA on the air.
Sota Reference: 115 different summits spread over 10 regions.
F/AB: 8 summits F/AB-258-349-352-368-385-424-462-626
F/CR: 6 summits F/CR-007-198-209-220-229-299
F/JU: 1 summit F/JU-078
F/MC: 5 summits F/MC-071-114-121-130-248
F/PE: 3 summits F/PE-106-115-392
F/PO: 2 summits F/PO-084-160
FL/NO: 8 summits FL/NO-042-064-083-084-092-105-112-120
FL/VL: 16 summits FL/VL-001-002-007-009-014-033-034-037-038-040-045-049-051-052-060-080
FL/VO: 8 summits FL/VO-001-041-070-078-080-082-084-170
F/AM: 57 summits F/AM-076-144-145-147-154-179-187-207-223-237-242-256-258-265-285-292-298-316-317-344-346-348-354-369-382-385-386-396-462-472-478-486-491-502-544-557-559-564-614-617-624-627-629-643-646-648-651-652-761-768-771-773-780-781-783-784-785-815
QSO: 6018 contacts in the log, uploaded at eQSL, QRZ.com and Sota Database.
Mode: 3886 CW, 2014 PHONE and 118 DIGI
Band: 10 Bands
60m: 304, 40m: 3113, 30m: 1021, 20m: 1292, 17m: 142, 15m: 71, 12m: 19, 10m: 8, 6m: 1, 2m: 46
Summit to Summit: 555 S2S QSO in the log!
eQSL: received 1673 eQSL, whose 30 eQSL from 11 SWL.
Unique call signs: 1807 chasers including Top-guns:
@EA2DT 194 QSO 99 summits
@F4WBN 102 QSO 92 summits
@ F5JKK 126 QSO 74 summits
@IK2LEY 58 QSO 53 summits
@DJ5AV 54 QSO 52 summits
@OE6GND 56 QSO 51 summits
@DL1FU 53 QSO 51 summits
@S57ILF 51 QSO 50 summits
@OM1AX 53 QSO 48 summits
@EA7GV 45 QSO 43 summits
@SM5LNE 46 QSO, 42 summits
Time now for TM15SOTA, starting 1st of November 2022.
73, Éric
F5JKK
Hi!
For the moment:
14 om have reached the award level 3 (40 references)
15 om have reached the award level 2 (30 references)
52 om have reached the award level 1 (15 references)
and yet another 15 days of TM15SOTA to come (see the dates on QRZ.com).
Gerald
Hola Eric, in my log 45 QSO
73 José
Hola Jose @EA7GV

corrected


73, Éric
Good evening Gerald @F6HBI.
Even though I am not listed, thank you for the PDF file with the evaluation of the chasers. Lots of activity in the 45 days so far! Keep up the good work. A nice activity with TMxxSOTA for 15th anniversary of the SOTA program in France.
73 Marcel DM3FAM