My XYL and I did the climb and I activated Kratka Ridge W6/CT-014 in the Angeles National Forest for 8 points + 3 for winter bonus on Dec. 3rd. The hike to the 7,515' peak was almost 100% snow covered by 1 to 3 inches of crusty & sometimes slippery snow. (What were we thinking?) It is about a one mile climb with hardly any flat spots, so mandatory breaks were required occasionally. Hey, I just hit six decades and I can't say my XYL's age, but we were high school sweethearts one year apart in graduation

(Sheri found the perfect Christmas tree on the way up)

​
One hour and 36 minutes later the reward was a great tree covered peak, sunny skies and no wind!
​
The sun had melted all of the snow up top, so it was dry and super comfortable! The temp was probably in the fifties, but it felt like 72 in the sun. We ate some lunch and I set up my Buddiepole style vertical for 20 meters and fired up the Yaesu 857D on 15 watts (yeah, I know, it's an Anchor… a KX3 is dreamed about).
I checked the SOTAWATCH page for other activated summits for S2S. I saw one on 14.343 but I couldn't hear or raise him. I went to post a spot and then Yikes, No, No, No!!! I lost all cell service!

(T-mobile stinks!

Time for an APRS radio

) I called a few CQs on my "alerted" freq of 14.337, but no takers. Looked around and I hear VE6VID (Malen) calling CQ SOTA on 14.343 from a 6,000' summit in Alberta, Canada. We connected S2S 53(me) & 59! I asked if he had internet so he could post a spot for me on 14.337. He didn't have internet but a couple chasers came on simultaneously and said something about posting. I announced a QSY to 14.337 so I could give Malen his freq back. On .337 W0MNA Gary answers my CQ and tells me he posted my spot. What a great guy, thank you Gary!! Next up my QRZ gets answered by Gary's XYL, Martha WOERI. Gary & Martha are so dependable, never met them but I'd give them both a big friendly kiss on the cheek if I did! OK, not Gary, just Martha… haha! And, in case you didn't know, Martha recently hit 100,000 chaser points! HOLY TRANSISTORS Martha, that's Awesome!!!
So Gary & Martha started a huge pile-up for me that resulted in 18 more contacts, including JH1MXV in Japan and another S2S from KC4WZB (Joel) in Georgia. Not bad for 15 watts. Several contacts were in the greater (or not so great) LA area, all sounded like they were right next to me, 20-30 over. Usually we would go over the top of each other this close on 20 meters. Maybe the signals were smog bouncing? After 14.337 quieted down, I freq surfed and answered a CQ for contact #22 and then it was time to hit the trail before the snow got harder as the temperature started dropping as the sun was lowering (why does it always do that when you're having so much fun?)
I have been doing SOTA since June of this year and this was one of the most fun and gratifying activations yet. Thank you again Gary for posting my spot, and thank you to all chasers for the fun contacts! Thank you SOTA organizers and managers for all that you do! We love the program, the mountain peaks, the challenge of ham radio, and all of the great people we are meeting due to this fun hobby!
73, Climb on, Rock on!
Ron - Kilo-Six-Charlie-Papa-Radio out!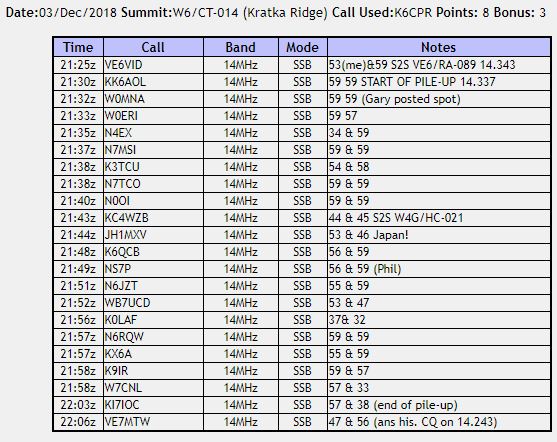 ​
​
​