I know from talking to people on activations, that there are a growing number of us using the Xiegu X6100. So I thought I would start a thread where we can discuss our experiences. My first HF rig was a Xiegu G90, which I love, so when they announced the X6100 it was a no brainer for me. Yesterday whilst activating G/SP-004 I was joined be Ben GW4BML who also has one, I know Dave M0JKS has one.
On my first trip out with it, I got a VK chaser, which was encouraging. I tend to use it with an external battery, so I get the benefit of the power increase from 5 to 10w. With a 3S/5000mAh battery I easily get 6 hours plus). Yesterday on Shining Tor using a linked dipole (20/40) I got 44 QSOs and 27 S2Ss. I set myself a silly target of getting 2000 S2s points this year before my birthday, which I am happy to say I have made.
All in all the radio has performed really well. As with a lot of modern products, the firmware tends to get tweaked as time passes and things get even better. I am on the latest version V1.5. There are a couple of things I would like to see improved. The red on blue text for some of the displays in not contrasty enough and I would like the scale of the SWR meter to be 1-5 rather than 1-10 (Like it is on the G90). As the radio is Linux based I know some people are working on various hacks that will add functionality. It would be great if Xiegu made the firmware Open-Source, although I suspect this isn't going to happen anytime soon.
A tip: you can alter the friction of the main tuner, just slip off the rubber cover and undo the grub screw (This allen key is imperial btw). Push down and tighten to make it stiffer.
One issue I have had is that dust can get under the main screen. There is a video on YouTube on how to clean this, but it is a minor annoyance that I can live with.
If you are looking for a case, the GoPro case could have been made specifically for it. It fits like a glove. I am also using the extra side handles to protect the front. The case is £11 if you have a GoPro subscription.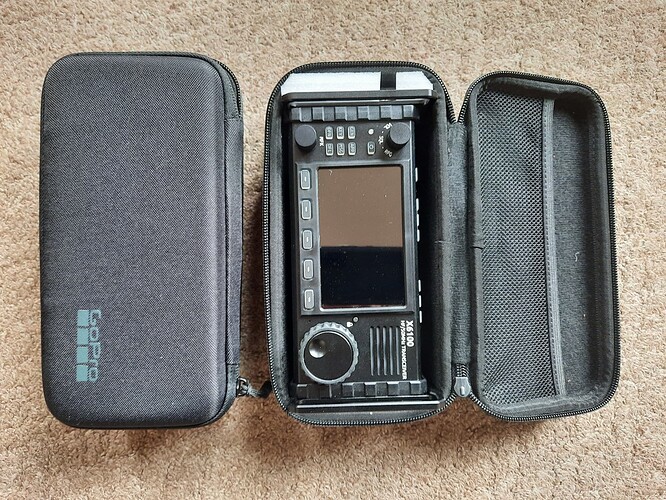 All in all I am really pleased. I would love to hear other peoples experiences