Firstly thanks to 2EOLDF, who not only chased me on Watch Hill (G/LD-054), but met me on the summit. This inspired this post to share my plans…
Lake District 2/4/23 to 9/4/23
A family holiday at Caldbeck - conveniently located for dropping middle child for work experience at the vets in Carlisle, but also rather good for summits. I completed four in all, repeat ascents of Lords Seat (G/LD-033) from Whinlatter, Skiddaw (G/LD-004) from the north past Whitewater dash (Which in my opinion is a much nicer walk than the busy track from Keswick) and two uniques for me Binsey (G/LD-041) and Watch Hill (G/LD-054). All were 2m FM and 40m. Once again thanks to the chasers, and in particular to 2E0LDF. I was actually a bit concerned as I set up on Watch Hill as I could see someone approaching, and was about to start on an explanation of what I was doing when I saw an FT3D sticking out of his pocket and was greeted with "and where is Woody….?) ( He was having a morning off)
Skiddaw - with my son and the dogs and…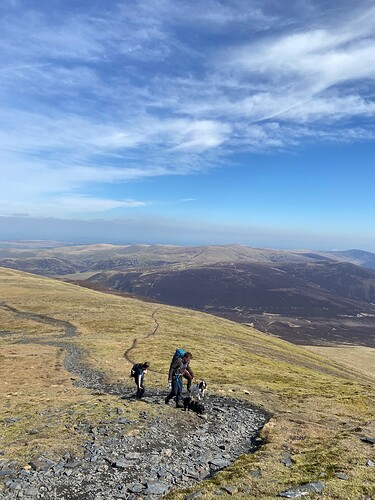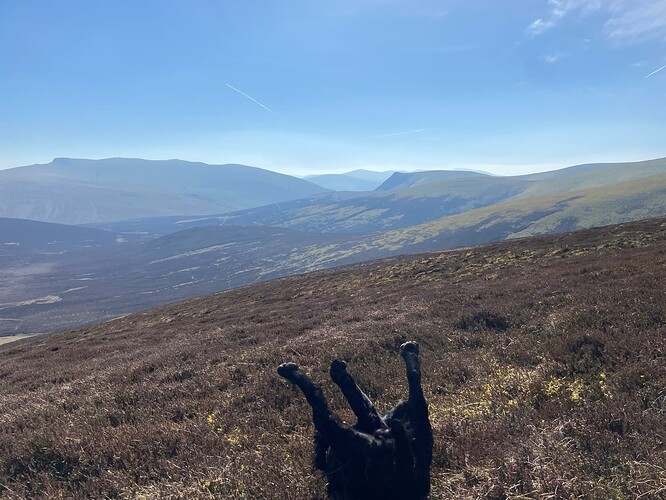 Jet appreciating the summit….
Lewis Harris and Uist 24th April to 5th May(*)
I have several personal targets with SOTA and am slowly working my way towards MG and 100 completes but I would also like a first activation, and being a bit late to the game a quick look at the list of unactivated summits seems to reveal a list of sea stacks and the odd Hebridean summit. ( I must admit that I had not considered Ireland which appears to have quite a few to choose and with hindsight might have been easier….). As I am now retired and have a camper a plan began to emerge. I initially planned just a week, but my other half said that was silly given the milages involved so the trip has been extended!
The plan is to start in Lewis and initially target Cracaval, and depending on how it goes other summits in the area. ( I'm not planning on doing more than a couple of firsts…. ) and I'm guessing it will initially be 40m but I'll probably take 2m with - just in case…
At this stage I'm also starting to think of what can go wrong and the answer to that rhetorical question is quite a lot…
The Ferry. I understand that the CALMAC fleet is in a bit of a mess with several boats being somewhat broken with issues like engines and catching fire. I'm lucky - Im a tourist and would expect to have lower priority than other users so although I have the tickets I'm not sure that guarantees a place…

The Ferry (2) I booked the tickets several weeks ago and I now read that CALMAC are implementing their new booking system - ten years in development on the morning of my first ferry, wonderful timing I love being a Beta tester…

The Ferry (3). Dogs…. Two dogs ( This was part of the two week pass arrangement - I get the dogs…Sarah gets the builders…). I think that a solo traveller with two Spaniels might be as much fun as a an airport departure lounge with toddlers and a delayed flight…. Yes they have tickets for the pet lounge as I don't want them to eat their way through the camper on the car deck.

Dogs. Having discovered on Mull that Woody is a tick magnet both dogs have been treated so at least if they are bitten the ticks will die, however that still leaves the possibility of the little buggers hiding in dog fur and attaching themselves to me …. The van does have an outside shower so that might help…

Weather. I know there is lots of it in the Hebrides so although I have planned lots of hills I'm only going to alert the day before when I've looked at the forecast. There are a couple of other unachieved hills that I have investigated on Walk Highland, Beinn Mholach near Stornaway looks relatively accessible with the first half of the walk over wind turbine tracks, and the second half reads like Slightly Crag, heather bashing…Muaithabhal in SE Lewis also looks possible…

Me…. I watched Highland Cops (BBC Scotland - Highland Cops, Series 1) on the BBC which included a missing walker who … well disappeared and if something does happen to me I would rather like them to know where I was going and my route rather than looking for someone over a few thousand square kilometres, so the Garmin inReach mini will be tracking me….
The (rough) plan
24th April - Drive up and consider doing Mount Eagle (GM/NS-151) to walk the dogs. I must admit that Mount Eagle sounds rather grand and I initially imagined a 7000 ft peak in the rockies not half an hour from the car on the Black Isle. This depends on the drive and the dogs and the weather…
25/26/27/28th April. Lewis and hopefully a first activation
29th/30th. Harris. 29th hopefully Roineabhal at 1 PM for the 145 alive event, although I'll take HF… Hopefully the hills near Northton (Taobh-Tuath) on the 30th…
1st/2nd/3rd May - Uist. Eaval sounds amazing, but tidal stepping stones might not make that sensible… If I'm energetic Then Beinn Mhor, Choroadail and Hecua on South Uist are another (long) target
4th May Skye - and the hills around The Quiraing…
I have spent quite a lot of time researching this - and Rod's excellent write up
Western Isles Tour by Rod & Vicki has proved invaluable - along with the WalkHighland website. Thanks Rod and Vicky
We have visited Lewis, Harris and Uist BC (Before Children) so should not be totally clueless.
Finally any observations would be most welcome. I'm taking the KX2, will have KX3 as a backup and will probably have the 817 as the bad weather backup option ( It is in a Peli type case along with a 50w amp and it is heavy but relatively bomb proof) as well as the FT 270 for 2m - although I'm not expecting to be able to qualify on 2…. I am also taking a spare mast, antenna wire, a soldering iron and batteries…. The main antenna will be linked dipole for 40 (so 15 as well), 20 and 10m and a wire J Pole for 2m as well as spare dog leads and harnesses and insect repellent!
Is there anything else I should be worrying about (other than my sanity)? Observations most welcome. 73. Paul