What was the hardest point (or hardest peak per-point) you've ever earned?
I'm just back from a trip to ZL3/FL-815 – a one-pointer on Resolution Island in the Dusky Sound – part of the Fiordland World Heritage Area & National Park. The trip in would typically require a 30km boat ride across Lake Manapouri to the hydro power plant at West Arm, a 30km 2-4 day trip across the Southern Alps over the notorious Dusky Track (yes it does really take most people 4 days to cover the 30km), a 30km paddle down Dusky Sound, and then a scrub-bash to the summit.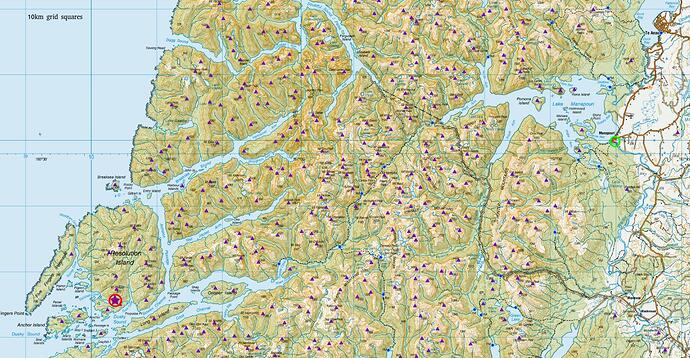 Thankfully I was part of a volunteer group out to run traplines for exotic (i.e. non-native) predators on the island. We got helicoptered over the Alps, landed on the deck of a boat, and dropped off at the island for 3 days of work. After a day of paddling the coastline servicing coastal traps, and another day scrambling over the interior, my allotted work was done and I was grateful to have a half-day spare to activate one of the three SOTA summits in the area we were camped.
A cut/marked trapline leads to 500m NE of the summit, leaving an easy 500m stroll / 200m climb to the activation zone.
Yeah right!
500m of bluffs and scrub lie east of the peak, with no help from the usual deer-trails, as (exotic) deer are also controlled on the island. The last 500m took almost an hour.
11 contacts all-up. Most of them VKs, and most of those sounding as if they were sitting next to me.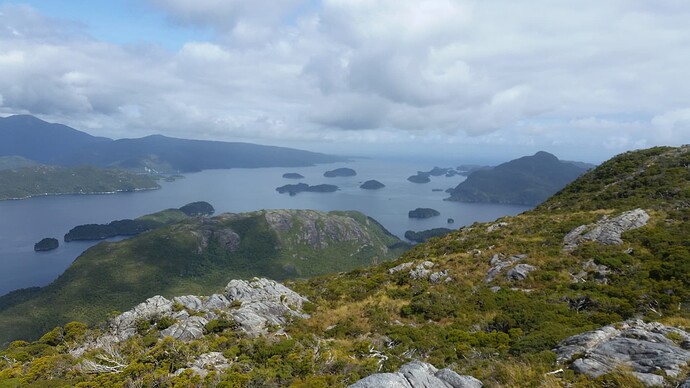 ==
All that remained was getting home. Sadly the supplied transport was one-way only, and the return trip was self-powered. So it is now 3 days later I'm finally sitting back in my caravan in Te Anau and enjoying a cold beer and a hot shower, the pack-raft drying in the sun, boots and clothing confined to 'outside' until it can be thoroughly washed & disinfected!
==
What was the hardest point (or hardest peak per-point) you've ever earned?
(realise that's been asked before, but that was in '07)